Is Computer Gurus a Scam? Or can you Make $379 per day?
EVERYTHING is answered in this honest review.
Keep reading if you also want to learn how to ACTUALLY earn a living from home!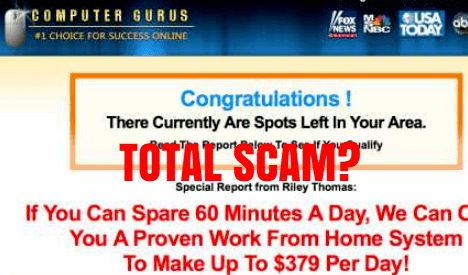 Note: Use this tab below to quickly read the review!
Computer Gurus – Overview
Computer Gurus is a new opportunity that promises newbies over $379 per day.
When I tried to access their website computer-gurus.com it has redirected me to another cookie cutter site named Computer Strategy!
Here's how it looks like:
There are lots of other versions of this fake website, I invite to read this full review to find out how they want to scam you and discover a legit way to build a full time home business.
Name: Computer Gurus
Website: computer-gurus.com-2018-info.
Price: $97
Owner: Riley Tomas (fake name)
Do I Recommend this? No, I'll explain why
The Perfect Training to Build an Income from Home (FREE TO JOIN)
What is Computer Gurus?
Computer Gurus is another new link posting scam that literally claims you can make $379 per day.
They even say you can spend just one hour per day to earn all that money.
Chances are you're a newbie, how can a newbie with no experience make $379?
For example I have started my online business one and half a year ago.
Since then I have been working very hard to make my website profitable.
Guess what?:
I'm not making $379 per day! Well I make a full-time income but it's not $379 per day.
I definitely work more than an hour per day!
That's how a legit online business looks like by the way.
If you want to start making $379 per day, $500 per month or even $10 per day you need to work for it.
Nobody is going to give you easy money.
You also can't purchase a magic system for $97 that will make you tons of money from day one!
Computer Gurus says that lots of companies are desperate to find people like you that will help them post links.
They promise you to earn $15 for every link you post on Facebook groups and forums.
Keep reading because I'm going to show you that Computer Gurus is not a work at home training
It's just a fake site, they want to fool you just so they can earn commissions when you purchase the expensive products they will send you.
How Does Computer Gurus Work?
Fake websites like Computer Gurus or Computer Strategy are very dangerous!
If you're a naive person and believe their promises you will regret so much.
At the time of this writing I have published over 400 reviews on my website FullTimehomebusiness.com.
I know very well how scammers like Computer Gurus Work.
I'm going to explain it for you so you will never have to waste time with a scam again.
Computer Gurus is a Sales Funnel!
According to RingDna a sales funnel is the process that companies use to lead their clients through to buy their products.
Legit companies have a sales funnel that usually flows like this:
You read a useful article
You like what you read
You give out your email address for more
The company will start sending more value to your email address
Then they start selling you legit products that you need.
That's how an ethical sales funnel looks like.
Computer Gurus is the opposite of all of that you have read above!
Here's how the Computer Gurus Sales funnel works
Computer Gurus uses hype & Fake Income claims to make you believe you can make money easily.
They claim you can earn $379 per day working just one hour per day.
They request your email address
They sell you some basic training for $97.
They start promoting you random work at home products.
Since you want easy money you will buy the super hype work at home products!
Work at Home Products they Usually Promote
Scammers like Computer Gurus want you to buy the random work at home products which they will send you to your email inbox.
That's how they will make money off you.
Unfortunately, they don't promote to you just a single work at home training that can teach you how to build an online business.
But they want you to buy as many programs as possible.
They usually promote EXTREMELY EXPENSIVE products like Digital Altitude & Mobe.
They are high ticket products where you have to invest huge amounts of money in order to earn!

I have published quite a few reviews on scams that are sales funnels like Computer Gurus which include:
Here you will read more reviews about scam sales funnels
Computer Gurus is a SCAM! Here's a Legit Training that Works!
Computer Gurus is a Rehashed Site!
I have seen this scam over and over.
Yes, because Computer Gurus is another cookie cutter site.
Below you can see how many websites this scam has been rehashed from.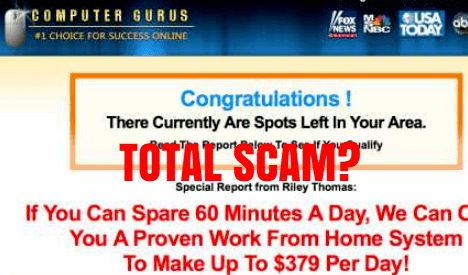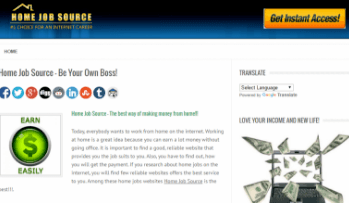 You can clearly see above how they rehashed their websites and use them over and over to scam people.
Here are some of the sites they have copied the design and the sales page from:
How Much Can Computer Gurus Cost You?
It's hard to give a specific answer to this.
But I can guarantee you it's going to be expensive as hell.
Usually these scams funnel you to highly priced products like Mobe.
They make sure they sell you expensive programs just so they earn big ​commissions when you buy.
For example Mobe can cost you up to $60,000!
Computer Gurus love promoting products like these because they will make $30,000 if  one naive person spends $60,000!
Who would be so naive to spend $60,000 right?
Lots of people fall for these scams every single day.
Because scammers similar to Computer Gurus have mastered the art of scamming.
They know and tell you exactly what you want to hear.
They mislead you with psychological tricks.
For example they put on their site fake news logos to make themselves look trustworthy.
Or they share with you substory where the author explains how he\she suffered from a financial crisis , how they became rich & how they can teach you the same.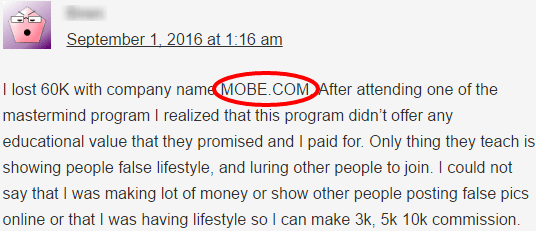 Can You Make Money with Computer Gurus?
Unfortunately, the Computer Gurus won't make you money.
Because they just want you to give them your email address so they will bombard you a bunch of products where you need to invest.
They will simply keep sending more and more stuff to buy until you realize you're wasting too much money and you still haven't learned a thing!
Is Computer Gurus a Scam? Yes!
Computer Gurus is 100% scam because you won't learn how to make $379 per day.
They just lie when they say you can make $15 for every person that clicks on your links.
No one pays $15 for a single click and companies are definitely not desperate to find people to share their links.
There are millions of unemployed and homeless people.
If this thing was true everyone and their mother would be doing it.
Computer Gurus is 100% fake & I don't recommend them because:
They use fake endorsement.
They claim that big news channels have talked about them in the news but that's a huge lie because you won't find any CNN or BBC article or video that endorses the Computer Gurus.
Those news logos are easy to fake, every scam can simply include them on their sales pages.
Companies can easily find millions if not billions of inexperienced people that can post links for them.
The truth is companies are not desperate, this is just hype and lies to fool you.
They Will Sell Your Personal info
Deceivers like Computer Gurus always sell your personal information to other fraudsters.
They basically collect emails and names from lots of people, they put the personal info on a notepad and sell it for thousands of dollars.
Scammers buy this personal data so they can promote their stuff to you.
Here's How I Make Money Online
I used to fall for scams like the Computer Gurus all the time.
But since I have discovered this legit training I learned how to make money ethically.
This training has taught me how to build websites that bring me traffic from Google.
You're reading my Computer Gurus review and chances are you have found my site on Google or Bing.
You can also learn how to build a website that brings people from Bing & Google.
You can promote Amazon products that people love to buy!
There are 4 billion of people online so the sky is the limit.
If you want to learn all of this then good news you can try for free (NO Credit Card) My Top Recommended Training for Beginners!
Did you try The Computer Gurus? How did it go?
Share with us your experiences below!
Click on the icons below so you share this review with your friends!