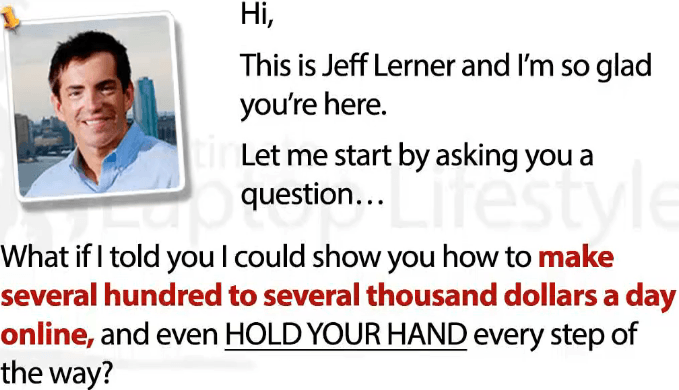 Ultimate Laptop Lifestyle promises you to make $1000 per day is it a scam? Find out the truth in this review!
You are probably sick and tired of the get rich quick scams that always say this is the opportunity you have been looking for, is the Ultimate Laptop Lifestyle another scam you need to avoid?
No, it's not a scam, however, there are some things not mentioned in the video that you REALLY need to know.
Bear with me until the end of this review to get all the facts you need on this product.
UPDATE 23/07/2018
The Ultimate Laptop Lifestyle Turned into a NEW SCAM called the Freedom Shortcut!
Now the Ultimate Laptop Lifestyle official website redirects to this new scam called Freedom Shortcut.
This change happened after Digital Altitude has been shut down by the FTC!
Don't forget to check out this training which is NOT a scam.
My #1 Recommended Training for Newbies
---
ORIGINAL POST
What is The Ultimate Laptop Lifestyle?
The Ultimate Laptop Lifestyle is an online business opportunity (created by an internet marketer called Jeff Lerner) where you will find training that will teach you how to start making money online with a website it was.
Unlike other programs, this opportunity involves high ticket programs, you will have to buy high ticket programs that usually cost at least a thousand dollars so you can resell them to earn big commissions.
Obviously, this opportunity is not for everyone, not everyone will afford high ticket programs.
With that said, if you know how to drive traffic to a website or an offer or you have a large email list then The Ultimate Laptop Lifestyle is for you and you will definitely make $1000 if you take action.
If you are a newbie, this opportunity will be a waste of time and money.
This opportunity, on the other hand, is perfect and can really help complete newbies to make money online.
Jeff Lerner also has other products which are the following
How Much Does the Ultimate Laptop Lifestyle Cost?
To get started you will need to pay $49, on the checkout page you can add a bonus to your cart which is the support you will get from Jeff Lerner and his students on his private Facebook group and access to his Lifestyle design international community.
Note that if you grab your bonus you will be getting free access to his support for only one month thereafter you will have to pay $39 per month.
Another thing you need to pay attention to in the checkout page specifically on the top left area where you will read what your Ultimate Laptop Kit Includes, a lot of stuff is mentioned there.

However, by paying $49 you only get 7 days laptop lifestyle training and 1 on 1 coaching that will assist you only during your 7 days of training.
Your coach will recommend you products and tools to buy or promote.
I hate how none of that is clearly mentioned before the one spends $49.
I know the one definitely can't expect to earn thousands of dollars by spending $49 but the costs should be mentioned on the sales page.
In a few words, remember you have to expect a lot of upsells that can amount to thousands and thousands of dollars.
Who is this Opportunity For?
The Ultimate Laptop LifeStyle is definitely not for the average joe and newbies, I know the sales video doesn't say that you know it's a sale page where only the good stuff is mentioned.
I recommend you to check out My Recommended Affiliate Marketing Training for newbies
The Ultimate Laptop Lifestyle Review: Final Thoughts
The Ultimate Laptop Lifestyle is a great opportunity to start an online business by promoting high ticket products, just remember that you have to spend a lot of money in order for this to work.
I hate the fact they don't mention the pricing plans, and I'd prefer it if I could try it for free.
Other than that it's a solid training, the testimonials are genuine and the system actually works.
I believe that people don't have to spend thousands of dollars to make money
Here's My #1 Recommended Program 
it's a great step by step training to start a successful online business without breaking the bank.
---
Would you join The Ultimate Laptop Lifestyle? Do you have any questions? Please leave them below by adding comments!.