Photo credit: Regal Assets
Are you planning to invest online? Well, there are a lot of ways for you to do it. However, I don't want you wasting your time on things that won't work out well for you.
Hence, I made this article for you! You should consider the following 5 Best Online Investing Sites for Beginners. (Updated for 2022!)
They have the best investment offers. And most important, their customer support is responsive. In this article, we are going to look at what you should expect from these online investment sites.
Why Invest in Precious Metals?
Investing in stocks is the most common thing people do to grow or protect their money. However, investing in precious metals can have its own benefit. Precious metals can serve as a hedge against inflation, they have intrinsic value, can be easily liquidated, and no credit risk.
You can also invest in precious metals IRA to secure your retirement future.
1) Regal Assets

Regal Assets allows you to convert your funds into bullion coins and bars. If you have been looking for a bullion service provider, then they are among the best online gold IRA sites.
Apart from gold, they will also help you to invest in other kinds of precious metals. The first step to get started with them is for you to fill an online form from their home page, which takes you a few minutes.
The IRA retirement team who will give you guidance on how to move your funds will then contact you. They may request additional information if it's needed. Furthermore, they will work with your custodian to transfer funds from your other existing accounts into your Precious Metals IRA Account.
Once the funds are received in your Regal Assets account, they will complete your order according to the type bullion bars and coins that you are interested to invest in.
2) BullionVault
BullionVault is a leading investor in bullion coins and bars around the world. They allow you to choose where to store your precious metals assets once you buy them.
Their vaults are located in London, Zurich, Toronto, New York, and Singapore. They have so far helped over 65,000 users invest in over $2 billion. You can transfer your funds and be able to buy your bullion coins and bars of gold or silver within 2 hours.
Furthermore, they allow you to sell your assets anytime without penalty. Once you sell your assets, you get your funds in the next business day. Getting started with them is easy and simple.
You open an account with them online, and you can try buying and selling with a free sample. The next step is to transfer your funds to your BullionVault account.
You can then start to buy your gold, silver, or platinum assets, and then validate your account with your photo ID and a bank statement.
3) Augusta Precious Metals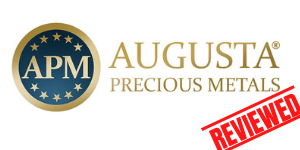 Augusta Precious Metals offers high quality selection of IRA approved gold and silver. They offer competitive pricing on their precious metals. In addition, they offer free insured shipping to qualified orders and they will waive gold and silver IRA fees for the first year. Furthermore, they will purchase precious metals from their customers
To start dealing with them you have to open an account first and transfer some funds into it. Augusta Precious Metals requires a minimum investment of $50,000 and a $50 fee for opening an account. They also have yearly fees listed below.
$75 annual administration fee for accounts up to $100,000.
$125 annual administration fee for accounts over $100,000
$125 annual custodian fee
Depository storage fees
Augusta Precious Metals also have excellent customer service so you will never have to worry about having unanswered questions.
4)Gold Direct

Gold Direct allows you to invest in bullion coins and bars of gold, silver, and platinum.
If you live in Europe, you will find them to be among the best online investment services. This is because they will help you to buy the precious metal and transport it to your address directly from the refinery.
They handle everything such as transportation, safety, and insurance. You simply don't need to concern yourself with anything. At Gold Direct, they believe gold is the best way to invest and protect your wealth from inflation.
To get started with them, you will need to open an account with them, transfer funds, and make your order.
The orders take at least 10 minutes to be fulfilled.
5) JM Bullion
JM Bullion offers you an opportunity to invest in physical assets of gold, silver, platinum, and copper. They buy the metals on your behalf and transport them to your chosen address.
They are based in Dallas, Texas in the United States. You can make all your orders online and you will still be able to get the most professional bullion experience.
To get started with them, all you need to do is to open an account with them, verify it, and then transfer your funds to your JM Bullion account.
You will then be able to buy your chosen bullion coins and bars.
Bottom Line
So you might be wondering, why are those sites about bullion and gold and precious metals.
Well, first things first, when you think of investment, the precious metal industry is excellent. It is even the reason why most countries and companies are able to push through inflation.
If you are a beginner and need a sound and free financial advice in investing in bullion coins and bars, they are among the best online sites to visit. Thank you so much for reading  my "5 Best Online Investing Sites for Beginners article!"
I hope that you found this article to be informative and we wish you all the best in your bullion investments. If you have questions or comments, please feel free to leave them on the comment section below.