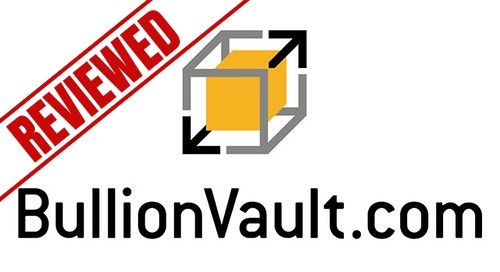 Welcome to my BullionVault Review! (Updated for 2022!)
The world seems to be recovering after all the events that happened in the recent years. As a result, people's pockets are also slowly recovering. And with this, they have the capability again to invest!
However, finding the right company to invest your hard earned money isn't always that easy.
Some have heard of a company by the name of BullionVault. If you are looking to acquire your precious metals from them, then you will need to read this whole review to see whether or not this firm is for you.
BullionVault Review Quick Summary
Name: BullionVault
Website: bullionvault.com
Founder and CEO: Paul Tustain
Minimum order: 1 gram of gold
Rating: 4/5
What Is BullionVault?
Located in London, BullionVault is a precious metals marketplace for peers to buy and sell with other peers. Furthermore, BullionVault stores their precious metals in a secure facility.
Galmarley  Ltd. started development for BullionVault in 2003. BullionVault officially launched in 2005 after 2 years of development. Paul Tustain has brought BullionVault to the center as one of the most respected and largest gold service companies out there today.
BullionVault was elected into the London Bullion Market Association in 2008. Furthermore, they won the Queen's Award for Enterprise (Innovation).
They are currently taking care of $3.8 billion worth of investments from their 100,000 users.
BullionVault Products
Here's some info you might need regarding the products of BullionVault:
Precious metals
Gold, silver, platinum
Vault locations

New York
London
Singapore
Toronto
Zurich

Minimum investment
1 gram of gold
Gold delivery
Optional, has separate fees
Currencies
Clients can trade in British pounds sterling, U.S. dollars, Japanese yen and Euro.
Other features

Automatic Gold Investment Plan
SMS/Email notifications of different account actions
BullionVault Security
BullionVault uses well-established security for its clients' investments, ensuring their safety.
Their independent storage operators are LOOMIS and Brinks. They offer precious metals storage in Toronto, Singapore, and in BullionVault itself. Furthermore, they are all members of the  London Bullion Market Association.
Brinks and LOOMIS are also known as one of the world's biggest vault operators and secure logistics company.
As for BullionVault's clients' un-invested money, they are stored at Lloyd's TSB Bank in a segregated and pooled trust account.
More information on this can be found on BullionVault's website.
How do you open an account?
BullionVault claims that the registration process takes just one minute or less to perform. Just simply:
Enter your information, such as name and number.
 Deposit money into the account.
You can begin placing orders once the money is received by BullionVault.
 Validate. You'll have to send proof, an I.D., and such. You'll still be allowed to fund the account and trade during the grace period.
The account is free, and typically takes a few days to establish.
BullionVault Review and Ratings
There are many positive BullionVault reviews and ratings online. Listed below are links to the ratings and reviews so you can see for yourself.
As a potential investor, I'm pretty sure this is reassuring to know. However, before you pull that trigger you should check out all your options.
You can do that by reading through our recommendations. However, you can skip right through to our most recommended company.
Can I Trust them? Is Bullion Vault a scam?
Yes, you can trust BullionVault, as they do have a high rating with Trust Pilot. Furthermore, they are regulated by the LBMA (London Bullion Market Association).
BullionVault was voted best gold broker by MoneyWeek Reader's Choice Award, and the winner of two Queen's awards for enterprises.
No, BullionVault isn't a scam. They perform daily audits to reconcile your precious metals to a third party bar list, and with the above noted, this makes them completely trustworthy.
Pros and Cons
Pros
Sell anytime: Once you open an account, you could own gold or silver in just two hours.
Free account, hassle-free registration.24/7 trading
Quality guaranteed bars. Each bar spends time in an accredited storage facility and then is transported by an accredited courier.
Knowledgeable customer service
Updated trade chart indicator.
Powerful insurance protection.
Cons
No certification of ownership
High cost of taking out your investments.
No coins are available.
There are a couple of serious complaints about them…
BullionVault Review: Final Verdict
BullionVault is a trustworthy and highly reputable firm/marketplace.
They seem to make their customers satisfied. That said, they don't offer gold and silver coins, and do charge a high cost for taking out your bars or offer certificates…
Thank you so much for reading my BullionVault Review! If you have any questions or comments, feel free to leave them below in the comment section!
#1 Recommended Alternative?
The recommended alternative to BullionVault is a company that offers exceptional customer service, versatility, and a low flat storage fee:
That company is Augusta Precious Metals.
Augusta Precious Metals is highly rated and has a large, diverse selection of bullion coins. They can offer you a better bang for your bullion. Moreover, they specialize in Gold IRAs! Want to know more about them? Click on the orange button below: