Is 37 Clicks a Scam? This honest review is going to help you decide whether you should buy this system or not
37 Clicks Quick Review
Name: 37 Clicks aka Online Profit System
Website: 37Clicks.com
Type: Link Posting
Price: $97 + upsells & Hidden costs
Owner: Kelly Scott
Verdict: Scam
What is 37 Clicks?
Recently I reviewed two scams called Home Online Profit Education and Home Job Source
These scams are known as link posting scams
They promise you easy riches by simply posting links all over the internet
Needless to say that they don't pay at all because they are all about making money from you.
37 Clicks is owned by online marketer called Rory Ricord
37 Clicks is The Same!
After having a closer look at 37 Clicks I realized it's the exact scam looking for victims
Since you are here to make money online
Let me invite you to a Legitimate Online Business Training for Newbies
where you can actually learn how to make a living online
How Does 37 Clicks Scam Works?
37 Clicks promise you easy money they literally say you will be making thousands of dollars by simply placing links
That fairy tale success does not exist unfortunately
As I said before this scam has been around a few years ago but since it was exposed as a scam they had to change their name to 37 clicks
I invite you to read these scam reviews and notice the ridiculous similarity
One thing these scams have in common is
Fake Endorsements!
I have seen a lot of people fall for a scam because they thought it was recommended by CNN or USAToday.
37 Clicks is one of those scams using fake endorsement to look legit
You can visit CNN official website and search for an article or a video where 37 clicks was mentioned
Don't fall for any website that uses these fake logos!
They even Show you Fake Checks!
They say these checks are real, this is how they prove that their system pays
Honestly, do these checks look legit?
It's obvious to me that they are fake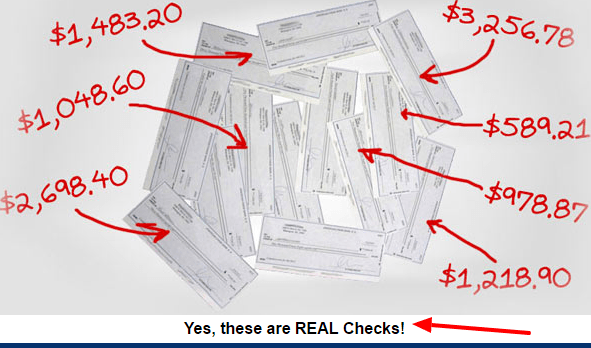 They Make Making Money Online Look SO Easy!
37 Clicks obviously targets newbies that are desperate to make money online
When someone promises $1,500 and $3000 per month
and all you have to do is post 5 links online
You need to run away
It's too good to be true!
No one will give you $1,500 per month by simply posting links unless they want to scam you.
37 Clicks Wants Your Money Only
37 Clicks, unfortunately, is there only to make the owners rich
You are not going to make money
They want your email address and $37
Your email address to keep recommending you products hoping you buy
They charge $37 which is a tiny sum of money because they will be upselling you a lot of products
$37 is only to have a look inside, you should expect to spend thousands of dollars for scams like these!
The Fine Print Says it All
If you read the fine print of the 37 Clicks you will read the opposite they promised you in the sales page
In the sales page, they say you are going to make money simply pasting links
In the fine print, they say the opposite.
They do this because that's how they make sure they don't get sued
In a Few Words
There is no easy money
37 Clicks is all about stealing your hard earned Cash
37 Clicks is a Scam – Final Thoughts
Disclaimer: you the reader are free to join and buy any program you want, I'm not recommending 37 Clicks because I believe it's a scam.
If you are interested in a profitable business opportunity for newbies
I invite you to try My #1 Recommended Training for Newbies
They will give you 10 free affiliate marketing (selling other people products) lessons
Give them a try for free (No credit card)
And see what an amazing training and community they have that can actually teach you how to make a living online.
Your Turn!
Did you fall for the 37 Clicks Scam?
Please share with us your thoughts and comments below! Thanks!