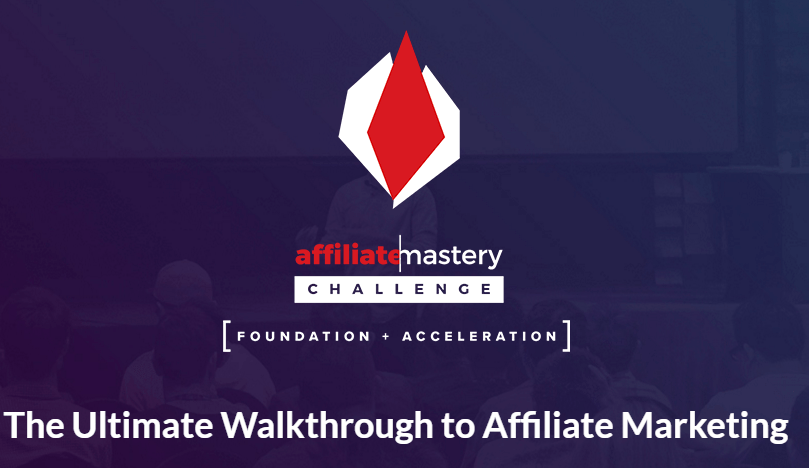 Is Affiliate Mastery Challenge worth it? In this review, you will find out if this course is worth that heavy upfront price or not.
What is Affiliate Mastery Challenge?
---
Affiliate Mastery Challenge aka AMC is an affiliate marketing video course that comes with live video classes, step by step training, support and more, the course claims it's going to help you master affiliate marketing in 6 weeks.
What makes this course special is the fact you get an amazing support from the AMC course coordinators and the experts.
Affiliate Mastery Challenge was limited only to the Stack that Money forum members but now it's available to the public.
Since I mentioned Stack that Money, it's a paid forum that costs $99/month where you will find successful affiliate marketers hang out like Charles Ngo owner of Affcelerator.
What Will You Learn from Affiliate Mastery Challenge?
---
This is a six weeks course, each week you will have 6 lessons if you purchase the course you will have to put in consistent work and follow the lessons as laid out to you to consume it well.
What will you learn in your 6 weeks of Affiliate Mastery Challenge?
Week 1
In your first week obviously, you are going to learn the basics of affiliate marketing, intro to advertising and social media, the challenges you will have to face and how to overcome them, all the tools you will need to have in your arsenal to be ready for your first launch in affiliate marketing.
Week 2
Now that you have your foundation in place, you will be introduced to the world of bidding and commissions, something you must know as an internet marketer, you will also learn about landing pages and how to track your conversions with a tool like FunnelFlux.
Week 3
By week 3 you will have some knowledge about campaigns and commissions, now it's time to learn how to split test your campaigns so you know which versions convert the most, in fact, you will be learning what they call the art of converting.
Other important stuff you will be learning is how to optimize your campaigns with the help of competitive intelligence tools
Week 4
By Week 4 you will have some solid knowledge already, here you will be introduced to mobile marketing so you don't miss out on lots of traffic (since a lot of people use smartphones to search online) you will also get deeper in the art of optimising your campaigns, even the small details matter here.
You will also learn how to outsource so you don't do it all on your own.
Week 5
Here you will learn how to drive quality leads from Facebook which is a great source of traffic, you will get into ways to be more creative and also learn about click loss and bots.
Week 6
The last week as you would probably guess, is all about " rinse and repeat" the sky is the limit and you will learn how to scale up your online business and making sure it will remain very profitable in the long run.
---
That was an overview of what you will learn, the video lessons will obviously contain deeper and detailed content.
What else Will you Get?
$3000 in ad credits
Case studies
Technical support
Live training and Q&A sessions every weekend
Course support from supervisors
When you finish the course you will get a cool Affiliate Mastery Challenge Certificate.
But is it Worth $2997 upfront?
---
Affiliate Mastery Challenge is worth EVERY SINGLE PENNY of $2997, I am not saying that just because of the high price, it's because it belongs to Stack That Money Forum where you will find amazing and successful affiliate marketers that always over deliver in the STM forum.
However it's not for everyone, not everyone will afford a heavy price like $2997, fortunately, you can learn affiliate marketing and master it (probably not in six weeks) for a very affordable price, if you are a newbie I recommend you Wealthy Affiliate, it's simply amazing, honest and very straightforward.
Affiliate Mastery Challenge Review: Final Thoughts
---
Affiliate Mastery Challenge is a very solid course however the price is a bit high and definitely not for the average joe, you can definitely learn affiliate marketing for way less.
If you are a newbie, I highly recommend Wealthy Affiliate, you can try it out for free (No credit card or obligations) you will get 10 free affiliate marketing lessons to judge the quality of WA.
---
Would you pay $2997 upfront for Affiliate Mastery Challenge next 1st May? What do you think?