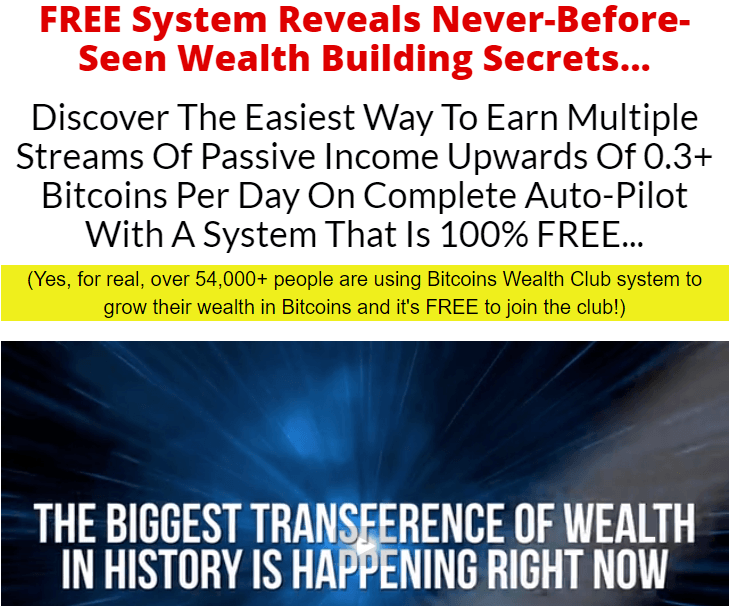 Yesterday I received an email about a new opportunity called Bitcoins Wealth Club which seems to be everywhere now
The first question that I asked is, is Bitcoins Wealth Club a Scam?
If you are planning to invest in this company you really want to read this whole review because it might save you both time and money.
Bitcoins Wealth Club Scam
Bitcoins are literally everywhere, everyone seems to talk about them
These digital coins have made lots of millionaires and billionaires that trusted in them
Investing in bitcoins and cryptocurrencies is definitely something legit that it may pay off like any normal investment.
There are many good Bitcoins courses like the new Tai Lopez Bitcoin Crypto Academy
Unfortunately, there are also many programs appeared to scam newbies that don't know much about cryptocurrencies
That's why I'm going to share with you an honest review about the Bitcoins Wealth Club so you know what you are getting into
Just keep reading.
What is Bitcoins Wealth Club?
Bitcoins Wealth Club is an MLM program that is promoted by many people
It's a program that claims it will make you 0.3 bitcoins per day which is quite a lot of money
With Bitcoins Wealth Club you can earn bitcoins by investing money and also by recruiting other members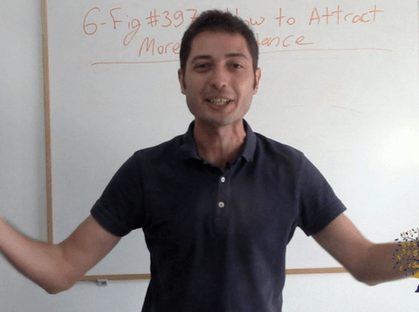 Bitcoins Wealth Club is owned by an Isreali guy called Vitaliy Dubinin
Vitaliy is behind many other different programs which have been labeled by many people as scams
How Does Bitcoins Wealth Club Work?
When you buy this course you will get 7 modules of training
The training includes lots of information about the basics of Bitcoins, how to invest in them all the way to how to accelerate your income and multiply it by 5.
As you take the training you will need to have some money ready to invest
You can invest any amount you afford but you're recommended to invest big sums of money to earn big
What confuses me is at some point in the training you will be bombarded with upsells of somehow similar program which are
USI – Tech: Discover how I found a secret loophole that generates for me over $11,000 per day
Cryp Trade Capital: Make %360 ROI with a well-known company
Trade Coin Club: Make $100k per month with this auto trading company
Mindset 24 Global:  Partner with a millionaire investor and copy his mindset to earn millions.
These are practically the same products as they all talk about how to invest in bitcoin and make thousands or millions.
This is something that has raised many red flags in my head, to be honest
You will have to spend money for each program which makes me think that Vitaliy is just planning to make a quick buck.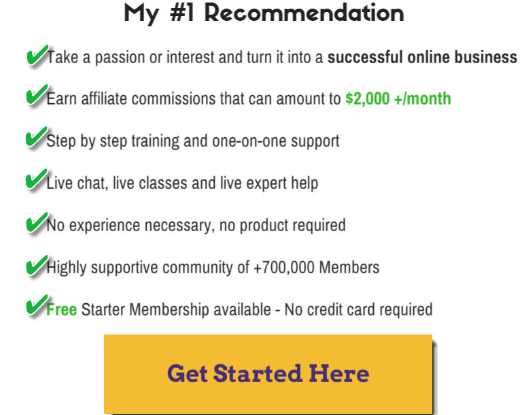 How Much Does Bitcoins Wealth Club Cost?
Bitcoins Wealth Club is free to join
however, there is a VIP membership that you will have to purchase
The VIP membership is going to cost you $250 per month
So it's a pretty costly program
Keep in mind that there are other 4 upsells that you will have to buy which I mentioned above
each program has a different price, I'm going to break down each upsell's price below
Upsell #1 Mindset 24 Global = $5,500 in total
#2 Trade Coin Club = monthly memberships are paid on Bitcoins
#3 Cryp Trade Capital =

$50

#4 USI Tech =

$750
On top of that, you will have to have some money that you will actually invest in the Bitcoins after having the proper knowledge that you have paid all that money for.
So as you can see it's a pretty expensive opportunity.
Bitcoins Wealth Club is all About Recruiting!
BWC is a program that is mixed it's both an investing and recruitment site
But in reality, it's all about recruiting other members
People don't really make money by investing in bitcoins they just refer people that will eventually refer other different people.
It's an MLM scheme.
So to make money you will be inviting other members and honestly, it does not make sense to pay $250/month just for inviting people.
Many people have no idea how to recruit members so you will be spending money every month for nothing.
Is the Bitcoins Wealth Club a Scam?
You can make money with BTW but all you have to do is refer people
There is no training on how to refer people so newbies will suffer a lot, especially with that heavy monthly fee.
The training talks about investing but most members don't do that
4 other programs are upsold to you which doesn't make sense
This makes me think the owner only wants to make money off people.
Bitcoins Wealth Club Scam – Final Words
The Bitcoins Wealth Club is a program I don't trust, therefore I won't recommend
It comes with many red flags, it's not clear how it works and you definitely don't want to invest in a site that is not trustworthy
It seems like the only way to make money with BTW is to recruit people
Vitaliy (owner of BTW) sells you 4 other programs, which is weird.
Here's What I Recommend you to do!
If you want to make money I recommend you to start your OWN online business
Here is an Amazing Online Business Training for Newbies (Free to Try)
If you want to invest in Bitcoins I invite you to check this out: