Today I'd like to take the time to review a product called The Commission Magnet, the question is, is it legit or just another fat scam?
I'm not a big fan of introductions so let's get right into the business.
What is The Commission Magnet?
---
The commission Magnet is a video course that comes with 8 modules which will teach you how to drive targetted traffic to your CPA or affiliate products to make money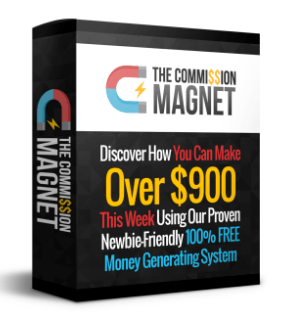 I personally went inside the actual training to have a look and show you what you are going to exactly buy.
The course is easy so even beginners can benefit from it, it's not very long as each video is about 12-15 minutes long but what I don't like about it is the fact the owner (Glynn Kowsky) is hyping things up.
I don't like the headline on the official site, discover how to earn over $900 per week and the fact it claims that the system is 100% free, the system comes with quite a few upsells and $900 per week is too much hype.
With that said, I'm glad to tell you that the commission Magnet is not a scam, it delivers and it doesn't cost thousands of dollars.
Before we jump to see what the courses are about and what they are going to teach you, I would like to shed some light on the man behind The commission Magnet, Glynn Kowsky I know he is partnering with Dr.Abdullah but here I shed light only on the top head of this product.
Who is Glynn Kosky?
---
Glynn Kosky is a very experienced internet marketer that had a great success in the affiliate marketing world, he is very knowledgeable in this field.
He has created a lot of products similar toThe Commission Magnet.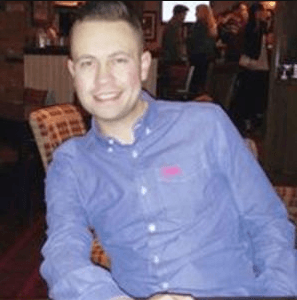 What I don't like about him is the fact he creates a bunch of similar products, at the time of this writing, he has tons of products just like The Commission Magnet out there.
For example, some of his other programs are named, Overnight commissions, Million Dollar ToolBox, Commission Profit Hack, $300 CPA Everyday, Commission Blueprint and there are a lot more out there.
My question, why don't you create and focus on only one program and try to improve it every day, instead of creating new ones religiously?
Of course, I'm not on the level of Glynn Kosky to tell him what to do, but in my opinion creating tons of products is something that unethical internet marketers do to earn a quick buck from newbies and the products definitely won't be high quality.
Anyway, let's get back to our main topic of today and have a look at the actual training.
A Look Inside the Commission Magnet Training
---
As I said before this course is in video format and you will find 8 modules, the course is easy and even newbies can do it.
With that said let's have a look at each module and see if there is value.
Before you start the course you will see an introduction video that will walk you through the whole system to get familiar with it, you want to make sure you watch that, there is also a webinar you can watch, it shows you how a newbie made a killing online by selling weird stuff.
You will definitely learn one thing or two from that free webinar.
Module 1: Overview
---
This module will explain how the whole system works, so essentially the video is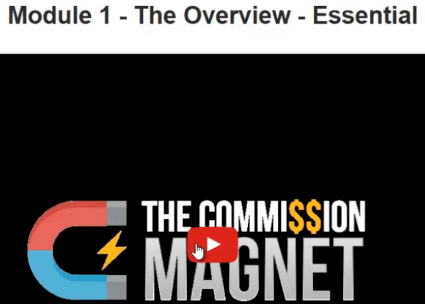 about explaining how you can find problems that people have which are a great opportunity for you to help them by recommending affiliate or CPA products that will be useful for them.
So you will learn how to create a landing page for free, how to set up an autoresponder and how to drive traffic to your landing pages.
So module 1 is an overview the other modules will explain each step in details.
You will also be able to access a Facebook group where you can interact with other members.
Module 2: The Right Offers to Promote
---
In this module you will learn about the products and CPA offers that worked for Glynn Kosky, so they are proven and tested as he claims.
There are different products you can promote, high ticket programs included.
The video is 14 minutes long and there is a lot of value here.
Module 3: Create a Landing Page for Free
---
In the third module of the Commission Magnet training you will learn how to create a landing page, the training goes beyond that it also teaches you the difference between a landing page and a squeeze page, how to make your landing page convert like crazy by picking up the right headlines.
You will also learn how to connect your landing page to your autoresponder, this is an interesting video, I am sure you will love it.

You will be given a link to join Aweber 30 days trial which is in my opinion, the best autoresponder in the game.
Module 4: How to Create Follow Up Series
---
Now that you have signed up for Aweber you will be taught how to create follow up series on on it.
Follow up series are emails that you can set up to automatically go to your email subscribers, once you set them up they will go automatically for you.
Obviously, inside the commission Magnet, you will learn these you will also learn how to create follow up series that people can't help but open.
Module 5: Insane Amount of Free Traffic
---
Well I don't like this module so much for one reason, I hate how Mr. Kosky keeps hyping things up, not only in The Commission Magnet but in all his other products he's always like, you will discover how I generate tons of traffic with an untapped traffic source, but it always turns out to be Instagram.
A lot of people use Instagram to get traffic, in this module, you will learn how to get free traffic to your products by using Instagram.
Honestly, nothing interesting here, you will be only thought what tools to use and how to create beautiful images for your Instagram account.
The video here covers the tools to use more than how to get traffic.
Module 6: Get Targeted Traffic
---
In the sales page of The Commission Magnet you are clearly advised not to go for paid traffic, but this module is all about how to buy targeted traffic.
The screenshot you see below is taken from their website.

Module 7: Recap
---
This video will remind you what you need to do, it's essentially a recap of everything that was mentioned in the previous modules along with tips.
Module 8: What We Did Case Study
---
This is a video case study that will show you the results they got from what you will learn exactly from the Commissions Magnet training.
Module 9: FAQ's
---
I said that there are 8 modules on this course but they count the faqs as a module, you will find here the questions that pop up a lot, you might want to have a look here.
We had a look at the modules, now let's see the pricing.
How Much Will The Commission Magnet Cost You? Any Upsells?
---
The training costs a couple of dollars which is honestly a little price for a program that offers good information since you will be using Aweber it's worth mentioning that it will cost you $19 per month after your trial ends and the solo ads will cost you money too.
There are some upsells but you are not forced to buy if you don't want, they are just supposed to make your Commission Magnet life automated and easier.
I have reviewed a lot of products that don't allow you to go through the lessons unless you buy that damn upsell.
With that being said let's have a look at these Commission Magnet upsells to see if they are worth it.
Upsell 1: Done For You Package
---
This upsell is supposed to speed up your success by plugging into a free traffic source, frankly speaking there's no free traffic source out there that you can simply plug into and see fast results.
This one costs $19 and if you try to exit the page you will unlock a discount (down sell) the price will be $12.
The downsells are something that Glynn loves to do, all of his products have upsells and down sells.
2: Email Marketing Course + Email Swipes
---
Here you will learn how to do email marketing, to be honest, nothing special with this upsell since you are using Aweber as an autoresponder they have great tutorials and video tutorials on how to do email marketing.
If I had to grab this upsell it would be only for the email swipes although the price is too much for email swipes.
This will cost you $27 and there is a down sell which is $17.
3: High Paying Affiliate Marketing Programs
---
This one looks crazy and it costs $37/$27 there are great affiliate programs out there like Clickbank where you will find tons of affiliate products to promote.
Just a google search will find you a lot of affiliate programs, you definitely don't need this.
4: License Rights & Skype Consultation
---
You can license Glynn Kosky products to resell them to keep all the profits, you will also get 30 days of Skype consultation to ask Glynn anything related to email marketing.
Since Glynn Kosky is a very knowledgeable guy I'd recommend this upsell over any of the previous ones.
The price here is $97/$47.
Here are all the upsells and down sells of The Commission Magnet in one photo.

What I like & Don't Like About the Commission Magnet
---
Here you will find the good and the bad of this program based on my opinion.
What I like
The Price is very affordable
The Training offers a lot of good information
The training is not very long and it's easy to understand
What I don't Like
Lots of hype, Earn $900 per week.
The so-called free traffic method is Instagram and it's not explained how you can get traffic from it, the traffic training is more about how to set up your Instagram account.
Glynn Kosky creates a lot of products and he never focuses on one product to make it better.
Is The Commission Magnet a Scam?
---
The Commission Magnet is definitely NOT a scam, it's a good training that is worth the price, however, I believe there are way better options out there.
The perfect training for beginners where they can learn how to start an online business is Wealthy Affiliate and it's the program I confidently recommend to anyone serious about making a solid income online.
The commission Magnet was launched a couple of months ago while Wealthy Affiliate is online over a decade now, it's a program that is constantly updated and improved by the owners that focus on it every day.
Wealthy Affiliate is free to try and it's not just a training it's a big community where you will find members with the same goal as yours.
---
Feel free to add your comments if you have questions or feedback!