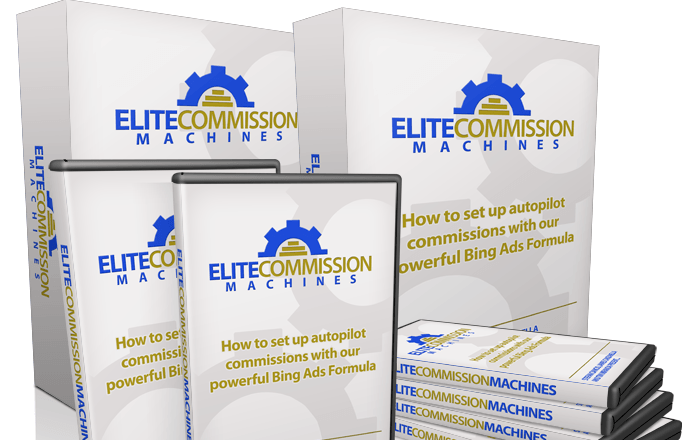 Elite Commission Machines is a new product that claims it's going to help you make money online, in this review you will find out if it's a scam or not.
I'm going to share my honest opinion on this product, please note that I am not promoting it.
What is Elite Commission Machines?
---
Elite Commission Machines is a video course where you can learn how to promote Clickbank offers using paid traffic from Bing ads
This product is launched on the 21st of February 2017 by James Canzanella with the partnership of Stefan Cancio and Tim Miranda.
Just not to put you in suspense, Elite Commission Machines is legit, however, there are a few things you need to know before you buy this product, I'm going to get to those points later on this review.
How Does it Work?
---
After you buy Elite Commission Machines you will get a PDF and a couple of videos that will explain to you the process and walk you through the system.
The videos include lessons on how to find keywords, how to set up your Bing Ads account basically how to set up your Bing Ads campaigns.
How Much Elite Commission Machines Costs? Any Upsells?
---
This course is not expensive, you can grab it for a little price of $27, however you should know that you will have to buy traffic from Bing Ads which will cost you money.
There are 2 upsells which are the following:
Profits Booster Pack: $47
In this upsell you will get a list of affiliate and CPA marketing courses, the best affiliate networks to join and a case study on how they turned $1 into $100 of commissions.
To be honest, why would a course upsell you other courses? And a list of affiliate networks is complete BS because there are a lot of great affiliate networks out there that you can find with a simple Google search.
If I had to grab this upsell it would be only for the case study.
Here you will get 20 done for you keyword campaigns and 20 ad campaigns, honestly this one costs so much money and you should be thought how to find and use keywords on your campaigns in the training you paid $27 for.
As far as I know Bing ads is all about using very targeted keywords to bring traffic to your offers, if you drive the wrong people you will be wasting money on nothing.
A lot of people will be grabbing this upsell, I don't think they will be given 20 unique keywords for each client.
Elite Commission Machines What I like & Don't Like
---
What I like
You can make money if you know what you are doing.
No Hype: I like the fact they are not hyping things up.
Doesn't cost a leg and an arm
What I Don't Like
The Training is pretty basic I don't think is good for newbies
You have to buy traffic for this to work, you might waste tons of money if you don't do things right
Final Opinion & Recommendation
---
I think Elite Commission Machines is a good program for people that know how paid traffic works.
I don't believe it's good enough for newbies as the training is pretty basic and does not go in depth, most of it is about setting up your campaigns and stuff, something you can easily find online.
I believe there are better Affiliate Marketing Training Platforms for Newbies where you learn how to create a real online business website.
---
Have you ever tried Elite Commission Machines? What are your experiences?
Please add your comments or questions below!