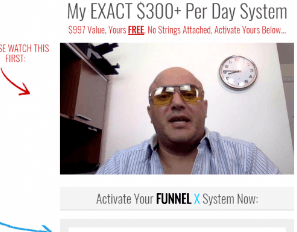 You came across Funnel X Project, after watching the sales presentation, you're left wondering if this is a scam or an opportunity you shouldn't miss? If that's the case, then good news, today I have decided to put together an honest BS free review about Funnel X Project.
So if you're not sure if the latter is a scam or a legitimate program that can live up to their promises then just read my full honest review that will reveal the real truth in front to your eyes.
With that said, let's not waste any time and get into exposing Funnel X Project!
Quick Funnel X Project Review
Name: Funnel X Project
Website: funnelxproject.com
Price: with a catch
Owner: David Dekal
Recommended? No
Recommended Training for Newbies (Start a Real Online Business)
What is Funnel X Project?
So the Funnel X Projects aka Funnel X System seems to be a program that was created By David who claims to have made around $18k every month in his first few months.
Now David Dekal claims to help you start earning $300 per day by promoting some programs, this system is free to join, however, you will need to buy 5 programs that David recommends (that's when he will make money)
There is nothing wrong with that, at the end of the day there is nothing without investment, to make money you need to invest something just like in the corporate world, however, you also need to make sure you invest in legit businesses.
With that said, in the rest of this review, you're going to learn how Funnel X Project works, how much it costs if it's a scam, the warning signs and more.
How Does Funnel x Project Work?
As I said before, David recommends you to buy 5 programs and tools, you're going to use these 5 programs to build your online business with Funnel X Project.
Basically What you're going to do is sign up or buy David's recommends tools, join their affiliate programs and start promoting them using the premade Funnel x Project website that David will give you.
So the 5 programs I'm talking about that are recommended in Funnel x Project are the following:
Moneyline
Motor Club of America
Udimi
Aweber
ClickMagick
How Are You Going to Make Money with Funnel x Project?
Essentially this system relies on email list building, it means you're going to create a landing page (identical to Funnel x Project) where you're going to put a video or an article where you promote some of the programs mentioned above, under the presentation you will have to add an email opt-in form, where people can leave their email addresses if they are interested in the products you recommend.
Your goal is to collect as many email addresses as possible, That's when Aweber comes in handy, the latter is an autoresponder that collects email addresses and allows you to send people offers right to their inboxes.
In a few words, you're going to collect email addresses from people interested in your offers, you send them offers regularly, everytime they buy something you get paid commissions from the owners of the above programs.
This is essentially how this system works
Now I'm going to talk about the prices of 5 programs and how much you should expect to spend this program.
How Much Does Funnel x Project Cost?
If you're planning to get into this system, then you need to know how much it's going to cost you every month, so you can decide right now whether it's going to fit your budget or not.
So below I'm going to break down the costs of each program that you need to buy
Moneyline – Cheapest membership $20 the most expensive one costs $500
Motorclub of America – $39 then $19.95/month
Udimi – at least $800 per month (paid traffic site)
Aweber – $18 per month
ClickMagick – $12 per month
As you can see, this free system is going to cost you almost $800/month
Now that you know the costs of the above programs, let's see what they are and what they offer.
Moneyline
Moneyline is an MLM scheme that is all about recruiting other members, to make money with this site, you will have to buy some memberships, the more expensive the membership you buy is, the more clients you should get therefore more income to you.
However someone suggested me to join Moneyline before, I did join them, however I really did not feel it's a legit business, I was receiving tons of spammy emails every day, the worst thing is even after unsubscribing the spammy emails kept coming in which is a clear sign of Moneyline not being a legit site to be involved with.
The whole idea of Moneyline is an MLM scheme, you need to keep inviting people to earn, there are no real products to promote, this business can shut down every time, that's why I did not get involved with it, because if they shut down, my online business will too and that's not something I want.
You're going to spends tons of hours and work very hard on your business, so you definitely want to work with legitimates companies not questionable ones like Moneyline.
Motor Club of America
Motor Club of America is a roadside assistance company, MCA unlike Moneyline is a reputable company that has been around for years, they offer their affiliates good commissions.
You will earn $80 for every person you refer to the company.
This is definitely a good program to promote which is going to make you money if you offer it to the right people, but in my opinion the one should promote things they're passionate about, things you know a lot of things about, that's how business works, if you promote things just for money, one day you will quit, because there will be no motivation later.
It's like in the corporate world, if you work at a job that you don't like, you're not going to do well and one day you will leave it for a job that you actually enjoy.
That's why I recommend an Opportunity that Makes You Money using your Passion!
ClickMagick
This is a tool that will allow you to track where your visitors are coming from and who is buying your products, this is a very important tool to have and can help you increase your earnings, highly recommended in any online business.
Udimi
Udimi is a site where you can buy solo ads, solo ads mean buying traffic from people that have large email lists, you can place an ad into a large email list of someone and make money whenever someone buys your offers.
Solo ads will cost you around $0.5O to $0.80 per click, they are pretty expensive but they can make you money, it's your responsibility if the traffic you buy will convert into sales or not, the risk is high, you can spend thousands per month without results if you don't know what you're doing.
Aweber
This is an autoresponder that hosts your email addresses that you collect from your landing pages, it also sends out emails to your clients inboxes automatically, it costs $18/month, but the bigger your lists becomes the more it's going to cost you, so you better get rid of any useless emails that don't convert because they just add up space and price.
Can You Make Money with this Opportunity?
The short answer is yes you can make money, the long answer is you can make money but it's not anywhere near $300 per day, while that's possible, this system makes it sound easy to earn online, this is why most newbies can't make money online because they believe overhyped programs like Funnel x Project.
On top of that you will need to invest around $900/month, this is too much money to invest in a system that is not trustworthy, and as a newbie you can't invest in such an expensive program, it's crazy to start investing $900 from day one on a program that is very questionable.
In a few words, you can earn with this but it's going to be expensive and EXTREMELY Risky!
Is Funnel x Project a Scam?
I don't believe Funnel x Project to be a scam, they are not going to steal your money and run away like most scams I review all the time on my website, whoever you need to know that it's not an opportunity that is going to earn you $300 per day, that's hype only.
It's not easy to find clients that are going to believe programs like Moneyline which is a spammy site.
Another thing is this is not a free opportunity as it's going to cost you at least $900 every month which is a lot of money to invest especially if you're a newbie that has never made money online
Funnel x Project wants you to buy traffic which can be extremely expensive, you will need to pay around 50 cents to 80 cents for every single click, keep in mind that you need a lot of visitors in order to see results, if you don't know what you're going you're going to waste money.
Affordable & Better Online Business opportunity for Newbies
If you want to start making money online without investing thousands of dollars every month, then I invite you to look for something else, don't worry I'm going to share with you an opporuntity that will only cost you $49 a month and that includes everything, training, websites, live chat (to get help!) support, live webinars and a lot more.
If you want to make money you need a real training that will teach you legit methods to earn money online.
Invite you to check out My Recommend Training for Newbies which will actually teach you how to start a legit online business from your passion!