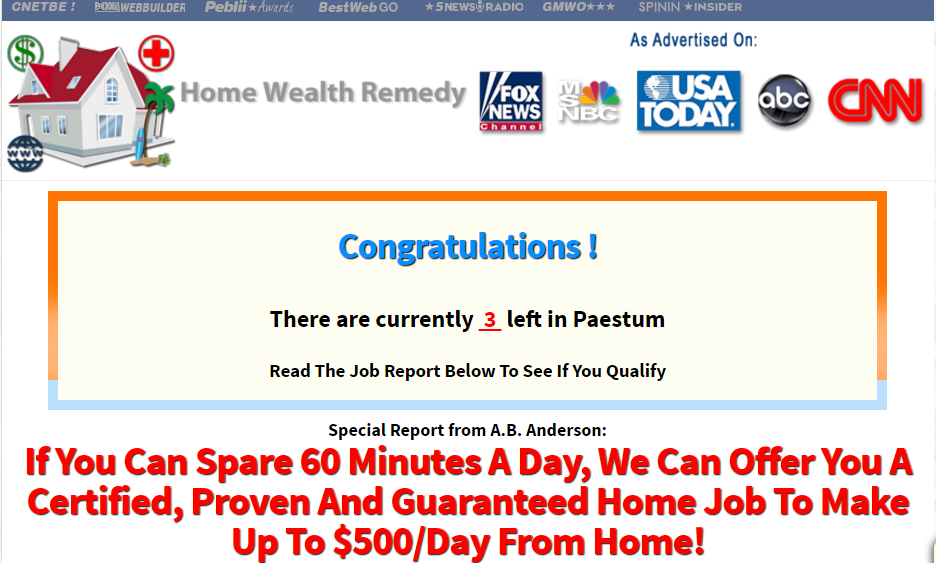 In this post, I'd like to review Home Wealth Remedy which is a site that is claiming to earn you a lot of money doing link posting is it a scam?
If you came across Home Wealth Remedy website chances are you are skeptical and that's why you decided to read a review first?
If that's exactly what brought you here then you're awesome! Because I have reviewed many sites similar to this one where people wish if they only read a review before paying that $97!
Without further do, let's get deeper in this review.
Home Wealth Remedy Review
Name: Home Wealth Remedy
Website: HomeWealthRemedy.com (.net, org)
Price: $97 upfront fee
Owner: Bree Johnson (Probably a Stage Name)
Verdict: SCAM
Recommended Training: Wealthy Affiliate, Affilorama
What is Home Wealth Remedy Exactly?
Chances are you read the story of A.B Anderson (con artist) where he tells you how his life has changed for good after discovering all this link posting stuff.

I can guarantee you that story is 500% fake
Because I have read similar stories million times and guess what?
Everyone that had a story like this was a scammer that wanted to earn a quick buck then disappear and start another similar scam
Matter of fact, this A.B Anderson is behind other unethical projects like Home Job Source, Direct Online Income, Cash from Home Academy
Believe it or not, these sites I named are just a few of the scams you will find online, they are the same, same sales page, same product, they are around to collect $97 from every person looking for online jobs.
[responsive_video type='youtube' hide_related='1′ hide_logo='0′ hide_controls='0′ hide_title='0′ hide_fullscreen='0′ autoplay='0′]https://www.youtube.com/watch?v=M37khf8curQ&feature=youtu.be[/responsive_video]
Easy & Fast Income Doesn't Exist 
To be honest I learned this lesson the hard way because in the past I did not want to accept the fact that making money online requires consistent hard work
I was always in the hunt for shining work from home opportunities that make bold claims and I was forcing myself to accept their claims.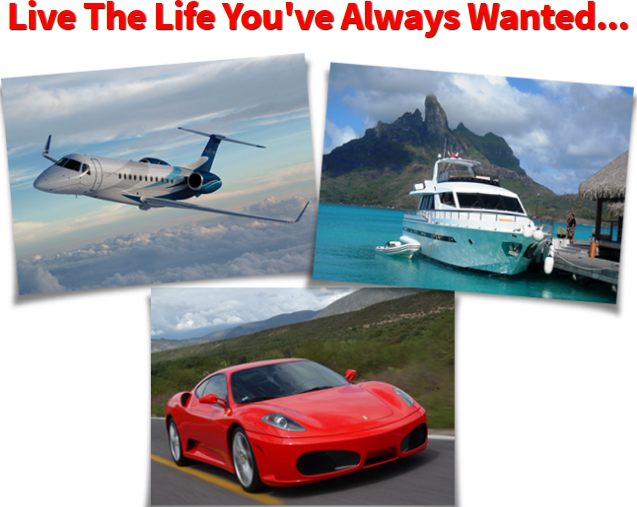 a little voice was telling me, Anis, don't you see it's too good to be true? But I was ignoring that because I was so blind and 'dead set' for the scam and that's exactly what they wanted me to be like.
They spend endless hours writing those sales pages with lots of conversion A/B testing just to make sure you can't resist the offer.
With that being said, there is no way you can earn money fast, you gotta learn something that adds value in order to earn an income.
Learn something that is honest and works like freelancing or Affiliate marketing
Affiliate Link Posting is Spam & Does Not Work
Home Wealth Remedy and similar scams promote video tutorials where you are taught to do Affiliate link posting that they say is hot and works.
The truth is it does not work at all, it's a lot of spam.
When you pay that $97 you will get access to a course that does not make any sense, what they want you to do is to get people to buy Home Wealth Remedy
So by buying this program you will be just inviting people to get ripped off by this scam.
Don't take my word for it, Google link posting and let me know.
It does not work it's something that is overused by scammers to cheat and steal money from people.
Here are some complaints about Home Wealthy Remedy
Companies are Not Desperate For People to Post Links
If companies were really desperate about people to post Affiliate links, you will hear about it every single day.
These scammers try to give you a reason why such an amazing opportunity is there.

Companies don't need anyone to post links, no one will ever pay you $10, $25, $30 to post a link.
Lots of people work the whole day to keep the food on the table, if an easy job like posting links was real they would be the first to know.
Only 3 Spots Left in 'Your City'
They say the program has got a lot of media attention and it's available only in a few cities.
That's not true they say that because they don't want you to think twice, they want you to act now.
When you land on their website the first thing you will notice is the only 3 spots left in your city, I'm in Paestum (Italy) now and as you can see it says only 3 spots left in Paestum.

When you enter the site it will say there are 3 spots in the city where you live.
Don't be tricked by that, it's just a computer code that changes the text into your city, the code knows your position from Google.
Home Wealth Remedy & The Fake News Video
A trick to make their offer credible is the news video, that news video barely mentions Home Wealth Remedy it talks about work from home in general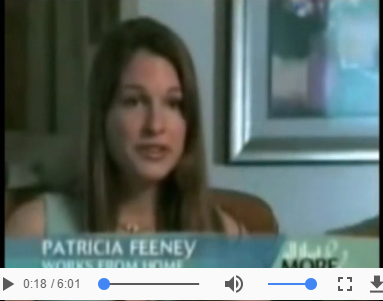 No site was mentioned, those people became rich working on the internet because they spent endless hours working on their online businesses
They did not make money posting a few links.
They worked their butt off and probably did not sleep many nights to live that fancy life.
This news video is overused by scammers, in fact, you can find the same video here in my Cash from Home review
$97 & The Upsells
Home Wealth Remedy does not work, that's clear but when you pay $97 you still will be asked for more money.
Some people that were scammed by Home Wealth Solutions (Similar Scam) claim that they were asked to pay $19 per month for the basic package.
Other than that you will be called by someone that will ask you several questions about your credit cards and stuff like that.
They want to know how much money you have and when they know your budget they will ask you to invest it in something, obviously just to rip you off.
Seen on CNN, ABC, Fox News
Another tactic to fool you into thinking that Home Wealth Remedy is a legitimate product is the logos of CNN, ABC, and other big channels.

It was never seen on those channels don't fall for it.
You know what's really seen on one of those channels?
This!
It's a 1:49 long video at 1:06 it will mention scams.
Is Home Wealth Remedy a Scam?
This is a scam I have seen many times, it keeps switching to different names.
I hope you have found this review useful If you know someone that might find it useful, feel free to use the social buttons to share.
As I said before making money online is something that requires hard work lots of it.
No one is going to make you rich fast no one is going to give you free money, if you don't work your butt off you won't earn anything.
Earning passive income online is possible just like the offline world you need to do something that will help people fix their problems to expect revenue.
If you don't know where to get started I recommend you to check out Wealthy Affiliate, their training is newbie friendly

They are honest and you can Join Wealthy Affiliate for Free (NO CREDIT CARD) take the first lessons they provide for free and you can decide if it's for you.
If you were scammed by Home Wealth Remedy please add your comments below to warn others!