This review is going to be about a reward site that I recently heard about
This reward site is called InnoPoll, there are thousands of surveys out there to choose from
From my experience with surveys, I think most of them are not good enough and just a waste of time.
Is InnoPoll a scam? Or it's a survey panel you definitely have to choose among all the rest?
If you want to finally start earning money online you definitely want to read this review
I'm going to share with you a very honest review and other free ways to earn money online!
Without any further ado let's get things rolling!
InnoPoll Review
Name

: InnoPoll
Website: InnoPoll.com

Owner

: Bovitz Inc

Price

: FREE

Rating

: 4/5
What is InnoPoll?
InnoPoll is a survey site that I recently came across
This survey is different from all the sites and the competitors out there
There are a lot of things I like about it
For example, you don't need a profile or a membership to take surveys
Your email address is more than enough
Yeah the site is super clear and straight forward
However, I still love Swagbucks because that's where I still earn more money every month!
How Does InnoPoll Work?
As I said before, InnoPoll is very simple and straight forward
All you have is to register using your email address or via your Facebook profile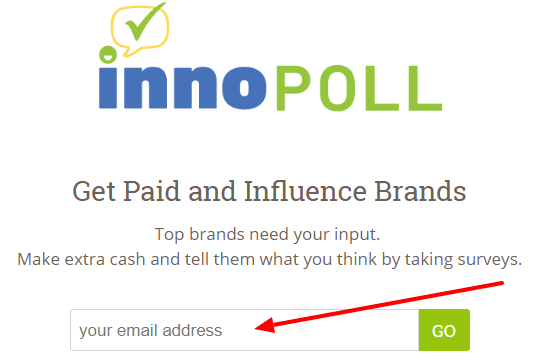 Confirm your email address and you're ready to go
You don't have to log in to InnoPoll every day to check for surveys as you will receive them on your email address whenever they are available!
If you wish you can also give out your phone number and verify it
This will allow you to receive instant rewards as soon as you finish the surveys
With that said, you don't have to worry about getting spam calls or in your inbox
InnoPoll isn't affiliated with third party internet marketers
So your personal information won't be sold and it's in good hands
What About The Surveys?
After you confirm your email address you will start receiving surveys regularly in your inbox
However when it comes to the survey invite rate (how many surveys you receive per month)
It's a bit disappointing as you will receive very limited
According to many reviews, you get only around 4 to 6 surveys per month
That's definitely not enough surveys to earn any decent extra cash
That's why I recommend you join at least 2 or 3 Good Reward sites to have more surveys and earn more!
Get Paid Even When You Don't Qualify
What I hate about most surveys is the fact that you get disqualified from surveys without getting rewarded for it
It's like the worst thing ever when you spend 15 minutes or more only to be told you're not a match
The good thing about InnoPoll is the fact you do earn One loyalty credit every time you get screened out from a survey
3 loyalty credits are worth $2
What I like about this is you will be able to cash out as soon as you earn that $2!
How Does InnoPoll Pay You?
When it comes to getting paid, InnoPoll is literally the best when it comes to that
There are absolutely no minimum threshold or something
You are able to cash out whatever you earn!
You take a survey you complete it and you get paid for it instantly
There are many payment options like Paypal and gift cards.
What I liked about InnoPoll
Easy to use site
Paypal Payments
No cashout limit
Positive reviews on the internet
You get paid even when you don't qualify
What I didn't Like
Difficult to qualify for surveys
The earnings are pretty limited
The survey send rate is low
Is InnoPoll a Scam?
InnoPoll is probably one of the best surveys on the internet
The site is very straightforward
You get paid as soon as you earn something
No spam or unsolicited calls
Everything's good except the survey send rate
It's very low and as a result, the earnings are low as well
I do recommend InnoPoll but you must join other High Paying Survey Sites as well to earn a decent extra cash online otherwise you will be wasting time!