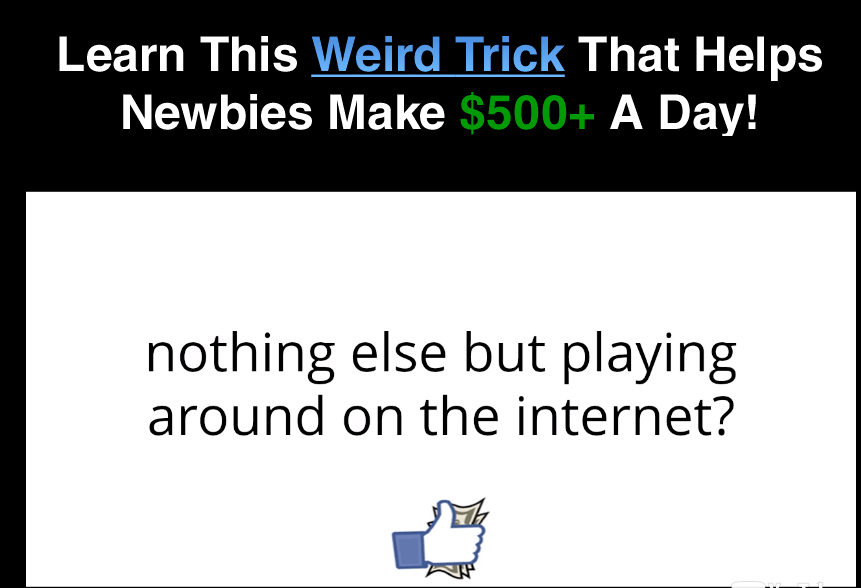 So did you hear about the Instant Income From Home and got excited?
Probably you are so skeptical and you want to be sure that you are buying a legit system that will actually make you $500 per day online
If that's the case, you definitely want to stick with me and read this honest Instant Income from Home Review.
Is Instant Income from home a scam or legit?
Let's find out 🙂
[thrive_megabutton mt="Making Money Online? The Training YOU Need!" st="" color="orange" link="https://fulltimehomebusiness.com/is-wealthy-affiliate-worth-it" target="_self" align="aligncenter"]
What is Instant Income at Home?
This is website that I easily called a scam when I first landed on it
But I don't want to judge it immediately I want to give it a try first and make sure if it's really a scam
First of all, I want to welcome you to my blog FullTimeHomeBusiness.com
My website reviews and exposes different make money online scams
My site has helped thousands of newbies online avoid scams and save their time and money!
Instant Income at Home is a cookie cutter website rehashed from an old scam called The Facebook Money System
Simply read my The FB Money System to see the same bait and design of the Instant Income at Home!
The Instant Income at Home claims that you will make $500 per day without any experience or knowledge
Even the name of the website is too good to be true
It claims that you will make money instantly
That's definitely not realistic
It just looks like these scams I had put my hands on recently
How Does Instant Income from Home Work?
What every scam does is they charge you a little price upfront then hit you with more upsells.
in today's case, Instant Income from home will charge you $37.
But that won't buy you the whole thing
As you go forward with Instant Income from home course you will be continually asked and mislead into buying more products that will make the owners rich
At the end of the day, you will find your self with lots of expenses with no gains.
This is basically a get rich quick scheme where you are tricked into becoming rich so they can make you buy lots of stuff
when you realize their system isn't working and ask for clarifications they will disappear.
Is Instant Income at Home a Scam?
Unfortunately, this is an obvious scam
It has all the ingredients that make it a total scam
Below I am going to share with you some red flags, so you are sure that Instant Income from Home is a scam.
Where is the FREE $500?
If you have watched their video presentation then I am sure you have heard it many times
You will get $500 after you watch the video
Chances are you have watched the whole Instant Income from Home video and you didn't get the $500
You will never get $500 unfortunately
That's just a flat lie
Get Rich with Instant Income at Home?
---
Instant Income at Home wants you to believe that you can get rich with a few pushes of a button
They do this so they can make you spend money to have those unreal magic buttons
They don't even give you a real training or something, they are just lying to you
Ina few words, you won't earn any money with Instant Income at Home
Let alone getting rich
Final Words
---
Instant Income at Home is nothing but a shady scam, they offer you a risk-free trial but you will be charged $20
They do offer refunds, but I'm sure they will make it hard for you to get one.
At least that's the scenario that usually happens with these type of scams
Instant Income at Home promises you easy and instant money but that's complete BS
because there is nothing such easy money that's some imaginary stuff.
I hope our Instant Income Review was useful if it was please leave comments below and let us know what do you think
[thrive_megabutton mt="START MAKING MONEY ONLINE – Best TRAINING!" st="" color="orange" link="https://fulltimehomebusiness.com/is-wealthy-affiliate-worth-it" target="_self" align="aligncenter"]