Name: ISurveyWorld
Website: ISurveyWorld.com (Affiliate link)
Price: Free
Verdict: Legit but there are better things.
IsurveyWorld Short Review
---
While ISurveyWorld is legitimate it's not a survey that I would really recommend because there are better sites that pay more and are easier to join LOL
What is It?
---
ISurveyWorld pays you to take surveys, they have their own surveys but I don't know why they keep sending people to other sites?
What I Liked
$5 sign up bonus
I can get paid via Paypal
What I did Not Like
The sign-up process is a nightmare (at least for me)
You need $25 to cashout
The surveys are very limited
No referral program, you can't refer your friends, unless you sign up for a CPA network.
I Don't Want to Sign up for other Sites!
---
ISurveyWorld asked me to join some other websites like InboxDollars and Valued Opinions.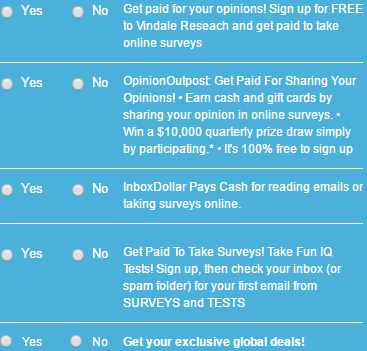 I said no to all the offers.
Finally, I signed up successfully, it took me like 20 minutes just to sign up, the form is so long it's very easy to forget a field or two.
After hitting the submit button I was slapped again with other 12 offers that I must join to succeed.
This is a picture of the first three offers, but every time I click on continue I find other 3 offers on my way.

I know ISurveyWorld will make money if I joined those sites under them, but it's a bit annoying, I think the first attempt is more than enough.
Does That Mean ISurveyWorld Cares About My Success?
It's fine that IsurveyWorld keeps recommending offers as long as it's a win-win situation
but I am afraid that in this case they just care about boosting their commissions.
They Recommend You to Join 12 Offers
Just imagine if you join them all
each one pays individually, you will get 2 surveys from here and 1 from there.
You will spread yourself too thin and never reach the minimum payout of any site.
In a few words, I recommend you pick up maximum 3 reward sites and focus on them.
How Much Will You Earn Per Survey?
---
ISurveyWorld focuses only on Surveys, so you won't make money taking offers and doing other stuff like you would with the best reward sites on the internet.
With this site, you will be earning $1.5 – $2 per survey.
The Survey length ranges from 10 to 25 minutes.
There is one thing I hate about ISurveyWorld though.
Limited Surveys
I don't understand why they have very limited surveys.
I think their main goal is to send you to other offers
It will be very hard to reach the payout requirement of $25 with this survey send rate.
Why There is No Referral Program?
---
Most surveys are a waste of time especially if they don't have a referral program
I think Swagbucks is the only survey that can make you some ok cash without relying on the referral program too much
I believe ISurveyWorld will make you work for months to be able to get that $25.
While ISurveyWorld doesn't have a referral program, they do have CPA campaigns running on different CPA networks.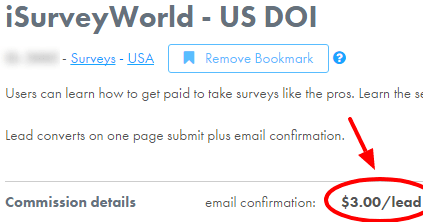 As you can see here, I will get $3 by just getting people to sign up
But I wanted to give an honest review for my readers as I promote only the best reward sites that actually pay.
Is ISurveyWorld a Scam?
---
Definitely not a scam, however, it's not a very good site to earn extra cash.
If you want to make some good extra cash I think Swagbucks is absolutely the best and you will be making money in different ways so won't be relying on surveys only.
With that said, remember that surveys  are just a way to earn some extra cash, you probably won't pay the bills with them
If you are looking for something more rewarding and reliable (takes more work)
I recommend you to check out Wealthy Affiliate, it's a great online business training for complete newbies.
---
Do you think ISurveyWorld is worth it? Please leave your comments if you have anything to say about this review.
Also, make sure you share this review with people interested! I will appreciate it!