What is Level Rewards?
For sure, you must have come across people talking about Level Rewards.
But what is it actually?
In a simple language, Level Rewards is a kind of program or website which people can make money from in the easiest way ever.
This cost per action program needs one to join it and fill out the trial offers, followed by generating money through referring people to the same site, so that they can also do the same.
When people finally get to sign up the trial offers, big firms and companies pay them.
In short, when you sign up for the trial, you become an affiliate whose work is to advertise the referral program on various social media platforms.
If you are familiar with reward sites like Swagbucks or Inboxdollars, level rewards is slightly similar to them.
How does Level Rewards work?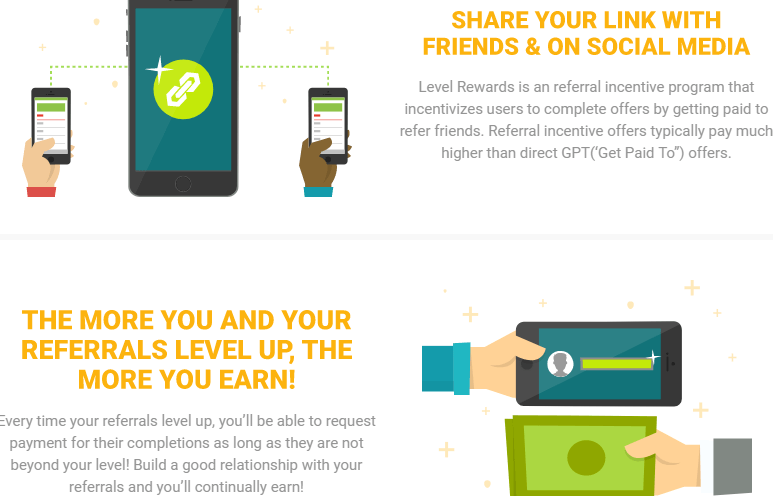 Since it is a money generating process, what you need to do first is to sign up for the trial offers that are available.
On each and every offer that you as an affiliate signs up, you will get some credits.
When you keep on accumulating credits, your level also keeps moving up.
When you are done with signing up, you will be at a zero level.
After completion of a task, the level changes from zero to 1, which is an equivalent of 1.00 credits, that is basically $1 dollar.
The highest level is 20, meaning that if you reach here; you will be earning lots of money.
As the name suggests, it is a level that keeps going up when you complete a task.
To get a lot of money, you invite people to join the program. If they join, you will be rewarded with a $5 for each and every person that has joined.
In other words, the process can be summed up as
You sign up as an affiliate using a referral link that is on their official site
Once the referral link is signed up, you proceed to completing tasks so as to earn money
Big companies linked with Fortune 500 pay some money to Level Rewards
This commission is then divided to the affiliates of Level Rewards, which is you and others
Is Level Rewards a scam?
Many people tend to think that Level up is a scam, but the truth of the matter is that it is not a scam, but a reality.
To add up to this fact, this program will neither make you a rich person even if you put all your effort in it. The reason why it can't give you lots of money is you need to refer people in order to get the commission.
Is Level Rewards worth your time?
Like said earlier, this program is not a scam, and you can actually earn money from it after taking the online surveys. Since the surveys are not things that can be time-consuming of such, it is considered to be a program that is worth your time.
Can you make money?
Yes, you are guaranteed to make money, though not full-time income. After getting a commission, you need to submit an order for you to be paid.
The money will be channeled to a PayPal account in less than 24 hours. You can make multiple orders a day.
Conclusion
As people paint it to be a scam, Level rewards is actually a reality when it comes to making money.
Though you will be able to make money, it cannot be something to give you a full-time income.
The signing up process is easy and as you finish a task, you are rewarded some credit as your level keeps going up.
With that said I think there are is better stuff than Level Rewards out there
If you are looking for some extra cash websites I invite to check out Swagbucks and these reward sites
If you want to start an online business from your passion to make a full-time income from home, you must try this amazing free to try training called Wealthy Affiliate.