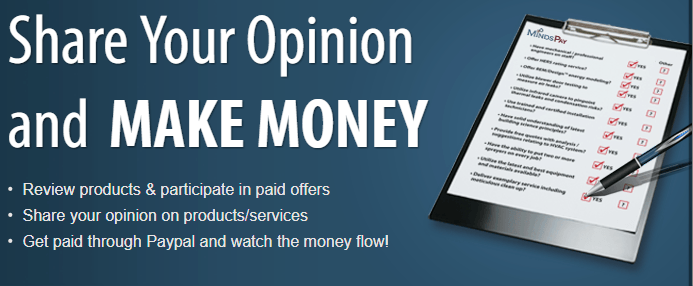 MindsPay is a site that claims it's going to pay you to share your opinions, take offers and test products
But is it legitimate or just a scam that is a waste of your precious time?
I put together this review for you, so make sure you read it to understand what this site is all about!
MindsPay Review
Name: MindsPay
Website: MindsPay.com
Price: Free
Recommended?: NO
[thrive_megabutton mt="Top Recommended Site to Earn Extra Cash" st="" color="orange" link="https://fulltimehomebusiness.com/what-is-swagbucks-com" target="_self" align="aligncenter"]
What is MindsPay?
MindsPay is a survey platform that pays people little money to share their opinion which improves their services and products
If you are familiar with InboxDollars or InboxPounds, Mindspay is similar.
MindsPay pays you to do different tasks like taking surveys and complete free and paid offers
This company is based in the US, Granville, Michigan to be precise.
How to Earn with MindsPay?
As I said before you earn money doing different things with this reward site
Here are some of the best ways to earn with MindsPay
Referring friends
1) Referring Friends
As any reward site, the best slice of the cake is in the referral program
With MindsPay you earn 20% of your referral earnings forever
2) Rebates
They get you to pay for products and paid offers and promise you to earn a cashback
But many complaints online claim that this is a catch and people do lose money here instead of earning.
3) Surveys
The MindsPay pay per survey is not bad, however, the time they require to be completed is not worth the hassle.
If you want to complete surveys with this company, it's going to be a big waste of time.
If you like surveys that pay well, there are many better alternatives out there.
4) Reading Emails
You can receive emails on your inbox and get paid 25 cents every time you open an email
the pay is misery here but at the end of the day, all you have to do is open emails.
MindsPay Concerns & Complaints
This site has many complaints online
They have an F rating on BBB with many complaints that include
Not getting paid
Receiving spammy emails
There are also complaints on Ripoff Report saying that this is a scam that is going to only waste your time.
Many complaints also claim that MindsPay sends spammy emails even if you unsubscribe you will still receive them
that's a big red flag as an honest company wouldn't do that.
Complaints include that people do not receive credits for activities.
it must be frustrating to work on something for hours only to find out you're not getting rewarded
There are many negative reviews online on this company
But I don't need to keep addressing them here as they can be found easily online by simply clicking the two links above.
How Does MindsPay Pay You?
The good thing about Minds Pay is they support Paypal
They pay on the 15th and the 30th of every month
The cashout limit is $50, in order to get paid you need to earn $50
MindsPay is definitely not the best place to earn some extra cash
Fortunately, there are many Better Reward Sites that Pay Better.
Is MindsPay a Scam or Legit?
I don't think MindsPay is a scam even though they have lots of complaining folks
However, I don't recommend you to join them because I don't think they are good enough
If you would like to earn some extra cash MindsPay, in my opinion, is not the way to go.
Here's a Better Survey Site that Actually Pays
If you want to earn a full-time income from home instead of collecting a few dollars here and there
I invite you to check out My Recommended Training for Newbies