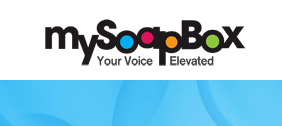 In this review, I am going to talk about MySoapBox which is a survey where you can extra cash
But is MySoapBox legit or another survey scam like Survey Voices?
All the answers are inside this short review, so read it before you join!
SoapBox Review
Name: SoapBox
Website: SoapBox.com
Price: FREE
Recommended? NO
[thrive_megabutton mt="Recommended Survey that Actually Makes Money!" st="" color="red" link="https://fulltimehomebusiness.com/what-is-swagbucks-com" target="_blank" align="aligncenter"]
What is Soap Box?
Soap Box is a reward site where you can make money by sharing your opinions
This site is similar to Opinion Plus and Cashcrate.
SoapBox charges advertisers and companies, so the latter would create products that will actually sell
Because your opinion will help them create products and services that the market wants.
How Does SoapBox Work?
Signing up for this survey is easy and fast, you can join them at MySoapBox.com
After signing up you will need to provide some profile information
They will use it to match you with surveys that interest you
After you complete your profile information you will start receiving emails that contain surveys.
Each survey will earn you around 200 to 1,500 points and their length is around 2 to 30 minutes
Obviously, the points you earn can be converted into cash.
How Much Money Can You Earn with MySoapBox?
The earning potential of this reward site is pretty disappointing in my opinion.
You can earn anywhere from $0.5 to $2,50 per survey
I don't think anyone would like to take a 30 minutes survey for $2,50?
How Does MySoapBox Pay You?
What I don't like about this site is the fact they don't pay in cash
You get paid in MySoapBox points which can be turned into cash
They don't even support Paypal as they only pay via gift cards
The minimum payout limit is $25
1000 SoapBox Points = $1
25000 = $25
My SoapBox Complaints & Concerns
You Will Earn Peanuts!
As you have probably noticed above the pay at SoapBox is misery
$2 for 30 minutes is not worth it in my opinion
That's obviously less than minimum wage
There are many better surveys like Swagbucks that pay better than this.
You're Screened Out!
Getting screened out while you're completing a survey is not unusual in the surveys world
However, at SoapBox, there are complaints about getting disqualified after spending 20 minutes answering questions
That must be very frustrating
You earn 1 cent if you get disqualified but that's nothing
It Takes a Lifetime to Reach the Payout…
You will need to generate 25,000 points in order to request a payment
However, considering the points you get per survey generating 25,000 may take you a year!
That's really not good
No Paypal Payments
Paypal is the fastest and best way to get paid
They currently don't support it and that's not a good thing in my book.
You Can Make Money Doing surveys only
Many surveys pay you to do different things like
Looks like the only way to earn money with MySoapBox is taking surveys.
Is MySoapBox a Scam?
MySoapBox is not a scam in my opinion
But I definitely DO NOT recommend them
The payments are misery if you join them you will earn peanuts
Their surveys require a lot of efforts!
When it comes to surveys the best one I would recommend is Swagbucks 
If you are looking for a better way to make money online
Then check out Our Recommended Training for Newbies