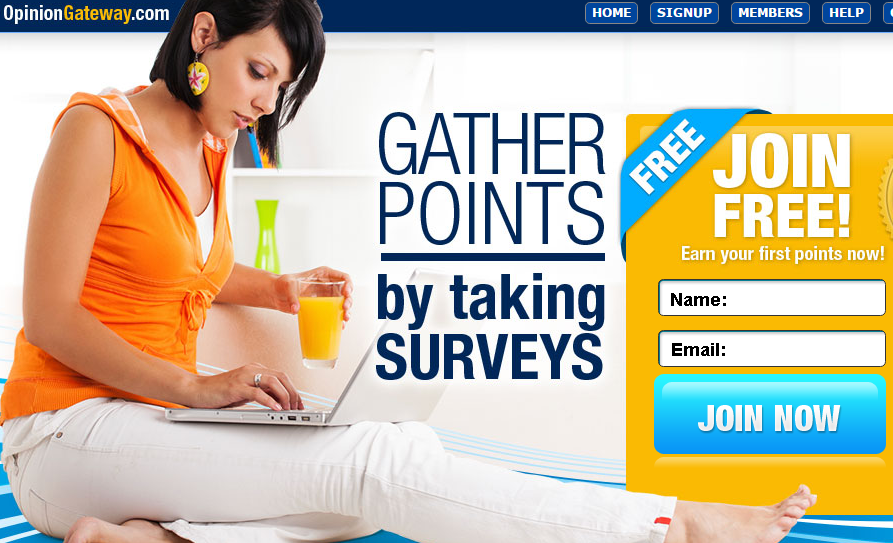 If you are looking for opiniongateway.com reviews make sure you read my honest opinion gateway review to see if it's legit or a scam
I was looking into a website called Getpaidtotry.com but I was redirected to OpinionGateway.com immediately, looks like getpaidtotry.com moved to a new domain name which is the site in question today.
Anyway, I have tried Opinion Gateway and I am here to share with you how it works, my personal experience and more.
Without any further do let's get into this review.
Quick Review
Name: OpinionGateway (Previously GetPaidtotry)
Website: Getpaidtotry.com redirects to OpinionGateway.com
Price: Free to join
Recommended?: No
What is Opinion Gateway?
As I said before I have heard about Opinion Gateway after being redirected from Getpaidtotry.
Getpaidtotry was a site where you get paid to take offers and to earn rebates 
In Opinion Gateway, you can still take offers and earn rebates but looks like they have added surveys and a couple of other features to earn more.
I'm going to share with all the ways available to earn with this site here.
How to Earn Money with OpinionGateway?
There are six ways to collect points with this site, the points can be redeemed for cash
Here are the six ways in which OpinionGateway allows you to earn points.
1) Free Offers
Their primary way to earn points is to take offers, you basically earn points when you register on a site or try a certain product.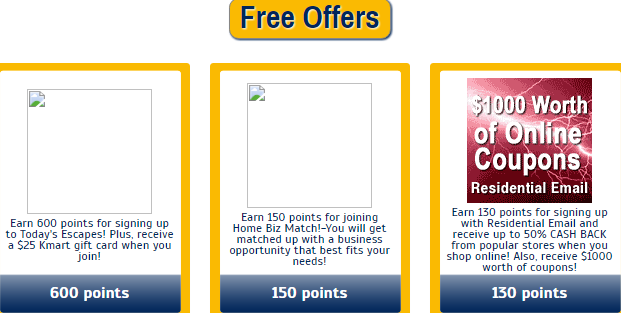 Here are some examples of free offers from the site, as you can see you can earn 600 points from a single offer.
2) Trial Offers
There are free and trial offers, the trial offers ask for your credit card info.
That is fine but just don't forget to remove your credit card before the trial ends because thereafter the trial you will be billed automatically every month.
Most free trials aren't free they usually costs around $0.50 to $1.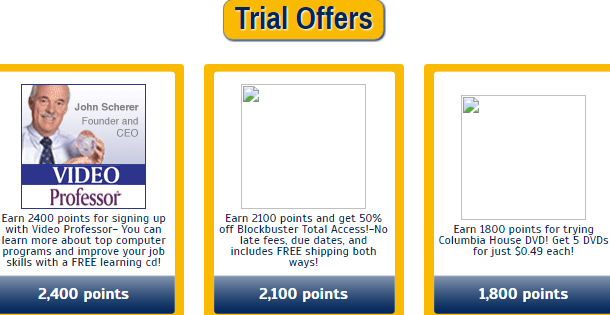 These points look good to me especially when considering 2,500 is $25.
3) Surveys
Surveys are another option to earn money with Opinion Gateway, however, is not the site that is going to survey you, they just get you to sign up for other survey sites like Cashcrate and Vindale Research
You can earn 100 to 350 points with the surveys.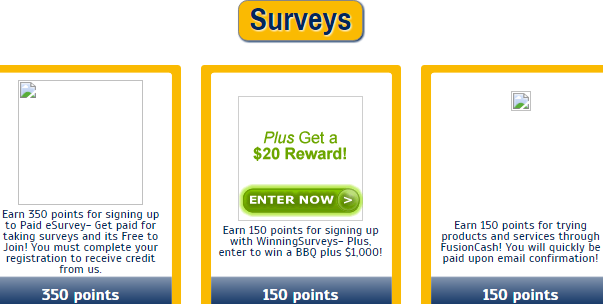 4) Cashback from Shopping
To earn rebates they show you some products if you buy them you will earn some cashback from them.
On my Opinion Gateway account, they are showing some books to buy, I don't like how they just show you random products to buy.
There are many great rebate websites out there like Mr.Rebates and Ibotta that allow you to earn cash back from buying products that you actually want to buy.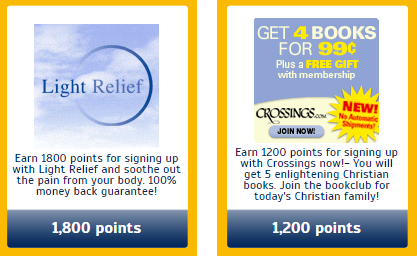 5) Read Emails
Every week you will find two or three paid emails in your Opinion Gateway inbox.
With paid emails, you usually earn around $0.2 which is nothing special.
The best site to get paid to read emails is InboxDollars nonetheless, the payments are still extremely low.
6) Referral program
You can earn extra points if you refer your friends, they have banners and referral links you can use to invite your friends.
How does Opinion Gateway Pay you?
You can exchange your points for Paypal money and gift cards the threshold seems to be $25.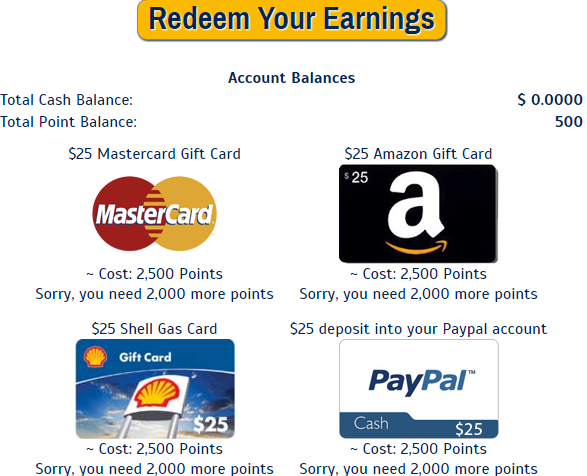 My Experience with OpinionGateway.com
I signed up for OpinionGateway because I wanted to try it out, after clicking through the site for a while I decided to take some offers
When I clicked on an offer I got a crazy security warning (I took a screenshot of that warning see the picture)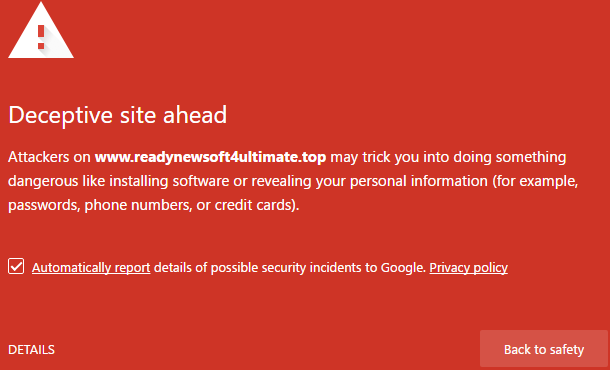 I have tried tens if not thousands of surveys and I have never received a security warning like that.
Another thing is Opinion Gateway asks for personal information that's something all surveys do just remember some surveys may send you tons of spam to your inbox.
Their old domain name GetPaidtotry sent lots of spam to their members and they weren't able to unsubscribe
Since it's the same website I won't be surprised if Opinion Gateway does the same.
Surveys on this site are also hard to qualify for, that's the case with most survey sites but here the "You don't qualify" message is seen more often.
Is Opinion Gateway a Scam?
The site is relatively new, calling it a scam now would be unfair with that being said I don't recommend it because I believe it's just a waste of time and energy really.
I believe surveys are not worth it even the most established surveys and reward sites are not worth it.
Surveys are good for companies to learn about the market but it's a ridiculous way to earn money because it's too much hard work for pennies.
That's my opinion, you the reader are free to try any program or product you wish I just don't recommend Opinion Gateway or other surveys because they are way too much hard work for less than minimum wage payout.
Solid & Reliable Way to Earn Money Online?
Most surveys, online jobs, and work from home opportunities are either scams, pay less than minimum wage or not for newbies that's why I always recommend people to start an affiliate website.
With an affiliate website, you earn money by helping people buy products they are looking for.
For example, you sign up for Amazon they will give you an affiliate link, you promote that on your site and whenever someone buys a product from Amazon you get paid.
Google will send you targeted traffic to your articles that contain affiliate links.
If you are a newbie and don't know where to start this profitable business opportunity then you need a solid affiliate marketing training.
The one I recommend is Wealthy Affiliate because it's perfect for newbies and it teaches you the right way how to start an affiliate website and also because of the supportive community where you get help whenever you need it.
Wealthy Affiliate is free to try (No Credit Card) you will get 10 free affiliate marketing lessons, 2 free websites with hosting, access to live chat, support and more.
Join Wealthy Affiliate It's $0
Or Learn more about Wealthy Affiliate.
---
Do you have experiences with Opinion Gateway? Please let us hear your thoughts if you have any questions or feedback don't forget to drop comments below!