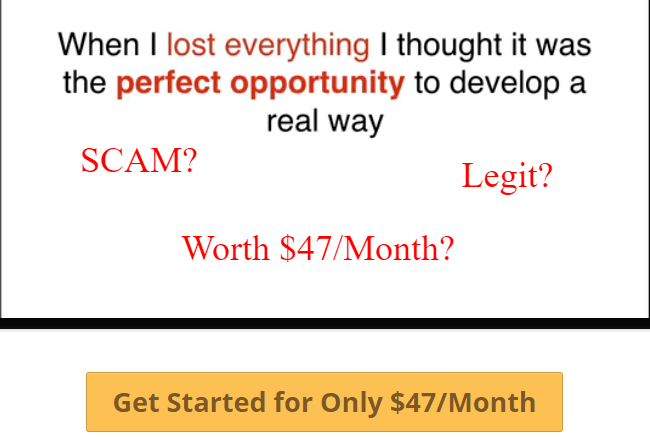 Not sure if The Little Guy Method is legit or a scam? Make sure you read this review before you buy it!
Starting an Online Business is absolutely a reliable way to earn passive income, not only because the sky is the limit in terms of earnings but also because you don't need investing thousands of dollars to get started.
There are  a lot of affiliate marketing training platforms that cost thousands of dollars however most of them are either over priced and limited or scams.
The Little Guy Method doesnt seem to charge a heafty price to get started however there are some things about it that really bother me I am going to talk about that in this review.
Let's dive right into the review.
What is The Little Guy Method?
The Little Guy Method is a video training that claims to teach you how to start an online business (Step by Step) from nothing.
The product also comes with weekly live webinars.
The Little Guy Method is listed on ClickBank and the product presentation page says  it was written by an underground 7 figure copywriter however this copywriter name is unkown.
The Little Guy Method is new as it was released in 27th March, 2017.
How Much Does it Cost?
The Little Guy Method costs $47/month you can cancel anytime, there don't seem to be any uneneccessary upsells which is something good in my book
Another thing I like is the fact The Little Guy Method is sold via ClickBank, you have a 60 day money back garantee, in case you don't like the product you will definitely get your money back.
If you have an affiliate website you will earn 50% of commissions on every sale you make, however there are better affiliate programs that pay 50% recurring commissions.
I wanted to promote The Little Guy Method in this post but I refused to do so because there are some red flags that bothered me.
The Little Guy Method Concerns
As I said before I wanted to promote this opportunity but the following concerns hold me back from doing so.
Lack of Information
I have reviewed a lot of work at home programs on this blog, the ones that don't offer much information on the product and it's features most of the time turn out to be scam.
I'm not saying that the Little Guy Method is a scam but there isn't much information about the actual training, what's going to be included in the membership and stuff.
The video is mostly about the person talking on the video and how they struggled in their life, the product information is barely mentioned.
No Free Trial
Most Legit online business training opportunities like Wealthy Affiliate and Affilorama allow you to get started for free to have a good idea of what they are offering and what you can expect to have after you spend money.
That's doesn't seem to be the case with The Little Guy Method since you have to pay $47/month immediately and as I said before the video doesn't say much about the training.
It's a New Product
The Little Guy Method is very new to the game, I'd definitely wait until I see what other people that have tried it say, only time will tell if this program is legit or a scam.
If I were you I'd not buy this product now, as for now it's not trustworthy.
Final Thoughts & Recommendation
The Little Guy Method is definitely not your typical get rich quick scheme, the video clearly states that and it doesn't hype things up like most programs out there.
However I can't recommend it now because it's relatively very new, the video doesn't explain the features of the program and  it immediately asks for $47/month.
As I mentioned earlier I'd wait at least a couple of weeks when people try it and give feedback, I will surely update this review with any news.
With that said, if you want to start a successful online business where you sell other people's products,
I recommend you to check out Wealthy Affiliate unlike the Little Guy Method it's 100% free to try and it's been online for 12 years now
Additionally it comes with a great supportive community, mentoring, 2 free websites, hosting, live webinars and more.
It costs $49 per month, you can get the first month for only $19 but before you pay $19 you can try 100% for free (No Credit Card)
[thrive_megabutton mt="JOIN WEALTHY AFFILIATE IT'S $0 (NO CREDIT CARD)" st="" color="orange" link="https://fulltimehomebusiness.com/WAfreemembership" target="_blank" align=""]
Or Learn more about Wealthy Affiliate here.
Would you buy The Little Guy Method now? What do you think about it?
Any thoughts or comments are highly welcome!