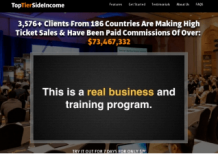 This is going to be a VERY honest Top Tier Side Income Review, is this a scam or a legitimate program?
Read this honest review to find out!
Top Tier Side Income Review
Name: Top Tier Side Income
Website: toptiersideincome.com
Price: $7 – $30,000
Owner: Matt Lloyd
Recommended?: No
Honest & Legitimate Online Business Training (FREE TO JOIN NO CC required)
Getting extra cash has always been everyone's cup of tea and fortunately, our era provides myriads of ways in which a person can get those extra bucks.
What's even better is that you don't have to move from your couch and neither do you have to quit your day job as these side hustles are available online which means you can do them anywhere.
Nevertheless, they've become so many, and not all are legit which means you ought to be careful.
Fortunately, through our Top tier side income review, you can be able to determine for yourself whether top-tier side income is a scam.
What is Top Tier Side Income?
Top tier side income is the newest kid in the block of affiliate marketing from MOBE and which is created by Matt Lloyd
Top Tier Side Income is similar to the other Mobe Sales funnel called Wifi Millionaire which was also created by Matt Lloyd
Unlike the other affiliate marketing platforms, top-tier offers you 21-day training which equips you with skills to build a profitable online business with MOBE.
Now that we've mentioned MOBE several times already chances are you are wondering what is MOBE but don't worry as we are about to let you know.
My #1 Recommended Training for Newbies
It is the short abbreviated form of my online business education which is a marketing and business training firm for affiliate marketers, small and medium-sized business owners or entrepreneurs who are looking for ways to take their investments a notch higher.
MOBE provides various tools and resources such as a coach, high ticket products, customer service and a few others so that the only thing you have to focus on is creating leads and recruit new members into the program.
If you want to learn more about MOBE, how much they cost and how they work just read my Mobe Review
UPDATE 2018: Top Tier Side Income & Mobe no longer exist as they have been closed by the FTC!
How does Top Tier Side Income work?
Now that you know what top tier is and also the company behind it, you probably can't wait to know how it works
and again I am about to fill in your curiosity by letting you know every tiny detail and answer you the burning question; is top tier side income a scam?
As mentioned earlier, it provides you with all the resources you need and the only thing you have to do is recruit people.
"So how do I make money?" you ask.
Well, you don't make money until the person, or people you hire into the program begin paying for some of the products inside Top tier and that is when you get commissions.
Here is a page where Mobe gives you banners, affiliate links and other tools to promote Top Tier Side Income
And this is a page on Affplus where you can promote Top Tier Side Income and earn commissions for every person you refer
Is Top Tier Side Income a scam?
Well, that didn't sound so bad, and it seems like there is a lot of money making going on in there because all you need to do is recruit people and wallah!
You get money.
So is top tier side income a scam or not?
The answer to that is not really because unlike other programs like $500 Cash Club, Massive Online Paydays, and Rookie Profit System which do not reveal they are powered by MOBE, top tier has been quite transparent and let you know that the program you want to join is from MOBE.
However, it has a few cons which you might consider as scam signs.
Read on below and make your conclusion.
The scam signs
1) It's Going to Cost You Tons of Money Upfront!
First of all, even the seven-day trial has a $7 fee, and if you want to continue, you have to pay about $49 in a month.
Additionally, they claim to deal with more than 100 different products, but all you will deal with is high ticket products which you pay for without knowing.
That means you have to spend a lot of money before you can get access to and start earning.
Therefore besides the fee, you also have to buy products before you can earn and the products are quite costly as they cheapest range at $2497 and go up to $29,997 which is quite a lump sum.
Also because it works by you recreating people, it means you will have to spend a lot of time recruiting a large group of people so that you can get the few who are willing to invest in all that cash and chances are not many will be ready.
So you not only waste time but also spend extra while trying to generate traffic.
2) Negative Mobe Reviews
There are a lot of Mobe negative reviews out there where people complain about this company and their unethical marketing tactics
Here are some examples of some Mobe complaints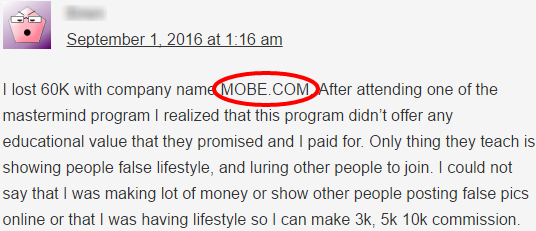 Learn More about What Other People Say about Top Tier Side Income
Can You Make Money with the Top Tier Side Income?
Yes, you can make money, but you will need a lot of patience and also invest a lot of money and time in the program before you can begin getting any returns.
Therefore if you have a lot of disposable cash and patience then go for it.
Final Review
In a nutshell, our top-tier side income review concludes that the program is not a scam as it lets you know you are dealing with MOBE a company which doesn't hold quite a good reputation.
So if you want to venture, you will be aware of what you are getting yourself into.
However, if you are a tech-savvy person with a considerable following and also someone who is willing to invest in a lot of money, then top tier is for you because the only downside it has is the high costs.
Otherwise, it's not a scam.
If you're looking for an affordable training that won't break your bank and that is better than Top Tier Side Income
Then you may want to check out My #1 Recommended Training for Newbies