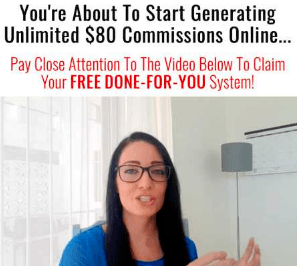 Wifi Wealth System looks like an interesting product that can allow you to work from home, but is it for real or a total scam? You don't have to worry about that because today you're going to read a full truth revealing review about the Wifi Wealth System.
Wifi Wealth System Quick Review
Name: Wifi Wealth System
Website: wifiwealthsystem.co
Price: free but there are costs inside
Recommended? No
Recommended Training for Making Money Online (Newbies)
What is Wifi Wealth System?
Wifi Wealth System is a newly launched program that belongs to a person that has preferred to stay anonymous, there is literally no information on who owns this system, so that's the first red flag.
This system as you have watched in the sales video, it's promising you to earn unlimited $80 affiliate commissions, while that sounds good it's normal to have no limits to the affiliate commissions you can earn, everyone offers you the possibility to earn unlimited commissions.
The problem is where you will get the people that will buy this system and make you commissions, the hardest part is getting visitors and making them buy so you earn, there are millions if not billions of affiliate programs that can earn you unlimited commissions but if you have no traffic or you don't know how to convert it, everything is useless.
I review online marketing products all the time, I have seen it all, I have reviewed both scams and legit opportunties, some scams want you to pay money upfront which Wifi Wealth System is not doing, while other scammers give you a free system with a bunch of hidden costs.
Wifi Wealth System is not charging you a cent to get started, but the real question is, are there any hidden costs or any catches? Most importantly can this system make you money?
All these questions will be answered, just keep reading.
How Does Wifi Wealth System Work?
To get started you will have to watch about 10 videos which are going to show you how to use Wifi Wealth System and how to set up everything
The videos will tell you to sign up for 3 products that you're going to use for your business and at the same time you're going to promote them to other people
Every time someone buys one of the products you promote you will earn commissions
Here's a quick overview of what these 3 programs are
Aweber: This is an autoresponder that is going to host all the email addresses that your sales page gets, everytime someone leaves their email address on your website the email address will be saved by Aweber which will also allow you to send your email subscribers paid email offers reguralry.
 Motor Club of America: This is a roadside assistance service which has an affiliate program that will pay you $80 for every person you bring to it, you will need to promote this company and make money whenever someone buys their membership.
 Ebates: This is a cashback website that I have already reviewed on my site before, I highly recommend it as it can save you a lot of money when you go shopping online, you can also promote Ebates to earn more money.
How Much is Wifi Wealth System Going to Cost You?
You need to buy the 3 above programs which come with monthly fees and also buy traffic from Udimi.
Here's a quick breakdown of the prices
Aweber: $19 a month (Wifi Wealth System use this to get email addresses from people)
Motor Club of America: $19.95 a month (but you need to pay 2 months in the first order)
 Ebates: 100% Free
The other costs are going to be paid traffic this can be very expensive, you will need to spend at least $100 per week to make this effective, the worst part, if people feel that what you promote is BS they will just ignore it and you end up wasting money with no results.
Can You Really Make Money with This?
The whole Wifi Wealth System training is a 20 minutes video, that's definitely not enough training to start making any considerable income, especially if you're a newbie and have no idea how all this works.
It personally took me months to learn how to make money online so don't be fooled by anyone giving you a short video as training and promising you the world.
Making money takes a lot of hard work and dedication, so you will need a solid online business training with hours of lessons and tutorials like the training I used to learn all this.
Paid traffic alone is something that needs to be mastered very well in order for it to pay off, you will actually waste lots of money if you get into paid traffic without any training or experience!
Is Wifi Wealth System a Scam?
They are not stealing your money, they are offering you some training even if it's not enough, it's still a free training, there are some products you will need to pay but at least those are legitimate and won't steal your hard earned cash.
However the problem I see is paid traffic, it requires a lot of experience and training, you can easily lose your life savings with just a false move, paid traffic is VERY Risky.
The other problem I see is the fact they ask you for your affiliate links, they want you to add your affiliate links inside Wifi Wealth System which makes me wonder if they might hijack your commissions exactly like the what the owner of The Four Percent Group did to his members before.
The whole site honestly looks cheesy, the owner does not show up, all these things hold me back from recommending this to anyone.
I hope this review has helped you a little bit, remember you're free to buy anything you want if you want to get into Wifi Wealth System, do it but be very careful they might turn out into big scammers.
The Training I recommend to Newbies to Earn Online
If you are looking for a training that will teach you how to start working from home and earn, then I recommend you a training that has a lot of lessons, tutorials, and support so you can ask questions and get help whenever you need it.
That's why I invite to check out the same training that taught me to earn $2,000 a month, it's free to try, you will get 10 lessons for free, then you will have to pay $19 the first month, then $49/month, but you're going to get everything, training, support, live webinars, websites, live chat and a lot more.
Click here if you want to learn more about this training for newbies.