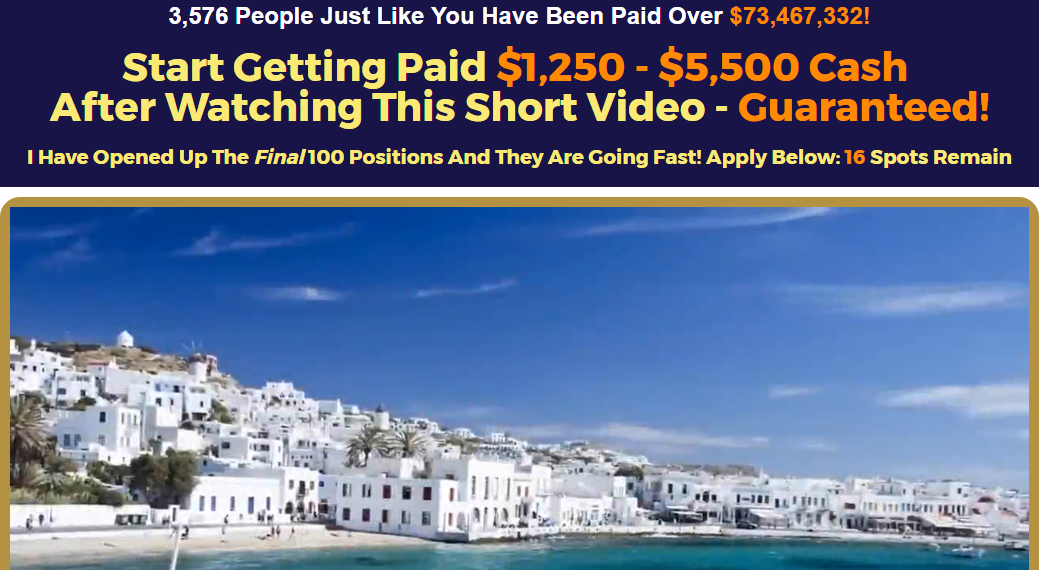 Today I'd like to review 21 Step Millionaire Coach, If you watched the promo video you are probably wondering if it is a scam or legit.
If you want to know if this program is legitimate I recommend you to read this whole review.
Without wasting time let's jump right into this 21 Step Millionaire Coach review.
Quick Review
Name: 21 Step Millionaire Coach
Website: 21StepMillionaireCoach.com
Owner: Marc (Probably a stage name)
Price: $97 and a sea of upsells
Recommended? NO
[thrive_link color='orange' link='https://fulltimehomebusiness.com/is-wealthy-affiliate-worth-it' target='_self' size='normal' align='aligncenter']Honest, Legit, Affiliate Marketing Training (Free to Join)[/thrive_link]
What is 21 Step Millionaire Coach?
When you enter 21 Step Millionaire Coach website you see a video where someone is explaining to you the program, the narrator calls himself Marc which is probably a stage name
Because when you try to see who is behind this program you won't find anything and that's a big red flag because the real owner is hiding and not making face as a real person in the video or anywhere.
What does that tell you about a company?
I have lost count of how many scams I have reviewed that look extremely similar to 21 Step Millionaire Coach, I guarantee you success, this system is done for you and all that hype.
If you dig deeper into the program you will realize it's essentially Mobe, some Affiliate has created 21 Step Millionaire as a sales funnel to Mobe.
If you don't know what is Mobe I will take a minute to explain what is it.
What is Mobe?
UPDATE: Mobe has been shut down by the FTC!
Mobe is an affiliate network created by Matt Loyd that teaches you how to start an online business it's popular by the high ticket programs that a lot of marketers like to promote because they will be getting very big commissions.
Unfortunately, most Mobe Affiliates promote the products in unethical ways just to earn those fat commissions and that seems to be the case with 21 Step Millionaire Coach and also My Millionaire Mentor, I think Matt Loyd (the owner of Mobe) is aware of that but since he is making money it's cool.
What I hate about Mobe (formerly My Online Business Empire) it's very expensive and it's full of upsells and hype as they like showing off cars and most of their affiliates try to sell you a dream.
I'm not going to explain everything about MOBE but You can read this Mobe review to learn more about it.
How Does 21 Step Millionaire Coach Work & What is the Real Price?
So the product we are reviewing here is 21 Step Millionaire Coach but it's all about sending people to become Mobe Affiliates.
Mobe is an affiliate network with different membership levels and you make money if you recruit people to one of their memberships.
Obviously, your commissions depend on the membership level you sell, if you manage to sell the $30,000 Diamond membership (which seems to be their highest membership) you will earn $10,000 in commissions.
But the problem is to be able to promote the $30,000 Diamond membership you need to be a member of it, yes you heard that right you need to pay that price!
That's the case with all their memberships here are some of them
My Top Tier Business ($49 per month)
Mobe Licensing Rights ($1,997 upfront and $99 per month)
Titanium Mastermind ($8,997 one time fee and $199 per month)
Platinum Mastermind ($14,997 one time fee and $299 per month)
To promote those memberships you need to own them first and that's MLM (Multi-Level Marketing) where you are encouraged to buy more stuff in order to sell.
With that being said there are people that make money with this, on the other hand, there are a lot of people that lost TONS OF MONEY without earning a dime.
21 Step Millionaire coach and Mobe are very expensive and there is no guarantee you will succeed I think it's like gambling it's very risky and you could waste a lot of money.
Don't take my word for it have a look at these Mobe members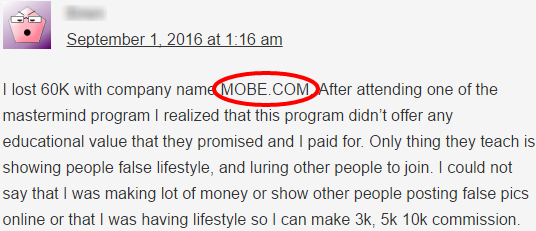 There are a lot of more complaints about Mobe out there of people that wasted up to $60k on Mobe just do a quick Google search and you will see.
To sell you those memberships, Mobe affiliates create super hyped up programs like 21 Step Millionaire Coach, 7 Figure freedom formula, Automated Daily Income, $500 Cash Club and My millionaire mentor
Can You Make Money With 21 Step Millionaire Coach?
Just to make things clear, you can make money with this system just remember that you are going to sell exactly what you buy.
Say you want to promote the Mobe Diamond membership that costs $30,000 you need to pay the full price first then promote it.
You will earn $10,000 if you manage to sell a membership, so you need to sell three memberships just to earn back your investment of $30,000.
That's why I think it's not worth it unless you have deep pockets and don't mind investing those figures.
Is 21 Step Millionaire Coach a Scam?
21 Step Millionaire Coach was made only to sell Mobe memberships I explained what is Mobe and how it works previously, Mobe is not a scam it's just too expensive and a bit misleading.
However, I can confidently tell you 21 Step Millionaire is a scam and here are a couple of reasons why I think it's a scam.
1) Fake Testimonials
If you have watched their promo video then I am sure you have heard those testimonials claim they have earned a lot of money using 21 Step Millionaire Coach.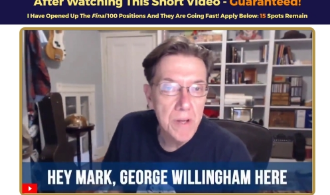 Unfortunately, those testimonials are bought from a site called Fiverr where you can buy any type of video testimonial for a price as cheap as $5.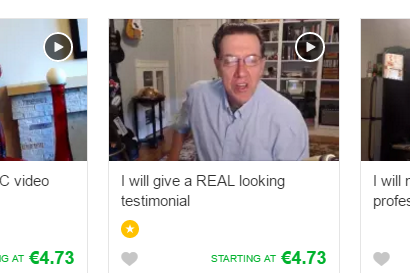 2) Hype
The promo video is full of hype, cars, mansions and all that nice stuff, that's something common between scammers and that's a very unethical way to introduce a program.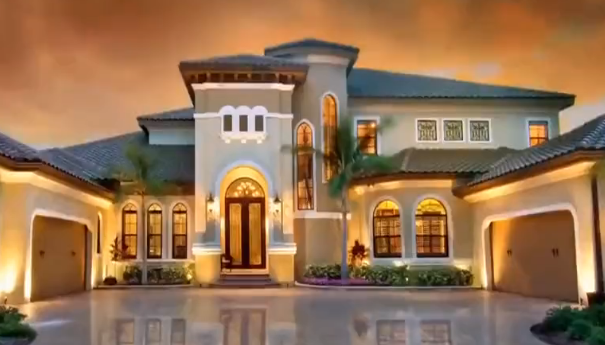 3) Tons of Upsells & Hard to Get Refunds
If you buy the Mobe training you should be prepared for lots of upsells, to be honest, some of them are unnecessary the worst part they make it tough for the folks to get their money back in case they are not satisfied with the program.
The $97 is just for getting through the door, to increase your commissions you need to buy the numerous upsells which are extremely expensive for the average joe.
4) Dissatisfied Members
You have seen member complaints that wasted up to $60k on this program without earning a dime, as I said before there are a lot of them.
21 Step Millionaire is very expensive and it's not for people with a low budget.
My Final Opinion & Recommendation
I believe 21 Step Millionaire is a scam because it's all about selling you Mobe but they hardly mention any relationship with Mobe or 7 Figures freedom formula (which you will find on the checkout page)
MOBE requires you to invest massively in order to be able to promote their stuff, the more you pay the more you earn that's why I think this will lead to desperation as you will try to look in every corner for people to sell MOBE to.
This program is very misleading regardless of the fake testimonials they use if a program works and actually helps people make money I don't know why they would really need to buy fake testimonies.
Any program that buys fake testimonials and where the owner is not making face as a real person should be avoided at all costs.
In a few words, this program is Extremely expensive, misleading and full of hype and I don't recommend it
With that being said anyone can buy any program they like but if you ask me about this program you know I will never recommend it.
I recommend Wealthy Affiliate because it's an honest and very ethical company that you can try absolutely for free and decide if it's the right program.
The first month will cost you only $19 and then $49/month (n0 Upsells!), at a cost of around $1.50 per day you can start a successful website in any niche you want where you can promote any affiliate program you want for example Amazon has millions of products that you can promote within your niche.
Wealthy Affiliate is full of support and helpful members and the training is top notch
I strongly believe that Wealthy Affiliate is the best program out there to learn how to start a successful business without risking tons of money.
They also allow people to try the program for free (No Credit Card Required) so you know what you are going to buy
Read my Wealthy Affiliate review to learn more.
Hope you have found my 21 step Millionaire Coach useful, feel free to drop comments if you have questions, comments, feedback or experiences you want to share us.