Today I'd like to do a very honest review of the 45 Minute Paydays, is it a scam? or a great opportunity to earn money? Find out the truth!
45 Minute Paydays is a product that almost everyone out there called a scam, it's not a scam, it's a program where you can make money, however, there are many bad things about it like hype and the hidden costs.
If you want to find out the real truth about this program, please bear with me until the end of this review.
45 Minute Paydays Quick Review
Name: 45 Minute Paydays
Website: 45MinutePaydays.com
What is it?: Sales Funnel to MOBE
Owner: Raena Lynn
Price: $49 + high ticket upsells
Recommended? Yes, but only to experienced people ready to invest large sums of money and time.
My #1 Recommended Online Business for Newbies
What is Minute Paydays all About?
---
45 Minute Paydays is a work from home program that claims you will be earning $10,000 per month by simply spending 45 minutes per day.
You can earn that amount by spending 45 minutes per day because the system doesn't rely on free traffic methods (which requires a lot of time) but paid traffic which you need to buy.
Since you will be buying traffic you can definitely earn $10,000 per month you just need to know what you are doing otherwise you will be spending money on nothing.
45 Minute Paydays will teach you how to buy traffic so you earn more than you spend.
What's the Catch?
45 Minutes Payday claims you will be earning $15,000 per sale, that's true! but what they fail to mention is you need to buy a $30,000 high ticket membership first!

To make money you need to license MOBE's high ticket products and then resell them for profit.
What is MOBE?
MOBE aka MTTB is a high ticket online business opportunity created by Matt Loyd where you learn how to start an online business, most of it though seems to be only about promoting MOBE.

You basically buy very costly products so you can sell them to earn up to $15,000 per sale.
You will have your own coach that will answer your questions related to the training and products.
When you join MOBE by paying $49 you are automatically considered a standard affiliate, the commissions you earn will be very low to increase your commissions you need to upgrade to higher memberships that cost more money.
Here are their other memberships, the higher your membership is the more money you will make, people at the top will make more money, it's basically an MLM scheme.
MLR: $2,497
Titanium: $10,000
Platinum: $16,667
Diamond: $30,000
Note that there are other products and upsells if you want to learn more about them, here's a MOBE review that goes on more details.
Raena Lynn is a MOBE diamond Mastermind member and she created 45 Minute Paydays as sales funnel to MOBE, when you pay $49 you will be a member of MOBE and the more you spend on the membership the more commissions Raena Lynn will earn.
[thrive_link color='orange' link='https://fulltimehomebusiness.com/is-wealthy-affiliate-worth-it' target='_blank' size='big' align='aligncenter']The Perfect Training for Newbies & It's Free to Try![/thrive_link]
Is 45 Minute Paydays a Scam?
---
45 Minute Paydays is sort of a scam, it's an unethical way to sell MOBE because it's essentially selling you based on lies and hype.
This is not the first time we see an unethical MOBE affiliate, many of their affiliates seem to create bogus programs with ridiculous names like The 21 Step Millionaire coach, My Millionaire Mentor, Top Tier Side Income, and $500 Cash Club to sell MOBE.
45 Minute Paydays hype things up and make it seem like it's very easy to make money online.
Here are some the lies made by this program.
1) You Only Need to Invest $49?

45 Minute Paydays make it seem like you only need to invest $49 to make large commissions, it's foolish to think that with $49 one time fee you will be handed a $10,000 generating system.
This program literally says there are no hidden fees but when you get into the system you will find tons of upsells and high ticket products you must buy to earn large commissions.
When you find those upsells and the products they will tell you " oh if you want to make large commissions you must buy them.
Very misleading.
2) Easy & Fast Earnings?

45 Minute Paydays fool you into thinking that you are going to earn easily and immediately, this is not true because you will have to go through hours and hours of training and you need to invest a lot of money along the way.
It will be easy later after months of hard work, nothing comes easy and this is another sad way of selling a program I believe.
Who is it for?
---
45 Minute Paydays and MOBE are not suitable for newbies or people with a limited budget, I have seen many newbies thought MOBE was for them and they ended up wasting tons of money.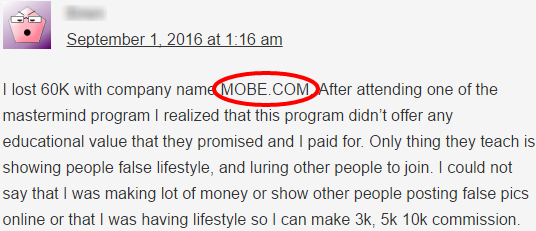 This program is perfect for people with large email lists and that have experience.
If you are looking for a training that is suitable for newbies and does not cost a lot of money
then you may want to check out My#1 Recommended Training for Newbies
45 Minute Paydays Review: Final Points & Recommendation
---
45 Minute Paydays is another program trying to sell you MOBE by lying and hiding the real cost, the $500 guarantee is BS.
You won't make $10,000/month by spending $49, you will have to invest thousands of dollars which Raena Lynn fails to mention, even worse she says there are no hidden costs.
As I said before, MOBE is very expensive and I recommend it if you can afford it and have some internet marketing experience if not, don't do it, it's very risky.
If you are a novice to the internet marketing world
I recommend you to check out Wealthy Affiliate.
It's pretty straightforward and honest, the training works, it takes hard work of course
The price is pretty affordable and you can try 10 free lessons for free so even if you realize it's not for you, you will have only created a free account and not burned thousands of dollars.
[thrive_megabutton mt="Join Wealthy Affiliate it's 0$!" st="" color="orange" link="https://fulltimehomebusiness.com/JoinWealthyAffiliatetoday" target="_self" align="aligncenter"]
Or Learn more about it here
---
Do you have any questions about this review? Please leave comments below!