$500 Cash Club says you will start earning immediately but the question is, is it a scam or legit? Can You Really Trust it? Read this review before you buy.
What is $500 Cash Club Exactly?
I'm going to get straight to the point here, $500 Cash Club is your typical get rich quick scheme that guarantees you $500 if you watch the whole video presentation which is full of hype.

We have seen this scam before in another program called the 21 Step Millionaire Coach which is very similar to $500 Cash Club in terms of hype and fake claims.
One thing I couldn't help but notice is the fact these newest scams are complaining about the scams out there just to fool you into thinking they are the real deal.
$500 Cash Club has the same design of Facebook Bonanza and Home Cash Codewhich are some link posting scams, however, $500 Cash Club is essentially a sale funnel to a Company Called MOBE.
What is MOBE?
MOBE is an Online Business opportunity where you can make money by promoting high ticket products, it also comes with training, support and more.
I don't think MOBE is a scam (although some do call it a scam) since a lot of affiliate marketers are making quite a lot of money with MOBE because they have a lot of experience under their belts.
If you are a newbie you want to COMPLETELY stay away from MOBE, because it's simply not for newbies that want to make their first buck online
Secondly, as I said before it's a high ticket program meaning if you want to make the most commissions you have to spend $30,000 on their highest membership.
You have to buy the products that you want to promote and they cost a lot of money.
In a few words, if you are an experienced internet marketer and you a have a large email list, MOBE is for you and you will definitely make tons of money.
If you are a newbie, it's not for you and don't be fooled by $500 Cash Club they just want you to buy it so they earn their big commissions.
That's a mistake, unfortunately, some people have made and learned this the hard way.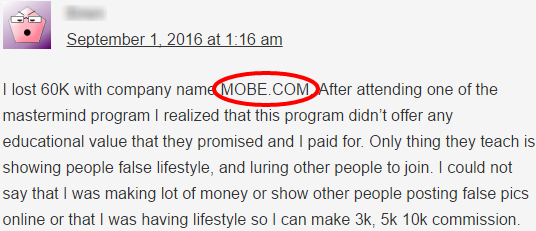 I must say MOBE does offer a lot of educational value but a lot of their affiliates are shady and very unethical at promoting the program.
Is $500 Cash Club a Scam?
$500 Cash Club is a complete scam because they don't live up to their promises, all of their claims are BS plus you will have to pay $97 to get introduced to MOBE where you have to spend tons of money.
There are definitely other scam signs that I'm going to break down below.
1) The News Video
Work from Home News videos are overused by scammers, I honestly don't know why would they use them since they don't even pronounce the name of their bogus programs.
The news video is seen on other scams like Cash from Home and the Daily Web Biz
2) Fake Facebook Comments
You have probably noticed that the comments are fake, when you click on them you are told to watch the video.
I have seen the same comments in many other scams
They just want to fool you into thinking that people are enjoying this $500 Cash scam.
3) Fake Endorsements & Scarcity
Never believe sites that say they have been featured in Forbes or CNN until you Google that ( website name + CNN or Forbes) also don't believe the limited positions thing they just want to rush you to spend $97.
I can go and talk about every single scam sign of $500 Cash Club, you know that's enough.
Final Thoughts & Recommendation
$500 Cash Club is a scam that is essentially hyping things up and promising the world, the $500 money back guarantee is complete BS because we all know that if you get to the point of asking for that guarantee you would have spent tons of money, that's also the case with 21 Step Millionaire Coach.
My sincere advice to you never believe in these shiny objects and never spend money on something you have no idea about.
If you are a newbie  then check out
My #1 Recommended Training for Newbies
it's honest and straightforward training to learn how to start an honest online business through hard work and patience and not hype.
Do you have any comments you want to add? Please add your comments below and share this review with your friends!