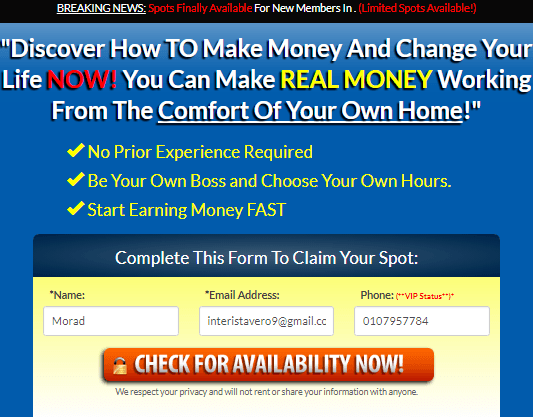 This is going to be an honest review of this program called Cash in on that Passion, is it legitimate or a scam?
Over the past few years, people have been victims of different online scams
and the trend continues since more and more online users are coming you with different ways to mislead people.
There is nothing like free or easy money and the moment you give in to these online businesses you will end up spending your money with no returns at all.
One of the recent online marketing business that a lot of people have fallen into a victim is the cash in on that passion.
What is cash in on that passion?
Cash in on that Passion is an online scheme found at ctptoday.com which claims that one can only be successful if they use or are driven by a passion for earning money.
This program was created by someone called Paul Richard which is probably a fake name.
Also, it is essential that you note the scheme requires you to spend money to make more money.
It is conducted online where the interested parties are offered training and tactics of how to sell the provided products online.
So it is more of a profit scheme where you are expected to spend your money on purchasing the products from the trainers and later sell them using the tactics that they teach you to earn profits.
Note that you are not told or given an overview of what you are purchasing and market, and this makes the scheme seem unreliable.
If you're tired of scam with huge upsells
Then you may want to check out #1 My Recommended Training for Newbies
How Does Cash in on That Passion Work?
First off, Cash in on that Passion is full of promises from the first time to you sign up.
For example, when you log in to the site, you will provide with a tutorial video which assures you to earn money for watching it.
One is promised to win about a dollar after every second you watch the video.
So if you are keen and sharp, you would smell something fishy since no one can give you free money for watching some videos where you are still getting help to earn more money.
But come to think of it
I would highly recommend them for creating a great way to capture their targeted customers' minds since this helps most people develop a desire to get to learn more and more about the website.
Also, in the video, there are a few people who claim to have made money with the Cash in on That Passion website
before and they talk in a way to persuade more people to join the scheme and become successful as they are.
If you want to make money using your passion
Then check out this post on How to Make Money Online Using Your Passion
So this brings us to the next big question related to this scheme.
Is Cash in on that Passion a Scam?
In the process of watching the video, the new members are promised to be awarded about 500 dollars once they complete training and mentorship of what they are marketing with the website.
So definitely you will be required to do somethings which are not easy before you can claim the "free"500 dollars.
There are 21 steps that one needs to follow to be legible for the 500 dollars again.
Note that these 21 steps include following the mentor's advice
using the provided marketing tools and also participate in all programs offered.
You have to complete the program within the two days provided.
Meaning the program requires your total focus for the 21 days.
Therefore when you complete the process within the stipulated time, that is the only time you will receive the promised commission or the 500 dollars which will be paid in cash.
Another thing is Cash in on that Passion is just a cookie cutter site
Don't believe me?
Just read this old scam review and notice how similar they are to Cash in on that Passion!
Those programs promote one program that Cash in on that Passion wants you to buy
This program is called Mobe
It's a very expensive program
I won't provide much info on Mobe because I have already put together a full review of it
It's hell Expensive
Once you are provided with all the Cash in on that Passion necessary selling tools, you will have to purchase products worth 2000 dollars to sell and win the commission.
So aside from getting training, you will have to spend money from your pocket to buy the products that you are expected to sell.
So from this arrangement, there is no assurance of whether you will receive a commission from your sales or it is the 500 dollars cash you will be given after the 30 days sales.
This alone shows that Cash in on that Passion is not straightforward regarding what the users are going to gain after using it.
Another part that shows that this program is a scam is the part where you need to spend money to buy products that you have to sell them to other people later.
According to the program, one is expected to pay about 1000 dollar to purchase the products from the program.
If Cash in On that Passion is out of your budget and want something legit to start an online business
Then Check out My #1 Online Business Training Program for Newbies
According to the reviews, here are some signs that show Cash in on that Passion is a scam.
Loads of Upsells
Aside from paying 47 dollars to join the scheme, you will also need to spend another extra 1000 dollars as seen from the above review to acquire the products to sell.
After taking the training process of three weeks (21 days),
you will purchase products worth 1000 dollars and only get your commission from sales after 30 days of selling the products or be given 500 dollars after your sales.
Meaning you may end up spending your money and earn a very small commission or end up getting 500 dollars only after this whole process plus the money you spent.
If you are looking for a more honest training
Check my latest post Best legitimate Work from Home Training
Cash in on that Passion is After Your Money Only
Cash in on that Passion is not original since they use the existing marketing tactics to teach you how to market their products plus
they also focus more on persuading you to invest in the scheme rather than educating you how to earn from the plan.
So can you make money using cash in on that passion?
I would disagree with the fact that this system can earn you money because;
It is not a straightforward scheme that teaches you directly how to sell and the fact that no one knows what you are selling makes it unreliable.
Besides, no one aside from the inaccurate customers from their tutorial video has ever come forward to declare that they got rich for working with such schemes.
So in the end, the scheme is the one that benefits from you.
Final Review
So instead of falling victim to such online scams
Consider looking for a Legitimate Website That Will Earn You Money through transparent ways.
One of the programs that I would recommend for those who want to sell products online or want to work online is this Great Online Business Training program for Newbies.
What makes this program great is the fact that new members are not charged anything for joining
Plus it's a transparent program with lots of great training and supportive community.