Chances are you are looking for a reliable sales funnel builder, you came across Clickfunnels but the prices are a bit too heavy for you or maybe it doesn't suit your business.
Yes, I definitely agree Clickfunnels is a pretty expensive software!
While Clickfunnels is an amazing software don't worry there are many alternatives out there that are just as good as it and even come with lighter pricing!
In this post, I am going to share with you 18 Clickfunnels cheaper alternatives & competitors for you to choose from!
Sounds good? Let's get into it!
18
Affordable & Good

Alternatives to Clickfunnels

Yes, Clickfunnels is NOT the only option out there to create sales funnels, there are many competitors that allow you to build landing pages and sales funnels for a cheaper price.

These sales funnel builders are definitely going to save you a lot of money!

As I'm writing this the cheapest plan at Clickfunnels is $97/month and gives you:
100 pages
20 funnels
20k visits to your funnels per month.
unlimited number of contacts
While the higher plan costs $297 it comes with many features that include:
Email automation
Backpack (allows you to create your own affiliate program)
In my opinion, you should invest in Clickfunnels only if your business is generating enough revenue for you until then you definitely should consider some alternatives which some of them are cheaper and offer the same services.
1- Thrive Themes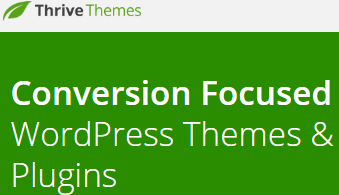 Thrive Themes is a membership website which is basically a suite of WordPress plugins that have one goal which is helping you create a conversion focused websites.
I personally use & recommend all the Thrive Themes plugins because, in my opinion, they are the cheapest and most affordable alternative to Clickfunnels.
Here are some of the Thrive themes plugins:
The Conversion Focused Themes: Their themes are CONVERSION focused, well coded, super fast and my current website theme is a thrive theme!
Thrive Architect: this is a landing page and blog posts drag & drop builder I use it all the time to create blog posts & I love it! Matter of fact this blog post you're reading has been written using Thrive Architect!
Thrive Leads: This is the best list building tool out there that allows you to create pop ups, list building forms within your posts & more. If a pop up or a ribbon appears on this site you better believe is from Thrive Leads!
Thrive Optimize: This tool allows you to run an A/B test of all your sales pages, this is the easiest A/B test tool that I have ever seen & I love it.
Thrive Comments: This plugin takes your comments section to the next level by adding amazing features like upvoting & downvoting, share links and even allow you to send custom messages & promotions to your comments! I use it on my site! Feel free to leave a comment to try it out! 😉
Clever Widgets: This plugin allows you to make your sidebar have widgets that are actually related to your posts and very targeted to increase conversions.
Headline Optimizer: It allows you to create catching & amazing headlines that get clicks!
Thrive Ultimatum: This tool allows you to add scarcity marketing to your posts to increase conversions by adding countdown timers.
Thrive Ovation: With this tool, you can add beautifully designed testimonial boxes to skyrocket trust & conversions.
Thrive Quiz Builder: Build engagement, social shares, get insights from your readers by creating customized quizzes!
The Thrive Themes tool allowed me to create a successful & conversion focused website and sales funnels and I truly believe that this is the best alternative and main competitor to Clickfunnels!
Even the prices are affordable!
PRICING:
Each one these plugins have a one time payment of $67.
There is a membership that gives you ALL these tools for only $19/month paid yearly!
Learn more about Thrive Themes here.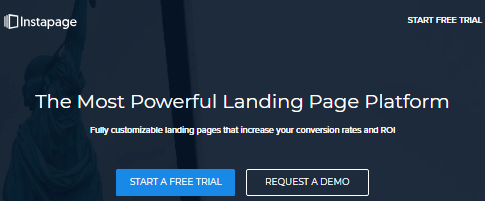 Instapage is one of the most sophisticated page builders for WordPress, it gives you the freedom to create landing pages however you like and allows you to add professional cta's, run A/B tests and more.
Instapage comes with over 200 templates you can start with to create your sales funnels, professional homepages or blog posts.
This software even allows you to create AMP versions of your posts by adding elements and blocks that are AMP friendly so your websites look good on all devices and this is something that Google loves.
Instapage is considered one of the main Clickfunnels competitors and effective alternative and it's even a bit cheaper.
You can have a look at the Instapage prices below:
PRICING:
Core: $79/month
Optimizer: $129/month
Team & Agency: $229/month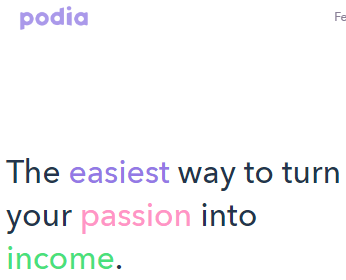 Podia allows you to create and even host your online courses, memberships, email marketing efforts and manage them from one platform.
Podia is considered one of the easiest platforms to use, they are modern and pretty straightforward.
Podia is another cheaper alternative to Clickfunnels because they allow you to try them out for 30 days with no credit card.
The basic plan is a lot cheaper than Clickfunnel's
You can check out the pricing below:
PRICING:
The Podia Basic Plan: $39/month
The Shaker Plan: $79/month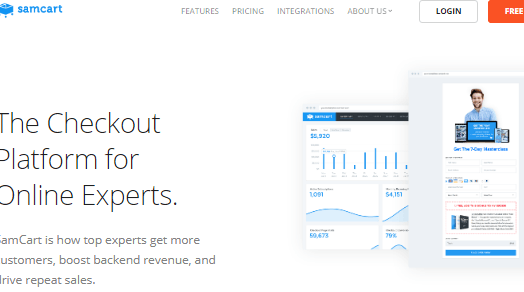 SamCart is a web based checkout platform that allows you to sell your products online easily. It allows you to create professionally designed templates without having to know any single line of code.
What I like about Samcart is that it's a drag and drop page builder, which makes it easy to create e-commerce platforms and sales pages that look stunning!
I have even read reviews online that say Samcart is actually hassle-free and easier to use than Clickfunnels.
Samcart also comes with many features like:
 1 click upsells. A/B testing.
Advanced stats & reports
 And a lot more.
You can get can a 14 days trial for free without providing your credit card.
PRICING:
Basic: $19/month
Pro: $99/month
Premium: $199/month

10 Minutes Funnels is probably one of the easiest tools out there to create pages, sales funnels, video sales funnels and more with their drag & drop page builder.
You can create professional looking websites with easy thanks to 10 Minute Funnels. This tool allows you to add any element you want to your pages like:
social media links.
CTA's.
Thank you pages.
Event pages.
Optin-forms.
It also comes with different tracking & A/B testing features that allow you to see what's working and what's not to increase conversions.
The basic plan price is exactly the same as clickFunnel's but the 10 Minute Funnels basic plan offers a lot more features that are found on the more expensive plans at Clickfunnel.
PRICING:
You can try 10 Minute Funnels for 14 days by paying $1.
The premium membership: $97/month
The enterprise membership: $197/month.
Unbounce is one of the most popular page builders that is popular for working for big brands like:
The New York Times
Vimeo
New Balance
Hootsuite
Unbounce like Thrive Themes focuses on helping you increase conversions by giving you a drag & drop page builder that allows you to create stunning & professional homepages, sales videos and landing pages that convert.
Unbounce also comes with other features like A/B testing features and a suite of email marketing tools like the lightweight opt-in forms to skyrocket your email marketing game.
You can use the page builder to create your own landing pages from scratch or use their templates (over 125 ) and customize them however you like.
PRICING:
Unbounce offers different packages:
The Essential Package: $99/month
The Premium: $199/month
The Enterprise: $499/month
The essential package is more expensive than the Clickfunnels basic plan but it offers many features that Clickfunnels sells you in their $297 plan.
Unbounce , in my opinion, is easier and better than Clickfunnels and the prices are really worth it.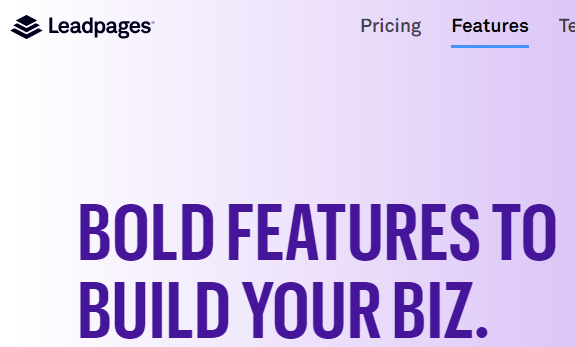 Leadpages is another top dog software, it's cheaper than Clickfunnels but it focuses more on creating professional landing pages than building funnels.
You have the ability to create sales funnels withing Leadpages but Clickfunnels is a lot easier and better when it comes to that.
If you're just starting out and on a budget I would recommend you Leadpages and when your business takes off you can move to Clickfunnels.
Because in my opinion the latter makes it a breeze to create professional sales funnels with upsells, downsells and all those funnel fundamentals.
Leadpages allows you to create optin forms to build your email list, but an email automation tool is not included.
PRICING:
Leadpages offers a 14 days trial for free and has 3 membership levels:
The Standard Plan: $35/month.
The Pro Plan: $79/month.
The Advanced Plan: $321/month.
You can save a lot if you buy 2 years in advance for each plan.
If you do they will work out to be:
$17/month for the Standart Plan
$42/month for the Pro Plan
$159/month for the advanced plan.

OptimizePress is also a WordPress plugin that allows you to create sales pages, membership sites, and landing pages, it also allows you to build funnels.
It certainly does not have all the features that Clickfunnels offer but for a beginner with a tight budget, this is probably the cheapest alternative to Clickfunnels because there are no monthly payments but just one time payments.
OptimizePress also gives you templates to work with and a premium WordPress theme (the smarttheme) is included.
Unlike Clickfunnels you can create as many pages as you like, there is no limit on how many leads you can generate or how many visits your pages get.
PRICING:
The Core Package: $97 one-time fee.
Publisher: $197 one time fee
Pro: $297 one time fee (looks like there is a limit offer for the pro pack for $197)
All the plans come with 1 year of included support, once your included support expires you can renew it for $39 a year.
Wishpond is another cheaper competitor of Clickfunnels it allows you to create professional landing pages and beautifully designed homepages.
Just have a look at their site homepage it looks good on the eyes doesn't it?
With Wishpond you can also create converting pop ups and opt-in forms to increase your email subscribers.
You can even run contests and promotion with this tool to increase your fan base, engagements and as a results conversions.
Wishpond also includes an email automation tool and allows you to integrate your lists with the most popular email marketing apps.
PRICING:
Wishpond offers a 14 days free trial. It offers three plans.
The Basic Plan: $45/month
Growth Plan: $78/month
The Pro Plan: $129/month

GetReponse is an email marketing app that recently evolved into becoming a one in all  toolbox for internet marketers to build their email list and also to build funnels converting sales pages and landing pages.
Getresponse gives you many features like webinar hosting, advanced reporting and split testing as well.
GetResponse has different plans and is generally a lot cheaper than Clickfunnels
PRICING:
There are 3 membership plans:
Email Plan:  $15/month
Pro Plan: $49/month
Max Plan: $165/month

Builderall is considered the most similar to Clickfunnels and one of it's best competitors. Builderall gives you literally all the tools you will ever need in one place.
What makes it good and more convenient than Clickfunnels is the fact it's more affordable.
This site really has it all!
You can build with this site:
Professional landing pages
Email campaigns
Webinars
& more
Even hosting and email automation tools are included.
The downside of Builderall is it does not support WordPress or any other content management service.
If you want to start a website you have to build it using Builderall, if you already have a website let's say a WordPress website you're out of luck because it does not support it at all.
Other than that, it's a great service and it's really close to Clickfunnels in terms of features.
PRICING:
Web Presence: $9.90/month
Digital Marketing: $29.90/month
Builderall Business: $49/month (here you get access to everything)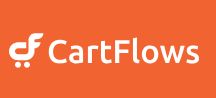 Cartflows is an alternative for the Clickfunnels users that use the latter for the e-commerce features, if you have an e-commerce business and want to skyrocket your sales and orders, there is no better site than Cartflows.
Cartflows is a WordPress plugin that will make your e-commerce check out pages buyer friendly and allows you to add many features like upsells, discounts, thank you pages and more.
Cartflows is not even expensive and more affordable than Clickfunnels but remember Carflows is only for the e-commerce users while Clickfunnels is an all in one box for all the internet marketers needs.
PRICING:
Cartflows Annual Pro: $299 per year
Cartflows pro lifetime: $599 lifetime access
Cartflows LTD Split pay: lifetime access but with splitpay of 6 $101 monthly payments.
13- Kartra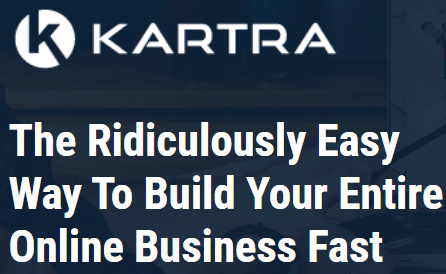 Kartra is another sales funnel builder that is similar to Clickfunnels, the price is just slightly cheaper than Clickfunnels.
Kartra allows you to create profitable sales funnels in the fastest and easiest way possible.
Within the platform, you will find different sales funnels that have been done for you all you have to do is select your type of sales funnel that suits your business and start filling the blanks.
This tool will even give you pre-written sales copies and marketing automation tools that will save you a lot of time and effort.
Kartra also allows you to create membership sites and just like Clickfunnels you can create your own affiliate program.
PRICING:
Starter Plan: $89
Silver Plan: $149
Golden Plan: $299

Landingi is another affordable alternative to Clickfunnels which I recommend for people that are just starting out and want to create beautifully designed and professional looking landing pages.
Landigi is a sales funnel builder that gives you all the tools you need to create profitable and well designed sales funnels without any coding experience. It's a drag & drop page builder that comes with over 200 templates.
It allows you to do A/B testing and gives you valuable Google Analytics reports to make your sales funnels as profitable as possible.
Landigi offers you a 14 days free trial.
PRICING:
Create Plan: $29/month
Automate Plan: $49/month
Agency Plan: $109/month
Whitelabel Plan: $185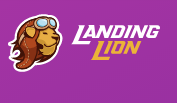 Landing Lion is another amazing software for creating sales funnels and landing pages quickly, with Landing Lion you can build landing pages fast that will look good on all devices.
You will also get A/B testing features and analytics reports.
The good thing about Landing Lion is they have a free version that comes with no time limits that you use can as long as you want to create landing pages and sales funnels for free!
If you don't want to invest a single cent on a sales funnel builder then Landing Lion is for you.
But remember it's free so you should not expect any advanced features like the ones you get with Clickfunnels but Landing Lion has paid memberships too where you get such features but at cheaper prices!
PRICING:
Exploring Plan: 100% Free
​Launching Plan: $29/month
Growing Plan: $99/month
Scaling Plan: $249/month

Convertri is another good option for people looking for a cheaper alternative to Clickfunnels, Convertri is considered the fastest funnel builder because it has been tested that the sales builder is faster than Clickfunnels!
Many Convertri users say that Clickfunnels only beats Convertri in terms of hype & marketing. Convertri gives you many features that will make your sales funnel a conversion machine.
Convertri landing pages are also AMP and mobile optimized so you can make both your customers and the search engines happy.
This software is a lot cheaper than ClickfunnelS and it also gives you a 14 days free trial.
PRICING:
Standard Plan: $59/month
Pro Plan: $69/month
Agency Plan: $199/month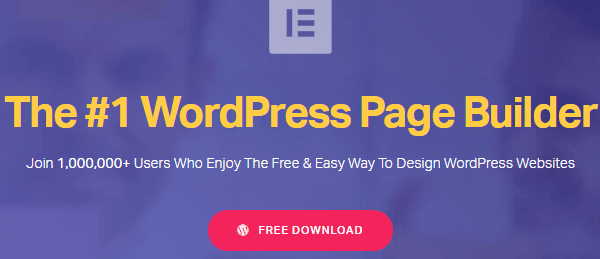 Elementor is an open source WordPress page builder that I used to use when I was just starting out with my WordPress blog, it's definitely a valid page builder that allows you to create well-designed landing pages and sales pages with ease.
While Elementor is completely free there is a pro version that will add many features like the Woocommerce builder.
Elementor pro is a lot cheaper than Clickfunnels however the latter has a lot of features that are missing on Elementor.
Elementor PRO PRICING:
Personal Plan: $49/year
Business Plan (for 3 sites): $99/year
Unlimited Plan: $199/year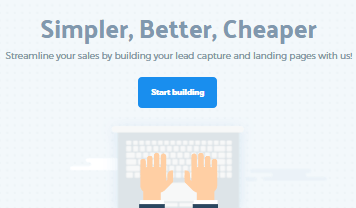 Leadsanity is the last but not the least software on this list that allows you to create landing pages easily and also collect leads along the way with email marketing.
Leadsanity will also help you improve your funnels conversions by using their scarcity marketing tools, different opt-in forms, analytics tools, and attention bars.
The good thing about Leadsanity is they have a completely FREE plan for you to check out and the paid plans are a lot cheaper than Clickfunnels with unlimited contacts and traffic.
PRICING:
Newby: 100% free
Guru: $9.95/month
Hero: $19.95/month
How To Get Clickfunnels For Free
Did you know that you can get Clickfunnels 100% free?
How? Well, Clickfunnels has an AMAZING affiliate program, if you refer 3 people you will cover your Clickfunnels membership every single month!
But if you sell the $297 plan you will earn $120 per month which is enough to cover your Clickfunnels membership!
As you can see you can refer just one person and you get Clickfunnels for free.
The best part is Clickfunnels will TEACH & give you step by step training on how to sell their Clickfunnels memberships!
If you sell 100 memberships you will be making a lot of money that will get you a dream car!
You can get started with the Clickfunnels bootcamp affiliate training here and learn how to promote Clickfunnels and make a solid income even if you're a newbie!
Conclusion
Clickfunnels is definitely one of the best sales funnel builders out there. There aren't many websites out there that can compete with it in terms of features.
In this post, I have shared with you 18 alternatives some of them are cheaper and some are free.
If you're just starting out, on a tight budget but you want a VERY good alternative I think you can't go wrong with Thrive Themes, I personally use them and love them because their tools are REALLY high quality and affordable.