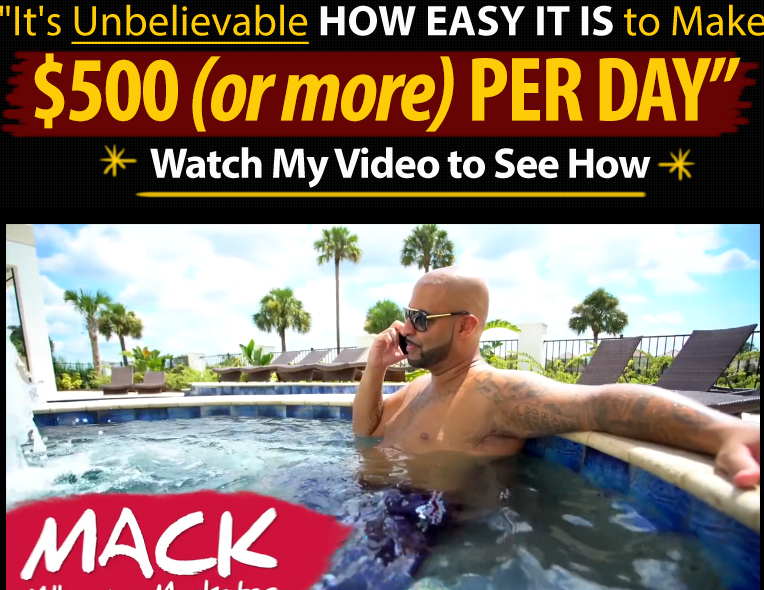 This review is going to be about Mack Zidan's new system called Daily Income Method, I'm NOT promoting this it so you can expect a 100% honest review, so let's see if this is the deal or just another smart scam.
This is a (26/7/2018) updated review, so you're reading the most relevant review of Daily Income Method!
Quick Daily Income Method Overview
Name: Daily Income Method
Website: dailyincomemethod.com
Price: $39 + monthly fees
Owner:  Mack Zidan
Is it a Scam? No
Recommended? No!
What is Daily Income Method?
Daily Income Method is an automated marketing system created by Mack Zidan and Alfredo Delgado that is basically a sales funnel to MCA (Motor Club of America) which is a roadside assistance service.
This opportunity is promoted a lot, pretty much everywhere, you can barely find a negative Daily Income Method review because most of them are promoting it so it's all sweet.
With that being said this is not a negative review because Daily Income Method is not a scam but there are some things that are not so good about it that you should bear in mind.
How Does Daily Income Method Work?
---
Eenie Meenie Miny Moe in which car should I take this big deposit to the bank?
I like that part and I have watched it like thousand times, before you jump to see how it works, have a look at this music video called Daily Income Method, Mack did. 
The video has been deleted by the uploader 🙁
So after watching the sales video, you will see two steps under the video.

The first step is joining MCA which is what you will be promoting to make money, the second step is Mack Zidan's system that will put your MCA promotion on autopilot.
You can promote the Motor Club of America on your own but it will be hard to get leads.
Daily Income Method claims that it's going to automate your business, so you can make money while you're sleeping, this can be true, but remember that it's not going to be easy to earn money like Mack says in the sales page!
That is some false and misleading advertising in my opinion.
Plus this system is not as cheap as advertised!
Since I have mentioned the price let's have a closer look at it to see how much you will be spending exactly
How Much Does Daily Income Method Cost?
---
You need to buy two products, the first one is the Motor Club of America membership which costs $39.90 for the first month thereafter $19.95 every month.
The second product is the Daily Income Method membership which has two has two memberships which are the following:
Monthly Silver Membership: $47 a month
Annual Gold Membership:

$397 a Year
Below you can see a comparison of the features you get from the two Daily Income Method memberships.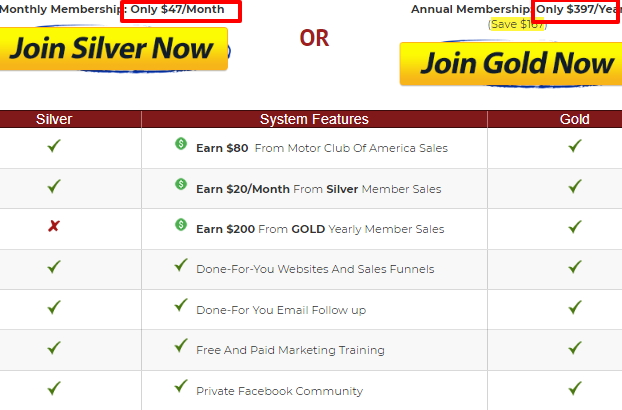 Note that if you decide to cancel your MCA membership you will have to pay $39.90.

As I said before you can promote MCA by yourself but it's not very easy to get leads.
With the help of Daily Income method, it will be easier and automated thanks to Mack's material that will be included in your membership at least that what Mack promises you (I'm going to cover that further down in the review)
And remember that there are more costs, because you have to buy traffic in order to make this work!
We all know how risky and expensive paid traffic can be.
If you want to get Daily Income method you must buy the MCA membership and be a member of it first.
What's Included in Your Daily Income Method Membership?
---
When you buy your MCA membership and Daily Income Method you will be granted access immediately to your dashboard here's how it looks like.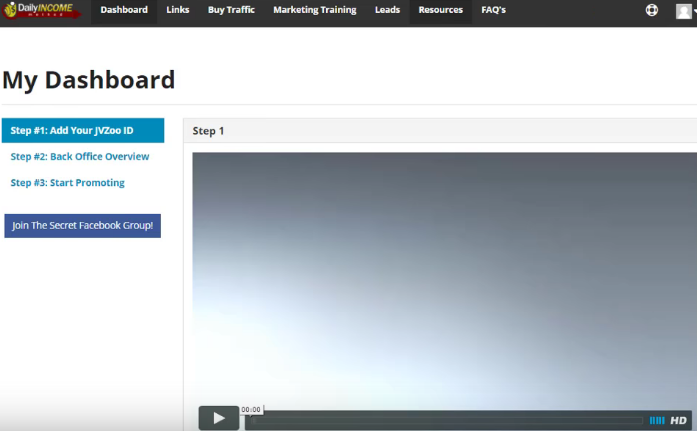 As you can see in the screenshot there are three steps.
The first step is adding your JVzoo ID (JVzoo is an affiliate network where you will get your affiliate links)
The second step is an overview of your back office and once you get used to your dashboard you can start promoting the system which is the third step.
In your membership, you will get lead capture pages and VSL (Video Sale Letters) that you can advertise they come in different colors and forms so you can choose the one that you prefer.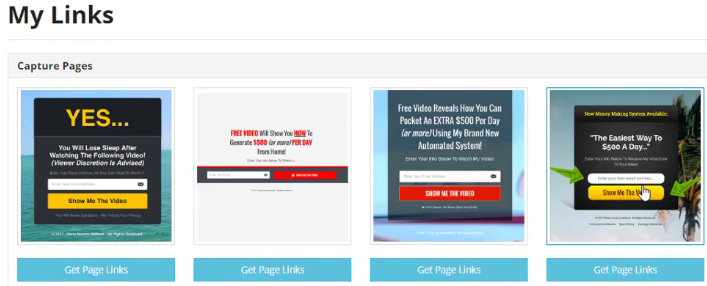 You won't only get the affiliate links and some capture pages, in your membership you will also find some training that will teach you how to market your capture pages on Facebook and how to use Facebook ads to get more leads.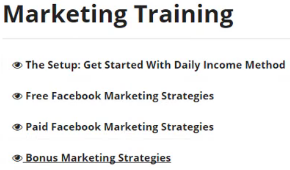 They are video lessons that will walk you step by step to promote the Daily Income Method and MCA in an effective way so you don't waste your time and tons of money on ads without getting the desired results.
As you can see in the picture that's how the training looks like, when you click on a headline it will open up a series of videos that you can watch and learn from.
You will also find a list of reputable sources where you can buy targeted traffic that will convert, whenever someone joins under you, you will see the lead added to your 'my leads' tab that you will find on your Daily Income Method dashboard.
Banners, affiliate links, email swipes, support, FAQ's, follow up messages and also an in-house autoresponder is included in your membership.
How Much Can You Expect to Earn Using Mack Zidan's System?
---
The commissions are pretty good and it looks like a very profitable way to earn money online, people you recruit have to do exactly what you did, buy MCA membership (50% of commissions will go to you) and the Daily Income Method (50% of commissions goes to you)
It's a recurring commission which means you will make money every month from just one sale as long as they keep their memberships active.
With the said, you need to know that in order to make money with Daily Income Method you have to buy traffic.
As a beginner, you should not get involved with paid traffic because it's a risky thing, I know a lot of website owners that have tried PPC (paid per click) traffic and Solo Ads traffic and have wasted tons of money.
Obviously, there are people that make a lot of money from paid traffic, but the point is if you're a beginner I really don't recommend you to buy traffic.
The recommended way to get traffic is using SEO like I do, you basically create a website that ranks on Google, the traffic you get from Google is more targeted and converts better versus buying traffic from Udimi, Bing or Google Adwords which waste you thousands of dollars!
My Recommended Training teaches you how to get traffic from Google instead of wasting money on nothing!
 What I like & Don't Like
---
These are the things I like and dislike and the pros and cons of this system.
What I like
---
Reasonable Price: I have reviewed a lot of work from home opportunities legit and scams included, and I know how

they can easily charge you thousands of dollars for a system

that might work or not, the Daily Income Method comes with a very reasonable price that most of us will afford, if you think about it the price is nothing especially when you think about how much money Mack Zidan has spent on filming the video, HD cameras, hosting etc, regardless of the efforts he has made to put this system together.
Lot's of Value: In your membership, you have everything you need, training, support, email swipes, affiliate links, banners, autoresponder, which is lots of value which make this opportunity worth it.
What I don't Like
---
Not Free to Try: In an industry full of scams, it would be a great idea if people could try the system for free so they can see what they are actually buying.
Lots of Pissed Consumers: Mack Zidan has way too many complaints on the internet, you can read here a Mark Zidan ripoff report where people are complaining, people claim that they have wasted so much money using his systems without making any money.
Not Ideal for Newbies: I think Daily Income Method is perfect for advanced marketers that know how to buy and drive traffic, there are better opportunities for newbies
Available Only in Canada & US: Unfortunately this opportunity is not available worldwide but only in the United States of America and Canada.
MCA is an MLM scheme: MLM is a business model that is considered illegal by many people, recently MOBE & Digital Altitude have been shutdown by the FTC because they are MLM's.
A Mack Zidan's product has been Closed!: Digital Income Method is a product that promotes Digital Altitude, the latter as I said before it has been shut down because of their unethical marketing.
 Is The Daily Income Method a Scam?
---
To be honest, at first glance it looked like another BS system, you know there are tons of scams out there that look extremely similar to the Daily Income Method even the title looks full of hype.
Here are some examples for you to read:
However this system is absolutely legit, it comes with an acceptable price as I said before, other internet marketers would charge a lot of money.
With that being said it's worth mentioning that Mack didn't put this together because he's so generous, I am sure he's going to make tons of money from this, not only from the fee the affiliates pay but also the commissions he will earn from people that will join Motor Club of America Under him.
I'm saying this because I see people saying Mack is doing something that he doesn't have to do, he spent tons of money to put this together and he's giving it out for a small monthly fee.
That's completely fine though and it's a win-win situation where everyone will make money.
If you're looking for a better opportunity just keep reading below:
Final Thoughts & Recommendation
---
Daily Income Method is a good opportunity for action takers to earn money online, it's a good opportunity, however, it won't be so easy to make money, you need to drive traffic to it which is the hardest part.
Nothing comes easy you know just stick with it and it will pay off, with that said I think this opportunity is not for everyone, a lot of Mack Zidan's students have failed because they bought into his systems just because they offer good commissions
That's why I think The Daily Income Method is not suitable for complete newbies, it's perfect for advanced internet marketers.
There are better options for newbies out there, and this is My #1 Recommendation that will teach complete newbies how to make money selling other people's products and it's free to join
---
I hope you have enjoyed and found useful my Daily Income Method review, feel free to share it with people you think might find it useful too.
If you have any questions, feedback or anything please drop comments below, would love to hear your thoughts and experience with this system.