EmailCashPro is a site that pays you to read emails, but is it worth your time? Can you make money with them? In this post, I walk you through it a little bit just to make sure if it is a good option for you to earn money online.
We will discuss the following topics on today's post 😀
What is EmailCashPro?

How Does it Work?

How Much Money Can You Make?

The Good and Bad

Who is EmailCashPro for?

My Final Opinion and an Alternative!
---
Name: Emailcashpro
Website: Emailcashpro.com
Price: FREE
Overall Rank: 6 out of 10
---
1- What is EmailCashPro? 
Emailcashpro is a website based in Singapore, it is the best paid to read email program in Asia, and it's gaining popularity around the world.
This site was there since 2006; they are 100% legit and free.
Emailcashpro is safe, they have paid out all their members, later in this article, I will show you how it works and what you should expect.
I am also going to show you an alternative 😀
2- How does it Work?
The site looks cheaply made; I vomited when I first clicked on it ( Just kidding 😀 ), but it does look ugly right?
I recommend you to pick up interests that are hot right now; they will show you the current trending ones once you sign up.
The site might not be the best looking one, but it's incredibly easy to navigate through it.

And that's your super professional dashboard 😀
If you click on referral strategies, you will find your affiliate link that you can share everywhere you want, the more people you get to sign up the more money you can make.
I think if you know lots of people that might be interested in this program, you can invite them to join and earn an extra $100 per month, but it all depends on how active your referrals are.
If you can't refer anyone, you will be earning cents with the three emails you get daily. This is emailcashpro in a nutshell.
3- How Much Money Can You Make?
You get only 2-3 emails to read per day; sometimes you receive nothing, and you earn only a few cents to read an email.
The minimum payout requirement is $11; the payments are very low the only way to reach $100 per month is to have a sizable downline.
If you can't refer people, it will take you 25 years to reach $11. 😀
They also have a golden membership wish is free to join! There are some requirements for becoming a gold member, have a look: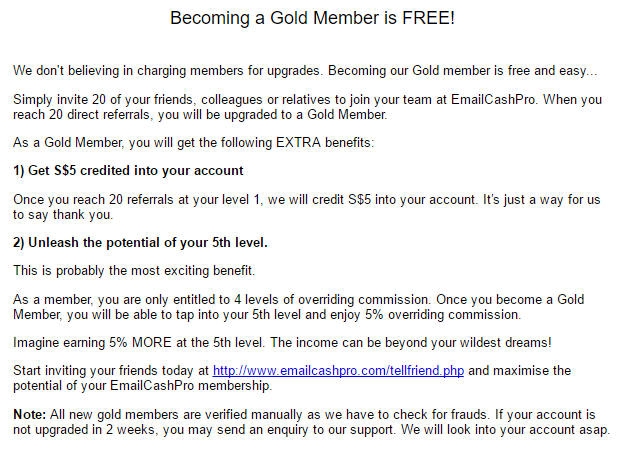 4- The Good and Bad
Let us have a look at the cons and pros.
The Good
Easy and fast payments through Paypal
Legit and free site.
Easy interface
The site does pay
The Bad
The site looks ugly
low payments
No forum where you can discuss with other members
5- Who is Emailcashpro for?
Emailcashpro can be a good way to earn some extra cash, so it's best for teenagers and people that want to kill some time online instead of Facebook and Twitter.
If you want to make a lot of money, I will reveal a great way to make passive income in the next topic 😀
6- My Final Opinion and an Alternative
Emailcashpro is legit, but the payments are pretty low.
Did you know that you can start your online business even if you are a beginner? Yes, you can start a website from your interests! And make a lot of money.
You will get free step by step tutorials and video tutorials, immediate help from me and many successful internet marketers; it's a great community that I am sure you will love.
Join Me Now and Start Your $0 Membership! 
If you have any questions, don't forget to drop a comment! 😀
Your friend Anis 🙂