This is going to be a Facebook Cash Code Review exposing this scam for you so you don't fall for it, before you spend your hard-earned money you must read this review
Not so long ago I did a review about Facebook Bonanza
It's funny how it's very similar if not the same as Facebook Cash Code
Even the Sales Page is Similar to Facebook Bonanza!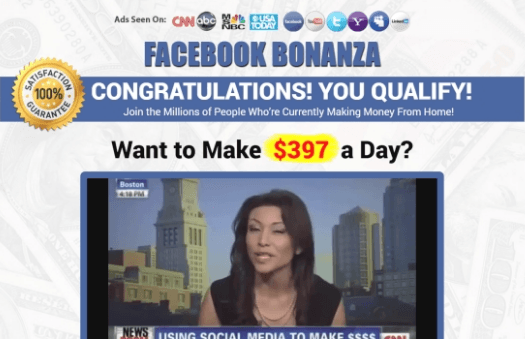 Facebook Cash Code Quick Review
Name: Facebook Cash Code
Website: Fbcashcode.com
Price: $47 + $70/month + hidden costs
Recommended? NO
Don't Fall for Scams! Join Over 800,000 People Making an Honest Income Online!
---
What is Facebook Cash Code?
This is your typical get rich quick scheme that will bring in nothing but disappointment
Facebook Cash Code is one of those scammy sites that don't even last six months
They suck newbies money and run away
When you try to ask for a refund they will make it a nightmare process
This is exactly what happened to one person with Facebook Bonanza (sister scam)

They Try to Fool you with a Fake & Edited News Video!
So this is the video that they edited with some photoshopped Facebook Cash Code logos
[responsive_video type='custom_url']
[/responsive_video]
As you can probably tell that's an edited video, they cut out some scenes from the original news video and only show the scenes they want
Despite that, you won't hear the news reporters talk about Facebook Cash Code
They Even Show You Some Photoshopped Earnings Proof!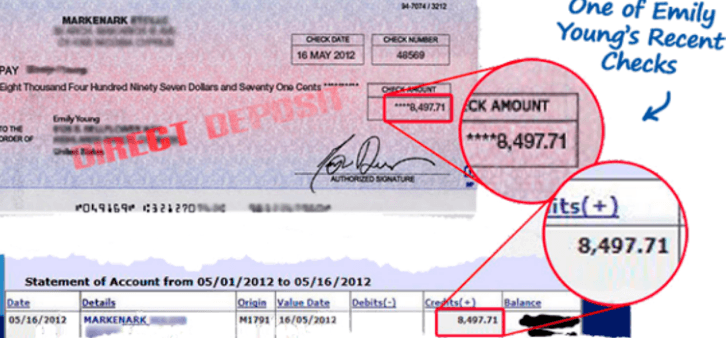 This check is photoshopped and I'm tired of seeing it over and over in every link posting scam I come across
The funny thing when you watch the video on the sales page where they try to show you the earning proof in action you will never hear about Facebook Cash Code but another program called the Earn at Home Club.
Related: Check out This Honest training for Newbies looking for legit ways to make a living!
How Much Does The Facebook Cash Code Really Cost?
---
If you're under the impression that the Facebook Cash Code will cost you only $47 you're wrong
Now the price is not the problem if the training works then it's ok to be recompensated for your work and efforts in putting together a valid training
But I'm in trouble when the training does not work in fact The Facebook Cash Code training is just a bunch of rehashed and free information for sale
You will be paying recurring fees that will amount to thousands of dollars
They keep sending you to buy other programs with ridiculously similar names
Easy Cash on Demand
Home Cash System
Secret Facebook Cash System
Facebook Cash at Home
Success Road Academy (this one looks legit but outdated info inside!)
These guys will try to steal as much money as possible from you so don't fall for it
They Will Give you Discounts if You Try to Run Away!
If you try to leave the Facebook Cash Code sales page two times you will unlock two discounts Which are the following!

That's a sad attempt that proves how they are desperate in getting money from you and if you pay attention to the screenshots they say get Your Cash at Home Kit looks like the program is no longer called Facebook Cash Code.
Another thing is the positions left, that's complete BS because it's obvious that they want as many people as possible they just want to make people act fast.
The Fake Endorsements Again!
A lot of people get fooled by these logos, you need to know that these sites have NO connection with the Facebook Cash Code
In fact, the last one just wants you to trust them
If you check for example CNN or FoxNews sites you won't find any article talking about the Facebook Cash Code

Facebook Cash Code on Amazon
I have found the Facebook Cash Code on Amazon and there is only one review from someone that purchased it
Needless to say, it was a negative review!
Final Opinion- Facebook Cash Code is a Scam!
Facebook Cash Code is a scam I recommend you to stay away unless you want to waste your hard earned cash.
There are better and honest opportunities online
You just need to accept the fact that there's not easy money
If you are willing to learn and work hard to make an honest income online I invite you to try Wealthy Affiliate
It's a great step by step training for newbies!
---
Have you been scammed by Facebook Cash Code?
Please leave your comments below as heads up for other people!