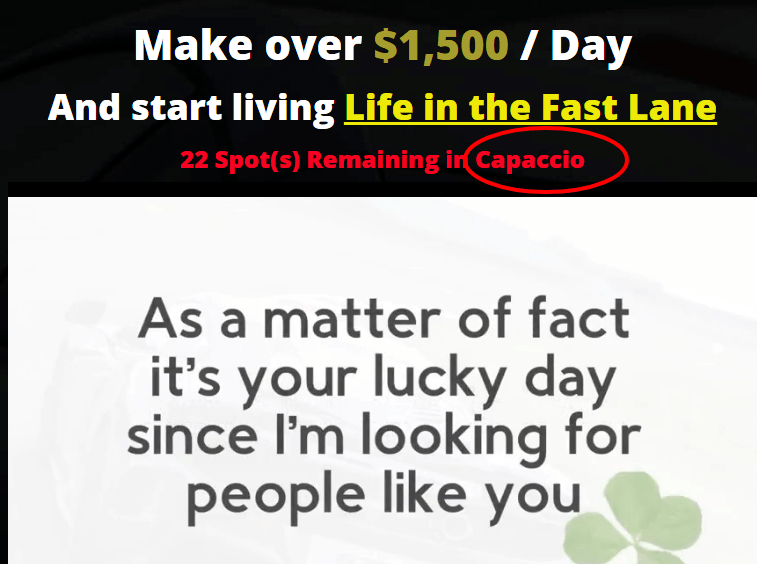 Fast Lane Lifestyle is a newly launched website that claims it's going to make you $1500 per day
By simply investing $47?
I have been having a closer look at this website
If you are serious about making a full-time income from home
You want to read this whole review and learn about a legit training to earn money along the way!
Fast Lane Lifestyle – Quick Review
Name

: Fast Lane Lifestyle

Website

: FastLaneLifestyle.net

Price

: $47 upfront + hidden costs

Owner

: Unkown – Maybe an alien?

Years in business

: Newly released

Rating

:

1

/5
What is Fast Lane Lifestyle Exactly?
After having a closer look at this website it was clear to me what is all about
It's no different than some websites I have already reviewed
Have a look:
In a few words, Fast Lane Lifestyle is your typical get rich quick scheme
They promise you easy riches, but at the end of the day, they are the only ones banking the big money, not you.
It's a Cookie Cutter Site
If you have clicked on one of the links above then you have probably noticed how similar those sites are.
They are all cookie cutter and rehashed sites with useless training
After reviewing hundreds of scams like Fast Lane Lifestyle I realized that they are designed to make the people behind them rich
There is no decent training that is going to help you make any earnings online.
How Does Fast Lane Lifestyle Scam People?
As I said before they promise you to earn at least $1,500 per day
All they will charge you at the beginning is $47

This is called email marketing
They get your email address
You confirm your email address
Then you will start receiving emails from them
There is nothing wrong with email marketing
It's a powerful and reliable way to stay in touch with your audience and sell them your products
However the scammers like Fast Lane Lifestyle and the others I reviewed they do it the scam way.
Essentially they will be promoting you products that you don't even need
Their goal is to squeeze the most money possible from the email subscribers.
Only $47?
Unfortunately, $47 is not the only amount you will be paying
You will easily spend thousands of dollars on websites like Fast Lane Lifestyle
They will upsell you lots of products that you probably don't even need
Nothing wrong with selling and promoting products
But at least promote legit products that will add value.
 They Even use Fake Testimonials!
Most of the programs I have reviewed before use fake testimonials
They buy testimonials from a site called Fiverr.com
A testimonial video will cost you only $5
If you have watched the Fast Lane Lifestyle sales page
You probably still remember this lady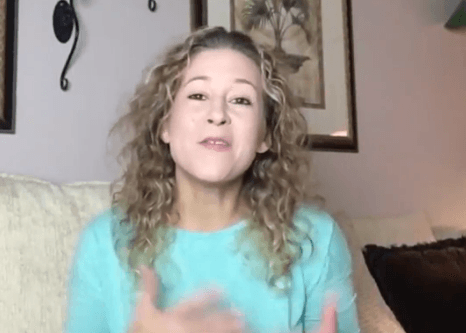 I always see her doing testimonials for other sites
You can see her face again here saying she made a killing with the Easy Cash Code scam.
You Can get Fast Lane Lifestyle for Only $17!
They charge $47 upfront yeah
But did you know if you just refresh the checkout page 4 times you will get a big discount?
Just refresh the Fast Lane Lifestyle check out page 4 times and you will only pay $17!

This only proves that they are so desperate to get your money and your email address to upsell you products.
Fast Lane Lifestyle is a Scam – Final Review
Unfortunately, I have nothing good to say about the Fast Lane Lifestyle
They promise a lot but none of their promises are true
They even use fake testimonials on their sales video
I definitely don't recommend anyone to get involved with it
If you are looking for a legit training that actually teaches how to make money online
I recommend you to check Wealthy Affiliate it's Free to Try!! (No Credit Card Required)
Your Turn!
If you have tried or got scammed by Fast Lane Lifestyle we would really appreciate your feedback
Please leave your comments below!
Thanks!