Freedom Cash System is a system I have been trying to see what is all about, after having a closer look I realized what is all about and what they have for you
In this Freedom Cash System review, I am going to expose this new online business opportunity and tell you what is all about
If you want to learn the truth and find a legit opportunity to make money this post is what you have been looking for!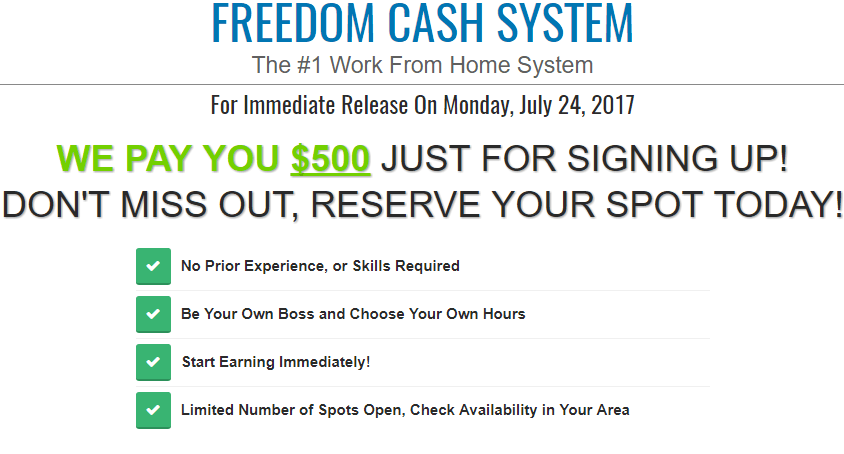 What is Freedom Cash System?
Freedom Cash system is one of the online money making schemes used for selling products of affiliate websites.
This system promotes and sells products for another online money-making scheme called MOBE.
Mostly, after signing up with this system, they convince you to buy MOBE products which are in the form of software.
They indicate on their website that everyone who signs up gets free $500 as a welcoming token.
Recommended Training for Making Money Online
However, on signing up, they encourage you to buy their products to be allowed to sell.
Every product comes at a different price, depending on MOBE's entry-level requirements.
Although MOBE seems legit, the Freedom Cash System leaves a lot to be desired.
This is not the first time I review a similar product to Freedom Cash System that promotes MOBE
I have tried quite a lot of them
Here are some other shady sales pitches created by MOBE affiliates
What is MOBE?
The initials MOBE stand for My Online Business Empire.
MOBE is an online money making platform co-founded by Matt Lloyd.
MOBE is one of the few successful and legit online money making systems.
However, they have allowed other platforms to sell their products, reaping off innocent members who have a poor understanding of the how the industry works.
MOBE has four entry levels with different entry charges.
These standards include My Top Tier Business (MTTB), Licensing Kit, Inner Circle Membership and Home Business Summit Event.
The entry costs for these levels are $97, $297, $299(monthly) and $497 respectively. The higher you go the many products and opportunities you access.
How Much is Freedom Cash System Going to Cost you?
Joining Freedom Cash System costs you $250 and above, depending on the way you join.
If you join through a referral, you will pay $250.
However, if you enter through their website, you might pay more than that.
For you to earn money, you must buy their products first.
All software costs $250.
That means you have to pump in money as many times as possible to make a significant financial move.
However, the more you pay, the more you lose.
They sell a software that doesn't function as expected.
The final product is MOBE, which again requires you to part with vast sums of money.
In general, you end up losing money (up to $50k!) instead of making a profit.
The Freedom Cash System Scam Signs

There are so many glaring signs of a scam with this system than in any of the available options.
First of all, no legit system promises to give you an entry bonus of $500.
This advertisement makes the whole system suspicious. The second sign is their insistence on members buying the products to be allowed to trade.
I believe people buy products because they want them and not because they want to sell them.
They keep on lying to new members that the chances are getting filled up.
In reality, they have unlimited opportunities.
They want many people to sign up for them to make money.
It's a scam because they don't have products of their own, but instead promote and sell MOBE's products, its equivalent of running a business that markets products of another business.
Can You Make Money With Freedom Cash System?
Making money with Freedom Cash System is akin to squeezing water out of stone.
You put in more efforts which result in nothing
You invest loads and loads of cash which eventually sinks.
You can only earn by becoming one of the scammers.
By this I mean you become their affiliate and convince unsuspecting people into signing up.
Once they sign up, you earn a commission of $250.
The whole system is unfair and unethical.
The closest you can come to making money is when you join MOBE.
However, joining MOBE requires you to work and spend a considerable amount of money.
Remember MOBE also operates on a 'pay to play' policy.
In summary, the Freedom Cash System is very unreliable and useless.
Final Review & Recommendation
My sincere advice to you is to completely stay away from both Freedom Cash System and MOBE
they are going to make you waste thousands of dollars
the worst part is most MOBE affiliates earn less than $100/month and they are so unethical
If you want to make money online there are money legitimate ways
The best training to help you make money that comes on the top of my head right now is Wealthy Affiliate
WA is free to try and it's a training that will actually make you money if you follow it to a 'T'.
---
Do you have any experiences you want to share with us in this review?
I'd love to listen to your own comments!
Please drop comments below and make sure you share this Freedom Cash System review!
Thanks for the support!