Freedom Secret Review
Name: Freedom Secret
Website: Thefreedomsecret.net
Price: 37$ + upsells
Recommended? NO
Everyone wants to make extra money.
Everyone wants to be a millionaire or perhaps even a billionaire.
There are many scam sites that take advantage of this factor. This is also combined with the fact that most people can be easily fooled. One such site is the Freedom Secret.
It isn't an outright scam as you would see, but it does have a model that does not really inspire any trust.
This Freedom Secret review will take a look at why you are better off avoiding it.
What is the Freedom Secret?
Actually started by one Michael Force over two years ago, it asks you to join by paying a good $37.
The program that Freedom Secret sends you to is called Digital Altitude, in simple words Freedom Secret is just a sales funnel to Digital Altitude.
Digital Altitude is an MLM company which teaches you how to start an online business, one of the things I hate about it is the price (very high) and the unethical and hype techniques the Digital Altitude affiliate promote the program.
If you are familiar with MOBE it's practically the same, some even say Digital Altitude has been spin-off MOBE.
It talks about how you can make over $10,000 a week – the very first video in the home page.
Now, if you have seen other scam programs, you would know that this is too good to be true.
Since I mentioned the word other scam programs I want you to have a look at some Digital Altitude and MOBE sales funnels I had the chance to review before.
If you pay attention to these scams they all use hype (exaggerated income claims & flashy cars) to convince you in.
How does Freedom Secret work?
After you pay 37$, you get access to the member's area.
The member's area has around 21 steps (reminds me of this scam called 21 Step Millionaire Coach), and you have to unlock each of them, with the help of your business coach.
You do get a personal coach once you join who is supposed to help you complete these tasks.
The problem though is that these people aren't really coaches but sales professionals.
These coaches aim to just sell you more products in the bargain of you being able to complete the twenty-one tasks – and many don't realize it till they are a good way in it.
And since you have to complete the tasks quickly, you can't even try it out on your own.
Basically what your coach does is to upsell you the products so you can spend money and start promoting the Digital Altitude products which are hella expensive, I'm talking about up to $50,000 and more!
If you want to join the Freedom Secret I invest in it, you will need very deep pockets and lots of experience.
Is it a Scam?
This site is a definite scam and the reason why I feel it to be so, is based on the following factors which have been reviewed.
 The website was reviewed and other than a video, there is no other information available. It also does not inform about what is the kind of algorithm that has been used; or how the algorithms work. However, that does not make it a scam. What probably does – is that not enough homework has gone into creating the video.
The second aspect that was reviewed was the people who claim to be traders on the site. They are not real personalities but are hired from fiverr.com. On the site, these actors are paid 5 USD each gig.
 These fake personalities claim to have been using the trading bot for periods even before the site was registered. A sure signal that it is a scam!
Can you Make Money with Freedom Secret?
Yes you can make money here by selling the Digital Altitude products once you're done with the 21 tasks.
However, you need to spend a lot more than $37 to be able to do that – and all the claims are too good to be true.
As I said you will need to invest thousands of dollars in order to be fully in
However, I must say there are people that make hell of money inside but they are usually people with experience (big email lists and followers ready to buy)
Is Freedom Secret For You?
If you are not familiar with the internet marketing world and this is the first time you come across a money making website
I would recommend you to pass up on the Freedom Secret
Why? You Ask
Well, the Freedom Secret costs a leg and an arm and chances are you can't afford it
Secondly, you will need to experience to know how to promote and earn your investments back.
If you don't know, apart from the expensive products you need to buy, you will also need to spend a hell of money to buy traffic and you need to know how to convert it which is something not easy at all.
In a few words, as a newbie, you will suffer a lot especially financially.
Conclusion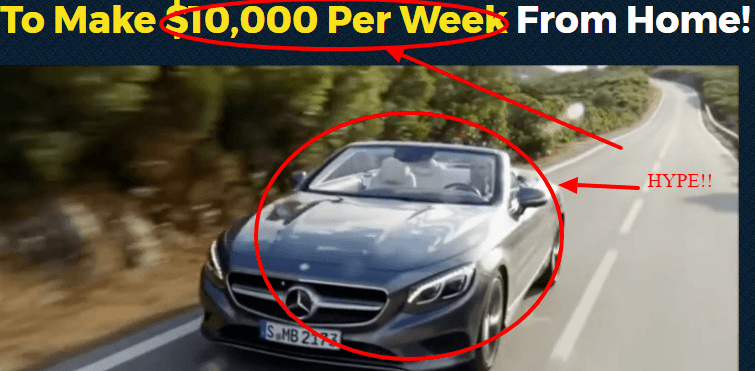 This site is dubious and a definite scam – there is no way you could make $10,000 a week here.
That too, the testimonials are fake and the live sessions are fabricated.
Therefore one would do well not to sign in for it.
It's full of hype and exaggerated claims
A Legit Opportunity?
If you are still looking for an opportunity that makes money I invite to check this great online business training!
REAL training
Free to TRY
Lots of Support
Rich and easy to follow training and video tutorials
2 free websites and hosting
It's called WEALTHY AFFILIATE and you can try it out for FREE.
What do You Think?
Have you tried the Secret Freedom before?
You know you will be of a HUGE help if you share your experience with other people so they can decide wether to join this program or not!
Just drop your comments below and share with post with interested people! 🙂
Thanks.