Do you want to get paid to answer questions? You will LOVE these amazing sites that are willing to pay you just to do that, I have gathered for you the BEST 6 sites to make money online answering questions.
Have you ever wished to earn money online answering questions related to topics you are passionate about?
Are you an expert or have good knowledge of a particular subject?
Getting answers when you need them is not an easy thing, most of the times you wouldn't find any helpful answers on the internet.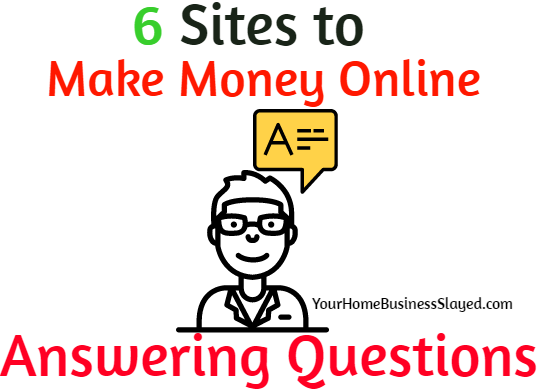 Many sites solved this problem, by paying people that are experts in their fields to respond to questions.
These sites are a great opportunity for you to make money fast online
In this post, I am going to share with you the best six sites that pay you to answer questions.
Most of these sites won't make you any decent income.
Just see it as a way to earn some pocket cash, if you want to make a living on the internet from your passion, have a look at my #1Recommendation it's FREE!
1- JustAnswer
JustAnswer is one of the best and oldest sites that pay you to answer questions; they have many categories likes pets, engineering, health and more.
If you are approved as an expert, you can set your own hours and work at your own pace.
To be approved you need to be an expert on a subject, some experts make more than $1000/month.
They have many tools that you can access in your dashboard once you register, these tools make answering questions easier.
To get started you simply need to go to their sign up page, they may ask you for a resume and diplomas to verify your professional expertise.
They also have a referral program; you get $20 for every expert you refer.
However, the person you refer should be an expert in a specific category they don't have experts in yet.
2- Weegy
Weegy is a female bot that can answer all your questions. However, some questions may be new to her that's why she seeks the help of experts.
Experts here don't have to have diplomas and certificates like in JustAnswer.
Anyone that has a small or big knowledge about something can earn some cash with this site.
Some experts to respond to a question seek google's help to find the answer; sometimes they may only link to a site that answers the question.
As a Weegy expert, you earn 20 cents for every answer that solves the problem.
The more helpful answers you give, the more you can earn per answer.
3- StudentLance
StudentLance is a great site for students to get expert help with their homework.
If you are good at maths, computer science, languages or natural science, studentlance can be a great way for you to earn some extra cash.

To get started you need to set up a profile, it's completely free; then you will find a page where you can scroll through all the requests available.
4- CreatePool 
CreatePool is another site that allows you to earn money answering questions.
They currently only have four categories which are the following:
Auto Mechanic
Programming
Education
Legal Advice
To get started, you need to set up your profile and choose your area of expertise.
Create pool is different than other sites become it's more like a community with lots of friendly people.
5- HelpOwl 
If you can answer questions about some companies like Bing and 2K Sports or have good knowledge about vehicles.
Help Owl rewards you with points that can be redeemed for Amazon and Walmart gift cards.
You can earn more points by submitting manuals, reviews about companies and automobiles.
If someone marks your answer as helpful you get 10 points, if your answer is marked as unhelpful you will lose 10 points.
6- Experts123
Experts123  is another site that pays you to answer questions that are related to your area of expertise.
This site also allows you to write articles to increase your income.
You can earn anything from $5-$10-$20 per answer and article.
It may take more than a week for an article or answer to get approved.
They have many tools that will make things easier for you.
Conclusion 
It's possible to get paid to answer questions, but that's not something that will generate a passive income unless you are an expert with diplomas and a strong resume.
If you want to make a living on the internet from your passion even if you are a complete newbie, I recommend you to check out my #1Program it's free to get started No credit card required!
If you have any question, don't forget to leave a comment below, if you liked this post, please share it with your friends!
Your friend Anis 😀