Want to get paid to retweet? In this post, I will share with you five LEGIT and trustworthy sites, that will pay you to tweet and retweet, you can also make money with other social accounts like Facebook and Instagram.
Making money with your twitter profile or any other social network profile is very possible, many people are making thousand dollars tweeting and retweeting other companies products.
The best part is most of the time the companies would write the product description for you, and all you have to do is to copy and paste and tweet.
Your earning potential is unlimited with the sites I am going to share with you.
But the only requirement which is the reason why most people CAN'T make money to tweet or retweet.
Is the number of followers your social account has, if you want to make a living with these sites, your account must have at least 2,000 active followers.
If you have less than 200 followers you can try your luck but the earnings will be very low.
No, buying followers doesn't work, the only way to earn from these programs is to have active followers that trust you and engage when you post something.
Companies are not willing to pay for a tweet that only your family members and friends will see.
The type of People that make money fast online with these sites are the ones that make funny or musical videos, these guys usually have social profiles with thousand of followers.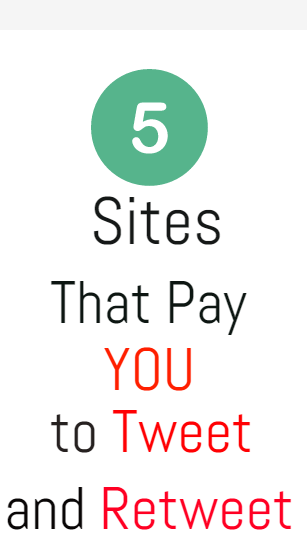 Just wanted to clear things out for you so you don't waste your time with these websites.
If you are looking for a way to make a living without having followers, I recommend you to check out my #1Program to make a passive income from your passions and it's free to get started!
If you have a social profile that you think might be good for you to earn easy money online then let's check out the best sites to make that happen 🙂
Sponsored Tweets 
Sponsored tweets are one of the oldest sites that connect advertisers with influencers.
Your Twitter account must be at least 60 days old with 50 followers and 100 tweets.
You have full control of what you can tweet or retweet, the advertisers if interested can contact you, ou can accept or turn down the offers.
You must earn $50 to withdraw, they have a pro version that costs $1.99 per month, Pro members will be on the top of the list, therefore, more visible to advertisers.
The pro version allows you to withdraw when you reach $25.
I have seen people with less than 3,000 followers on twitter earning 6$ per tweet.
Kim Kardashian earns $9,000 per tweet while Justin Bieber earns $5,854 per tweet.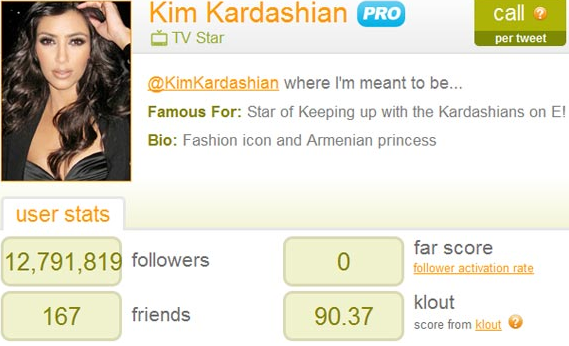 As you can see Kim is a sponsored tweets pro member, I smiled when I read what she is famous for 😀
Paid Per Tweet
Paid per tweet is another trustworthy site where you get paid to tweet and retweet.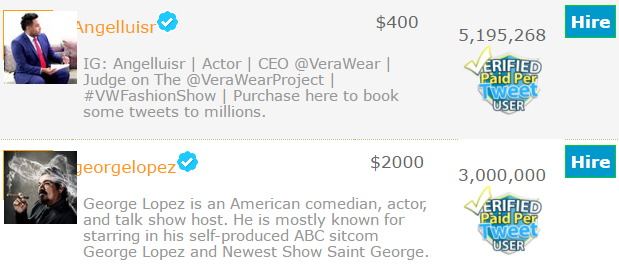 You get paid to tweet and retweet websites or products of companies; you can set your own price.
Fiverr
On Fiverr, there is a whole page where you can post your gigs where you offer your tweets and retweets services.
A lot of companies and big brands search on Fiverr for users with twitter followers.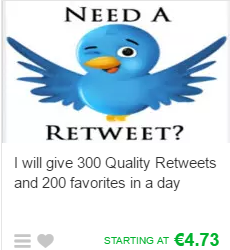 If you have a social profile with lots of fans, Fiverr can be a good way to monetize them.
Linqia
Linqia is another popular service that connects you with advertisers.

You will need a website and two social profiles with at least 2,500 followers.
They have a great support team, your questions are answered quickly.
Another thing you need to be located in north America to be approved.
Izea
Izea is another great site that not only pays you to tweet or retweet, you can also make money by accepting paid posts on your site and more.
I have written a whole post about them: What is Izea? 
Conclusion
These sites can make you lots of money, but you need to have lots of followers in order to make money.
You don't have to have followers to earn money on the internet though there are many other ways to make a living from something you like or have interest into.
To learn more read my #1Recommendation It will make you busy and it's free!
If you have any questions, just drop a comment below, I will be more than happy to assist you with anything.
If you liked this post, please share it with your friends 😀
Your friend Anis 🙂