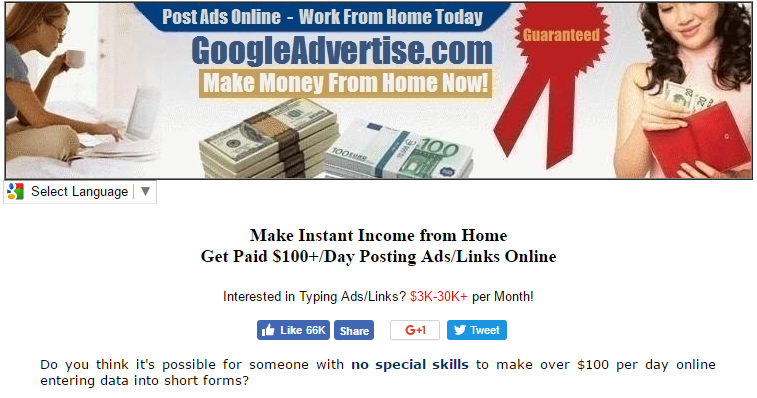 Googleadvertise.com is a website claiming to earn you a big income in a short period of time posting ads but is it real or a potential scam?
Recently I stumbled upon GoogleAdvertise when I was searching for some information online, I saw their site on the search results and was curious to click on it and see what is all about
As I enter the site I see some big claims like 'get paid $100 pe day or $3k/month posting links' I thought I'd do some research online and see what other people are saying about it
I was surprised to see that there are only people giving it thumbs up especially in SiteJabber
Just reading some people writing positive reviews on SiteJabber doesn't convince me enough to buy GoogleAdvertise because the owners can easily write positive reviews about their stuff.
With that being, I did not purchase GoogleAdvertise because this company has some serious scam signs that I am going to share with you.
I Believe GoogleAdvertise is a Scam: Here's why
Googleadvertise.com is a scam because it's similar to the hundreds of scams I have reviewed before.
Anyway here are some Google Advertise red flags
1) Google Advertise or Google Adwords?
The first thing that I noticed when I read their post is the photo of the form they show you as an example, that looks familiar to me, it's Google Adwords.
Google Adwords is an advertising platform that you can access for free however to get targeted visitors you need to pay
Other than that you need to put related keywords in there and other stuff to make sure your ad gets clicks
Google Adwords will charge you every time your ad gets clicked
Google itself has written a blog post called How to steer clear from Scams where you will read a phrase that says you need to avoid any programs that want to charge you for a service you can find on Google for free
That definitely seems to be the case with GoogleAdvertise
If you want to make money from Google you need to start a website where you put Google Adsense ads, whenever someone clicks on your ads you get paid
Here's how you can add Google Adsense to your website to make money
2) It Costs Money to Get Inside
You need to take this tip with you whenever you want to sign up for an online job if an online job is asking for money it's probably a scam.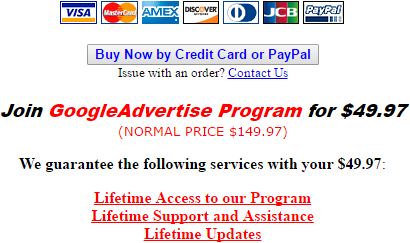 Legitimate sites usually allow you to try them for free to see what kind of service you're getting
Scams obviously can't do that because if you see their service you will avoid them in the first place.
GoogleAdvertise.com is similar to Home Wealth Remedy and Home Job Source they promise you easy riches.
Other than that scams like these will keep upselling you stuff that supposedly should earn you more money.
3) It's too Good to be True
I was scammed by programs that are too good to be true, I still remember how dead set I was to join them even though they promised easy money with little hard work involved.
Please never trust programs that say you will be making $100 in 5 minutes
If you don't work your tail off you will never make money that's the reality.
GoogleAdvertise promises you instant income from home and that's something unreal
If it was true everyone would be doing it.
4) The Testimonials
The scams that I had the chance to review always had some testimonials with photos
to see if the testimonials are fake all I had to do is upload the photos to Google image and realize they are just stock photos

GoogleAdvertise has some testimonials on their website without any photos
Just some phrases with names next to them, seriously how would I know they are real people?
I have to pay to see them that what they say on their website.
What's the point of seeing the testimonials if I have already paid?
Is GoogleAdvertise a Scam?
I did not buy Google Advertise program for the above reasons but you the consumer can buy any program you like I just don't recommend it because I think it's a scam
Affiliate marketing is a business model that works best in 2017
If you are a newbie and don't know where to get started with making money online I recommend Wealthy Affiliate
It will give you 10 free lessons, 2 free websites with hosting 7 days of 1 on 1 private coaching and more.
You can try Wealthy Affiliate for free (no credit card) so you can decide if it's for you.
I have tried many programs but I think Wealthy Affiliate is the most honest company that clearly teaches you how to make money online rather than making bold claims.
---
I would like to hear your thoughts or experiences about Google Advertise
Feel free to leave your comments below!