Home Online Profit Education Quick Review
Name: Home Online Profit Education aka HOPE
Website: HomeOnlineProfitEducation.com
Price: $97 + Hidden costs & Upsells
Type: Link posting
Owner: Heather Smith & Bobbie Robinson (Stage Names)
Verdict: SCAM
What is Home Online Profit Education?
Home Online Profit Education is another link posting scam where you are promised to make $379 per day by simply posting links
This program was exposed as a scam before it seems like it's back with different names
These are some of the old names used by Home Online Profit Education
Feel free to click on those links to see the ridiculous similarity between these scams and Home Online Profit Education
In a few words, Home Online Profit Education is a Work at Home scheme aka Get rich quick scheme.
How Does it Scam People?
There are a lot of people that promote Home Online Profit Education because they will get $120 per sale for every newbie that falls for it!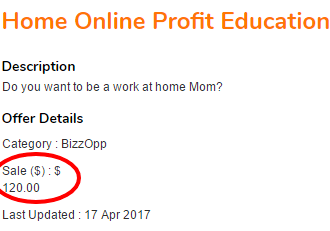 I'm not promoting it
because I prefer to get people involved with legitimate online business training opportunities that will actually help you make money.
Home Online Profit Education is 100%  Fake & Unethical!
Home Online Profit Education aka HOPE and Online Income are run by someone named Heathen Smith
I think this name is fake because I see a lot of scams using it and also the photo of the so-called Heathen Smith is a stock photo as you can see here.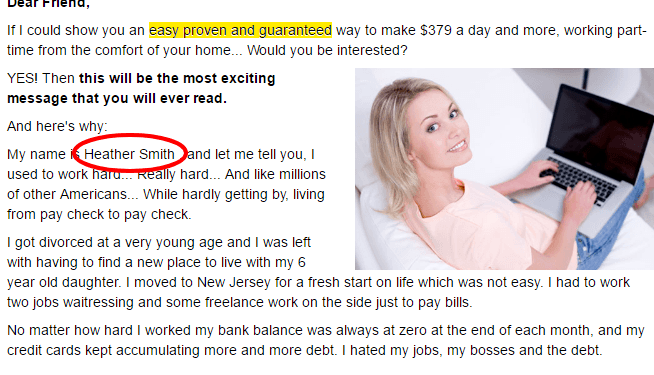 Shutter Stock is a site where you can buy premium images that you can use on your business
How can you trust a system that uses fake photos as the owner
If Home Online Profit Education is legit why don't they show face as real people?
They Teach you Affiliate Link Posting!
Home Online Profit Education has some rehashed training that teaches affiliate link posting
Affiliate link posting means posting affiliate links on social media sites or other places so you can make money whenever someone clicks on your link
They claim you will be earning $30 for every link that gets clicked
Isn't that too good to be true?
Of course, it is
Companies are NOT desperate for people to post links because affiliate link posting is SPAM itself
You will never make money with link posting
Affiliate link posting is a name the scammers invented from the legitimate business called affiliate marketing
which is selling other people products and earning commissions doing that
Affiliate marketing is very profitable and simple but you need a solid training to learn it and make it work for you.
Affiliate link posting, on the other hand, is just spamming and will never make you money.
If Only Making Money Was This Easy!
Home Online Profit Education gives you a calculator to calculate your earning potential
The calculator is not there for the sake of it
They want to get you very excited so you go for it and buy their fake training
Think about it
They claim you will be earning $150 per day or $4200 per month posting links
Posting a link will take you less than 1-2 minutes
Post 5 links and you are ready to make $4200/month!
It would be very nice to make such easy money!
But unfortunately, it's a scam
Pretty sure even the owners of Home Online Profit Education don't enjoy this fairy tale success.
Can you Make Money with Home Online Profit Education?
I can guarantee you that you will never make a dime with this system
It's a scam designed to suck as much money as possible from you
On their sales page, they guarantee you to earn $397 per day

But when you go to the bottom of the page and click on the disclaimer you will find this

They Even Use Fake Endorsements

Those logos are not there for the sake of it
That's how they try to gain your trust
Unfortunately, I have seen a lot of people fall for it
If you have a closer look it says 'work from home opportunities have been featured on'
They would risk getting sued if they used their program name there
Fake Scarcity Tactics!
They say there are only limited positions left in your city (they show different cities for everyone as you can see)
There are unlimited positions don't get fooled by this trick.
How Much Does it Really Cost?
I have reviewed at least 90 link posting scams on this website
Most of them charge $97 or $47 initially
That price is literally just to have a look inside then the upsell series will start
They will usually get you to buy tons of useless products that amount up to $2,000
They will also sell your personal information (email and phone number)
Never give out your personal information to programs like these!
Home Online Profit Education is a Scam – Final Review
Heather Smith and Bobbie Robinson are fake names
They use fake endorsements and scarcity
In a nutshell, there is absolutely nothing good to say about this program
I recommend you to stay away from Home Online Profit Education
Legitimate Opportunities exist!
Nothing is easy, everything that is worth getting requires hard work
Making money is no exception
If you are interested in a legitimate training where you learn how to make money
I invite you to have a look at Wealthy Affiliate
They will give you
Step by Step Training (10 free lessons to try)
Mentoring
2 free websites and hosting
And more!
Learn more about Wealthy Affiliate it's free to Try.
---
Did you get scammed by Home Online Profit Education?
PLEASE share your experience with us by leaving comments below!