Hotlogo.net is a website that is scamming people these days, it was recently launched if you are involved or interested in joining this site you may want to read this review.
Quick Review
Name: HotLogo
Website: Hotlogo.net
Price: Free
Verdict: SCAM
What is Hotlogo.net?
Hot logo is a fake website that pretends to be a successful project that is there to enable people to earn money online by giving their opinion on logos.
You are basically given four similar logos in different colors and your job is supposed to be helping "companies" chose the best logos for their businesses.
The most laughable part is when you read the reviews on their site, some members say they earn $300 per week doing this

One member said you will become a millionaire I wish I was kidding but this is something that can be found on their site specifically in the footer area.
These are fake testimonies by the way which is something seen multiple time in scams.
When you join you will be given a $5 bonus which will stay in your Hotlogo.net bank they claim you are going to earn $1 and 30% of the earnings of each person you invite.
The minimum withdrawal limit is $20 but even if you reach that number you won't get paid because this site is a scam.
How Does Hotlogo.net Scam People?
The registration is free and you get a $5 bonus but you need $20 to get your money out of the site.
To earn money you need to take some tasks each one pays around $0.3 to $1.
On each task you will be able to see the difficulty level, they have three levels which are: Easy – Normal – Hard.
The tasks are all the same and they are all easy.

Let's have a look at the hard task.
So I chose the hard task that you see in the picture above when you click on it, you see one logo in different colors.

You should choose one that you like thereafter you will have to answer some questions, you need to tick four boxes to go through.
All you have to do here is to choose four answers it's basically your opinion I still see nothing hard on this task, anyway I randomly tapped four boxes and I'm done with the task.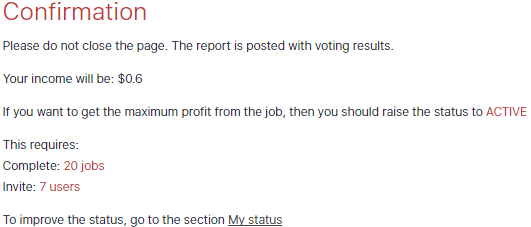 This was an example of a task and it's the hardest one according to Hotlogo, all the tasks are the same but with different logos.
To speed your earnings you will have to invite people so you reach the threshold quicker.
Unfortunately, when you reach the minimum payout limit you won't get paid even when you contact the support team you won't be able to get your money.
How Does Hotlogo.net Make Money By Scamming People?
You are probably wondering why would these guys have this site running if they won't pay the members.
Sites like Hotlogo.net are there only to earn money for themselves they don't care about you, they just want to use you to make money for them.
Here's how they make money by scamming people
1) They Sell Your Personal Information
These scams usually are connected with each other, when you sign up you normally provide your name and email address, if you don't know people pay to get email addresses because it's a profitable way to sell stuff.
That's exactly what scams do, they make sites like Hotlogo.net mainly to collect email addresses and sell them to other unethical companies to send you promotions and products.
Unfortunately most of the time you will receive nothing but spam.
2) They Send you to Other Scams
Another way they use you to earn money is to send you to other similar websites when I log in, they send me to a dating site sometimes to another work from home scam.
3) They have Ads on their Website
Another way Hotlogo.net makes money is by showing ads on their website, so when you click on an ad they get paid.

4) The more You Refer the More They Earn
When you invite people, and other members invite more people, Hotlogo.net will make a lot of money.
Because more people will result in more ad clicks, more email addresses, therefore more revenue for the scammers.
Is Hotlogo.net a Scam?
Hotlogo.net is 100% scam and you need to stay away from it because it's just there to make the owner money.
Their goal is to use your efforts and time to generate money for them, that's definitely a crappy way to run a business.
I hope this review was useful to you please share it with your friends so they stay away too.
Reliable Way to Work from Home?
Online jobs, surveys, GPT sites are either scams or pay peanuts that's why I recommend anyone to start an affiliate website.
With an affiliate website, you can help people buy products they are actually looking for, for instance, if you sign up for Amazon affiliate program you will be given an affiliate link
When people buy using your affiliate link you earn commissions.
Needless to say, people love to shop on Amazon
If you are a newbie and you have no idea how to start a successful affiliate website, then you need a solid affiliate marketing training.
The one I recommend is called Wealthy Affiliate, it's a great training that teaches newbies how to start a successful affiliate website the right way.
Affiliate marketing is a profitable business but takes a lot of hard work and time but it's worth it because you can really make a living with it.
This is what Wealthy Affiliate lessons will teach you.
Wealthy Affiliate is free to try (No Credit Card) you also get 2 free websites, 10 free affiliate marketing lessons and more!
Learn More About Wealthy Affiliate
---
Did you get scammed by Hotlogo.net? Do you have any questions? Don't forget to share with us your experiences here!