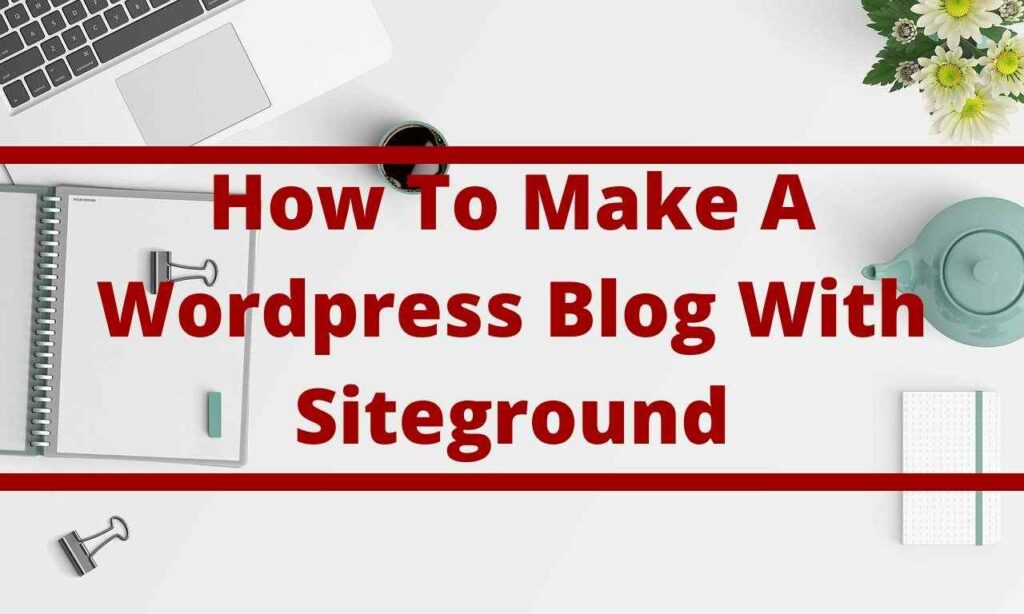 Hello! Welcome to my "How To Make A WordPress Blog With Siteground?" 2020 guide!
In this century, there are a lot of new and wonderful ways to earn money online. One of them is through having a blog. However, the common misconception is that blogging itself is not a source of income.
You must need another thing and leverage your blog on it. In my case, I do affiliate marketing using my blog. I put affiliate links that promote products and services. Whenever people buy them through these links, I earn commissions. But enough about that.
In this guide, I will teach you how to make a WordPress blog with Siteground. What is WordPress and Siteground, you ask? We will be tackling them later on.
So without any further ado, let's get started.
Get started with SiteGround right here!
What is a blog?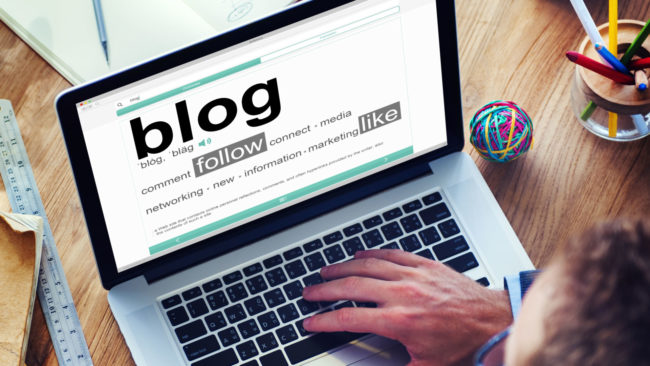 Before we start this "How To Make A WordPress Blog With Siteground?" guide, let's get to know properly what a blog is.
By definition, a blog is a website with informational content about particular topics and is updated on a regular basis. The contents in a blog are arranged in a chronological order based on the latest post. It is usually run by a single person or a group.
There are many reasons for starting a blog. Some people choose to have a blog as their online diary. These days, people have blogs to earn money.
If the purpose of the blog is indeed for business, it is crucial for the blog to be interesting and worth reading so more consumers will have their interest peaked. More importantly, a blog connects you to a relevant audience.
What is SiteGround?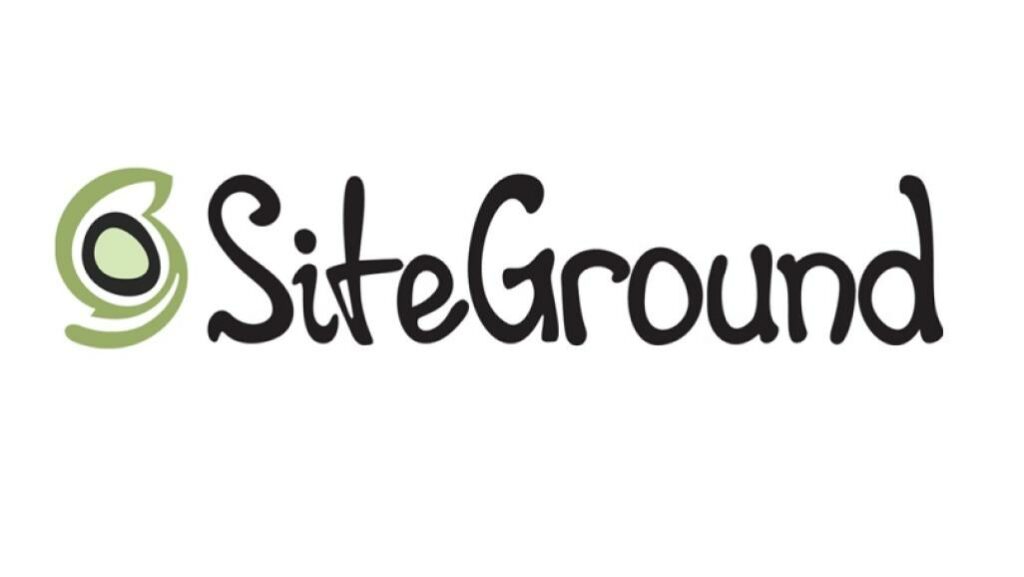 Basically, SiteGround is a company that focuses on web hosting such as shared hosting, cloud hosting, email hosting and domain registration. They provide these services for WordPress, Joomla, Magento, Drupal, PrestaShop and WooCommerce websites.
Their team has been providing exceptional service since 2004 and they have been incorporating expertise and dedication ever since in taking care of their customers' websites.

Siteground provides a full solution to their customers who want to build their own website by giving them a choice of sitebuilder, premium features, and the support they need to launch their site.
If you need a website transfer, they can also do it via WordPress migration or plugin. Speaking of WordPress, all of their managed WordPress plans include WordPress installation, automated migrations, automatic updates, advanced caching, and expert WordPress support.
And if this isn't enough, they also have an outstanding set of tools that allow their consumers to easily manage their clients, collaborate on sites, and transfer ownership of newly built sites to clients.
You can start your own blog journey with a great web host here!
Requirements For Creating Your Own Website
Creating a blog is easy if you know how to translate your thoughts into words. But before you get to this, you have to have a website first because where else would you put it?
If you don't know how, you don't need to hire someone to do it for you because it's quite easy to make even if you're not tech savvy. You just need to know your way around a tool that can help you such as a content management system like WordPress. here 's what you need:
#1 Domain Name
Basically, this is your website name. It is the address wherein Internet users can find or access your blog. It is also used for finding and identifying computers on the internet.
#2 Content Management System (CMS)
As the name suggests, this is what manages your blog as well as the creation and modification of content.
One example of CMS is WordPress. Being the owner of the blog, you create the content under the supervision and management of WordPress so they can publish the posts and manage plugins.
Also in this guide, we will be using WordPress since it is about "How To Make A WordPress Blog With Siteground".
#3 Theme of CMS
Blogs have their own designs and themes depending on the focus or niche of their content. Whatever the blog is about, the most important thing about the theme is that it must catch the attention of people so they'll actually have interest in reading your blog.
If it's a boring theme, your content may be put to waste even if it's actually good.
#4 Web Host
One great example is SiteGround which is responsible for providing storage for your blog's files.
Without the hosting services, your files would have no place to exist, so your site becomes almost non-existent.
Click here to join SiteGround and start your blog!
Make Your WordPress Blog On SiteGround Now!
With their progressive reputation, it is without a doubt that SiteGround is perhaps the most commendable web host. And you can start making your own blog with their help by following the easy steps below:
#1 Everything starts with a Plan
First thing that you need to do is to pick a host plan, which is basically the foundation of your blog. To do this, visit SiteGround.com to select your host plan of choice.
If this is your first time on SiteGround, you can either choose StarUp or GrowBig. If you want to start simple, StartUp is suggested.
Note though that StarUp only allows one blog on your SiteGround account. On the other hand, GrowBig can host limitless blogs.
If your blog has already grown, you can continue with the GoGeek plan. As your blog grows, your plan should be upgraded as well as they provide more web space.
#2 Pick an Address
It has already been established that a domain name is the address where people can locate and access your blog. This step is crucial because it leads people right to you.
With SiteGround, you can do this step in the installation process. You do have the option of buying a domain name from a company though.
You can also consider purchasing hosting from that particular company as well as transferring a domain name from one company to another. Don't worry if you're not feeling confident about your domain name because you can change it later for a cost of course (about $10).
If you want to create your own name, you can definitely do so. Just make sure that it's not taken or similar with another. Pick a name that's relevant to your blog.
#3 Filling Information
As always, to make your account your own, you must fill out the necessary information such as username and password and more importantly, your contact information and payment details.
After this, you can pick your hosting period, preferably 12 months, since you're just starting. It is also recommended that you get Domain Privacy in the Extra Services section just so others won't access your information and your domain.
#4 Hello WordPress
WordPress and SiteGround are practically a pair. Installing WordPress is made easy through a support ticket wherein SiteGround can do it for free. It's one of their many great services.
When this is accomplished, you can now log in to your account and select the Support tab.
After which, you're going to scroll down and you can see "WordPress Assistance" and click on that. This is just to request their team to help you on how you're going to continue.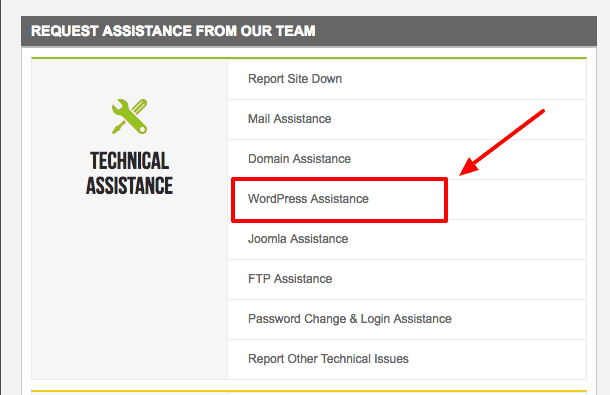 #5 A Theme for your Blog
Now, it's time to choose a theme! When a blog is visually welcoming, it makes people want to visit and appreciate it more. One perfect example to buy themes from is SoloPine.
It is recommendable to pick the one that really fits the niche of your blog. Whenever you buy a WordPress theme, you will be given a zip file.
But take note to just leave it as it is! You don't have to unzip the file. To install and use the theme, just go to WordPress. Then go to Appearance > Themes and then click the "Add New" option.
After that, click "Upload File" then you can just upload the zip file you got.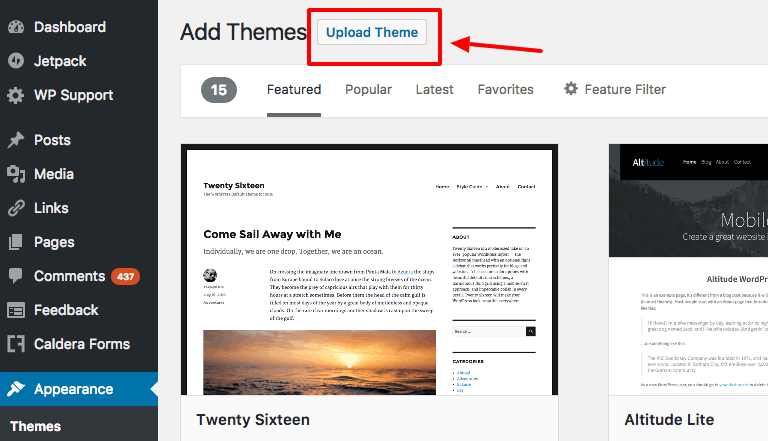 Again, do not open it or unzip it. When you are done, simply click "Activate" and you are set!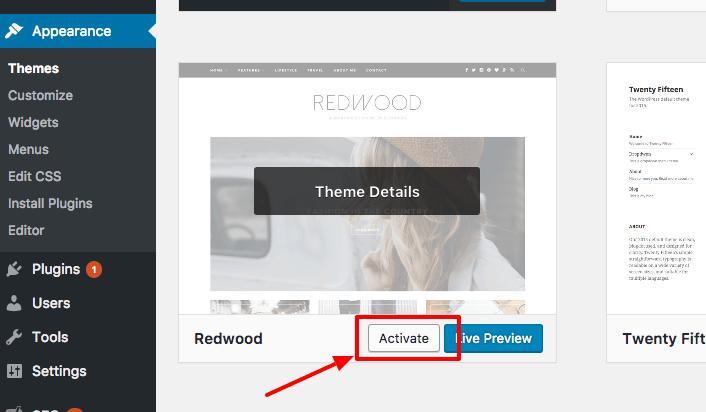 Are you interested with starting your own blog with SiteGround? Then simply click here!
#6 Start creating content!
The last step of course, is creating the content for your blog. You just have to go to WordPress, which is your CMS, and start writing there.
As a blogger, my best advice for you, especially the beginners out there is to not worry about posting new blog posts every single day.
Focus more on create long and high-quality content that your audience will really love. Doing this is also healthy for your blog's SEO.
You can do that by taking your time to do research and verify the information you got, be friendly and avoid having a formal tone in your blog. This is to make your audience feel welcomed and enjoy your blog.
Bottom Line
Congratulations! Now you know how to make a WordPress blog with SiteGround! Now it is up to you whether you should start now or not!
But I tell you, it is super fun, easy and with enough patience and hard work, you will be able to create your own stream of passive income with your blog!
Take it from me. I have been doing it for years already and I really enjoy it and at the same time, earn money!
Thank you so much for reading my "How To Make A WordPress Blog With Siteground?" guide! I hope you found it very useful and helpful. If you do have comments, suggestions or questions, feel free to leave them below in the comments section!