Is Cash for Invite a Scam? This site says you can earn more than $500 per day performing simple online tasks is it fake or a real opportunity?
Yesterday I was watching some Youtube videos and stumbled upon a video about making money online.
In the comments section of the video, one person said they earn over $500 per day with a site called Cash for Invite.
So I thought I'd check it out, after reading a couple of reviews online.
I saw many people talking about it and wondering if it's legit or a rip-off.
I have some interesting and shocking facts to share with you.
I want you to pay attention to all the facts I am going to mention in this Cash for Invite review.
What is Cash for Invite Exactly?
Cash for Invite (Now called Cash4Invite) is a website that claims you can earn money by completing tasks and inviting your friends.
They claim you will earn up to $20 for every task or friend you invite.
That's a big red flag.
It's impossible to earn $20 doing a simple 1-2 minutes task.
That's too good to be true.
In fact, it is.
When you want to withdraw your money, they won't let you.
They will show you a survey that you need take.
The surveys ask for money even if you complete them you won't get paid.
The worst part these scammers keep changing their names.
Their current active domain name is Cash4Invite.com
CashforInvite.com is no longer available
I'm sure they will change their current domain name as soon they scam more people.
This is a list of their past domain names some are working while some are not.
MonthlyYouth
Youth2Payment
Job4living
Earn4invite
TheinviteClub
Invite2job.com
HomeCash.com
CashJob
Paytoday
Money4Task
Payhite
Cash2Refer

I am a Legit Way to Make Money Online Click me to Learn More!

How Does the Cash for Invite Scam Work?
Their current active site is Cash4Invite which looks like this.

This website just like the previous versions promises you easy and unlimited income.
But before you get paid they want you to buy a membership.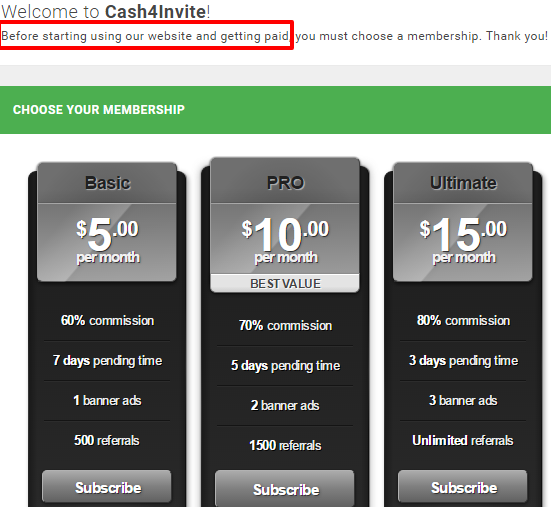 They don't care about helping you make money all they want is to collect as many paying members as they can.
To Really Show you how they scam people.
Here's a video of Invite Club one of their old domain names.
Is There Any Legit Work from Home Opportunity?
Since you are here reading this Earn for Invite Review, your goal is to find a legit way to earn money online, right?
The good news there are many legit sites out there.
The bad news, just like the offline world it takes hard work and time to earn money online.
As I said there are many options out there like Reward sites aka Get paid to sites like Swagbucks and Unique Rewards
However, if you want a serious work from home opportunity that guarantees you a passive income.
I'd recommend affiliate marketing.
It's a very profitable business.
How Does Affiliate Marketing Work?
When you refer a person to buy a product from a company (For example Amazon) you will earn a commission.
The more people you refer the more money you make.
If you want to learn affiliate marketing and start your own small online business.
There is a great community called Wealthy Affiliate which will teach the latest marketing techniques.
Their training is easy and straight forward
You can start your website right from the Wealthy Affiliate community
They also offer free hosting and two free websites to try things out and see if it's for you.
Wealthy Affiliate is a newbie friendly community.
You can try Wealthy Affiliate for free (No Credit Card)
Try it out and see for yourself how amazing it is

Join Wealthy Affiliate Now it's $0

Feel free to add your comments below.
Your comments and feedback are highly appreciated!