Hello! Welcome to my "Is CTFO A Scam?" review!
Seeking for a source of income nowadays can be quite challenging. However, there are more ways for you to earn money, even from home. That is why you are right in this review, right? It is because you just discovered CTFO and the business opportunity it claims to be offering you.
Let me tell you this. You have done the best thing before making a move, which is checking out CTFO and see if it is legit or a scam! What is this business opportunity? Will it work? Is CTFO a scam? You shall find the answers right here! Without any further ado, let's get started.
CTFO Review Quick Summary
Name: CTFO
Website: https://www.ctfocbdonline.com/
Founder: Steve and Stuart Finger
Type: Health and Wellness CBD Oil Multi-Level Marketing Company
Price: Free to join, Premium Membership ($19.95/month), Product Autoship ($47.47/month)
Rating: 1/5
Here is my top recommended way of earning money from home!
What is CTFO?
CTFO, meaning Changing The Future Outcome, is an MLM company in the health and wellness niche; more specifically, CBD oil. It was founded by Stuart and Steve Finger back in 2015. However, the name of the company was "Chew The Fat Off", which sounds a bit strange. That is why they re-branded and produced the company right now that provides CBD oil products.
Apart from providing these products, CTFO promises a business opportunity to people. What is it? Is it any good? You shall find out later on.
CTFO Products
CTFO offers health and wellness products, mainly ones that are CBD related. Here are the product categories:
Nutrition ($24.97 to $85.97) – CBD gummies, protein shake, pain relief, and many more
Pets ($24.97 to $71.97) – CBD spray, hemp chews, and many more
Health ($34.97-$210.97) – CBD oil, healing cream, and many more
Anti-aging ($14.97-$80.97) – CBD anti-aging serum, sun cream, mud mask, bath bombs, and many more
Flagship product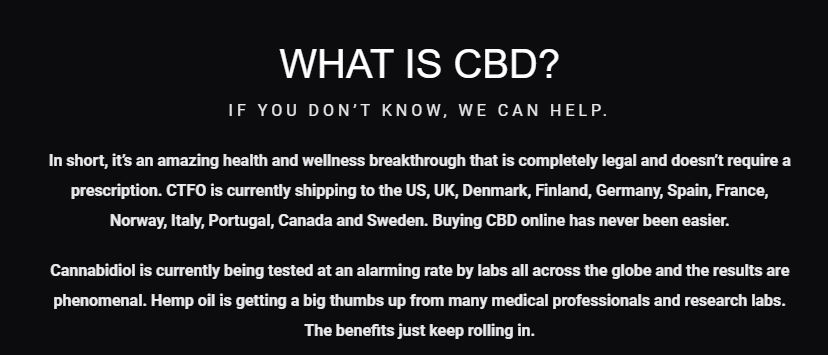 CTFO's flagship product is the CBD oil. CBD, which is short for cannabidiol, is a phytocannabinoid plant used in most of CTFO's products. It is important to learn about them, since there are still some countries and places that did not legalize the use of these plants.
Moreover, CBD has a trace of less than 0.3% of Tetrahydrocannabinol (THC), the psychoactive that is present in marijuana that makes people high. CTFO's CBD oil brings a lot of benefits to its user, including:
Decreasing the chances of getting diabetes and acne
Can help in dealing with pain, anxiety and depression
Decreases the chances of having cancer and lowering your blood pressure
Relieve epilepsy and Parkinson's symptoms
If you are new to this CBD products and industry, you should know that CTFO is not the only MLM company that offers these kinds of products. There are others, which means that if you decide to become a CTFO representative, you will have a lot of competition such as:
Are you interested in making a 4-figure monthly income without paying for anything? Then click here!
Can you make money with CTFO?
Yes, you can earn money with CTFO. However, the income potential is not that good, since it is an MLM. Studies have proven that between 72.5% and 99.9% of MLM representatives lose money rather than earn.
Plus, CTFO never released any Income Disclosure Statements. This means that we don't know how much its representatives earn.
How can you make money with CTFO?
If you are interested in becoming a CTFO representative, you can earn money in two ways:
Sell CTFO products and earn commissions from each sale
Recruit people to become CTFO representatives and earn commissions from their sales
Some people usually think that they can earn money with MLMs by just recruiting people. However, that's not true in MLMs. That is a pyramid scheme business model wherein there are no products involved and you only need to recruit people. It is illegal and very impossible to earn money. Only the owners of the pyramid scheme get to benefit.
How to join CTFO?
According to CTFO, it is free to join. But I doubt that. It is because you still need to purchase CTFO products to test them out and for you to sell. That is why you are recommended to buy CTFO's business builder kits that cost $299.97-$1,299.97. Each kit comes with various products.
Moreover, there are additional monthly costs. To be eligible for commissions and bonuses, you must be an "active" representative. To do that, you are required to purchase products worth at least $47.47 every month. You can use these products or sell them.
This means that you have to spend at least $47.47 per month. If you fail to sell these products, then you won't earn any money to recover from these expenses!
Not a fan of MLMs? Then this method is the one for you!
CTFO Compensation Plan
Years of reviewing MLMs, I noticed that their compensation plans are somewhat similar because of the fact that they are made to be difficult to comprehend, thanks to the technical and fancy words they use. Moreover, I believe that they do this to trick people, making them think that they have a lot of ways to earn money with them. But in truth, you can only earn by selling products or recruiting people.
With that, let me simplify CTFO's compensation plan. There are 5 kinds of commissions you can receive. Here they are:
Retail Income – earn a 30% commission on each product you sell
Unilevel Commissions – commission that you can earn from your recruits or downline's sales. (5 levels deep – 20% or 4%, which depends on your recuits' ranks)
Matrix Commissions – another commission from your downline's sales (21 levels deep 1% bonus)
Profit Sharing Positions In The Matrix (PSP's) – earn bonus from 3 people below you in the matrix 
Infinity pay bonus and the Top Gun bonus – additional bonuses from your downline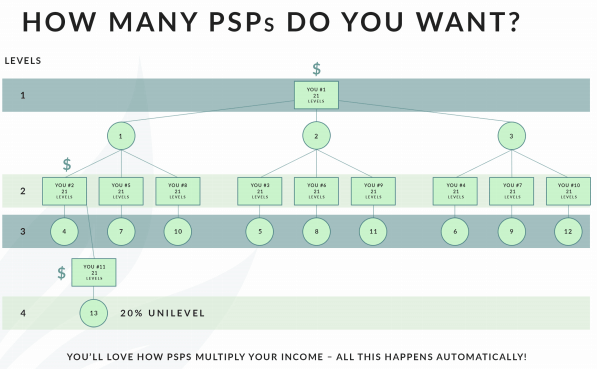 As you can see, 1 one of them only depends on your sales, while the rest depends on recruiting people. I find this alarming because it is a sign of being a pyramid scheme in disguise!
Is CTFO a scam?
No it is not a scam. CTFO is a legit MLM company that also offers legit products. And it does pay you whenever you make sales or when your recruits do. However, is this the right opportunity for you? Now, that's another story.
MLMs require a lot of active work. Moreover, it is quite expensive to join CTFO and it has a low income potential. But if you believe in your selling and recruiting skills, then maybe you can give it a shot.
Is CTFO a pyramid scheme?
Like I said earlier, CTFO is not a pyramid scheme since it offers products and you can earn money by just selling their products. However, it is showing signs of being a pyramid scheme in disguise. One is its compensation plan which focuses more on the recruitment part.
Second, it has hidden monthly expenses. Yes it is free to join but there are requirements that make you purchase products that are not even cheap. With this, representatives resort to recruitment to have a better income. Plus, comparing CTFO's products, they are way too expensive compared to similar products.
This is another tactic that pyramid schemes in disguise do to make its representatives recruit more people.
With this program, you can start your own source of passive income!
Pros and Cons of CTFO
Pros
Its products have positive reviews
Cons
Products are expensive
It has a monthly sales quota
Hidden expenses
Compensation plan focuses more on recruitment
Lack of transparency (e.g. income disclosure statements)
Low income potential
Final Verdict
Let me conclude this CTFO review with my final verdict. CTFO is a legit MLM company but I don't think that it is the right opportunity for anyone who want to earn money from home.
Yes, I like the fact that it is free to join because there are no membership fees. However, there are still a lot of expenses and its costs are not even cheap! Plus, the income potential is low since it is an MLM and there are no income disclosure statements that can help us figure out how much its representatives earn.
Unless you are confident with your recruitment and selling skills, I do not recommend you to rely on CTFO to earn money from home. But I can give you my top recommendation below.
Thank you so much for reading my "Is CTFO A Scam?" review! If you have any comments or questions, feel free to leave them in the comments section below!
Here Is How I Make Money Online!
Personally, I am not a fan of MLMs because there are a lot of things to pay for, and I am only compensated poorly. That is why I prefer affiliate marketing. Thanks to it, I am making a 4-figure monthly passive income.
It is quite straightforward and similar to MLMs because you earn commissions for each time you make a sale. But there are no expenses that you have to make. You won't be purchasing the products and no recruitment! Moreover, anyone can do it. Even beginners. That is why I believe that it is better than MLMs.
If you are interested, you can start right away by clicking on the link below!