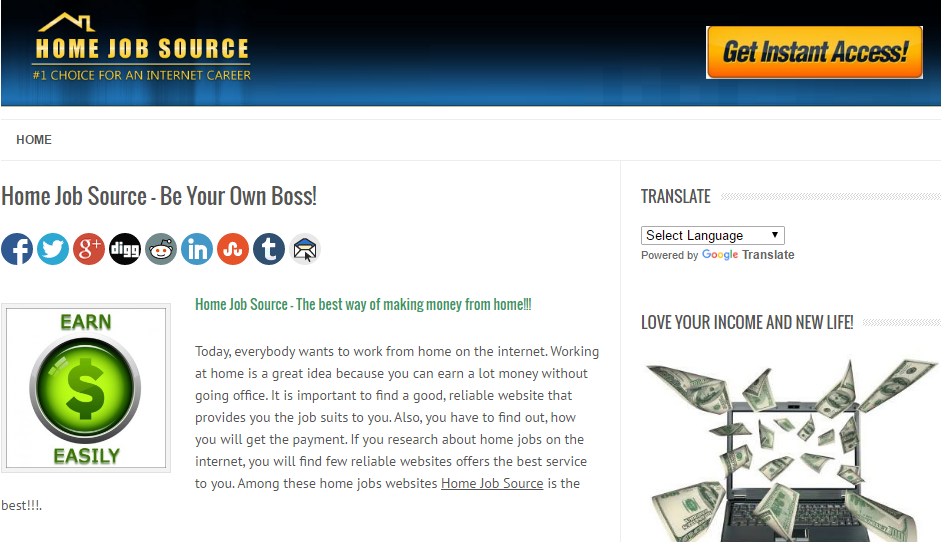 After reviewing a couple of similar scams I came across this website called Home Job source if you are questioning if it is a scam or not I have the answer and the proof here.
I have written this Home Job Source review because I see lots of people having a hard time to find out if this website is the real deal or not.
I did not purchase or tried this system before but I did a deep research on the web and I don't mind sharing with you here my findings.
I have reviewed tens of similar sites so I have some strong and valid points that really prove what home Job Source is all about.
So if you are unsure if Home Job Source is the solution to your financial problems just read this whole review
You will see what their site is all about and also learn how to tell and avoid scams in the future.
What is Home Job Source?
Home Job Source is a website where you are told you can earn money easily by simply posting links
Their sales page looks like a website but it's just a single page with the scope to get you to buy their product
So all they say on their sales page is you are going to make easy money and you are going to live the life of your dreams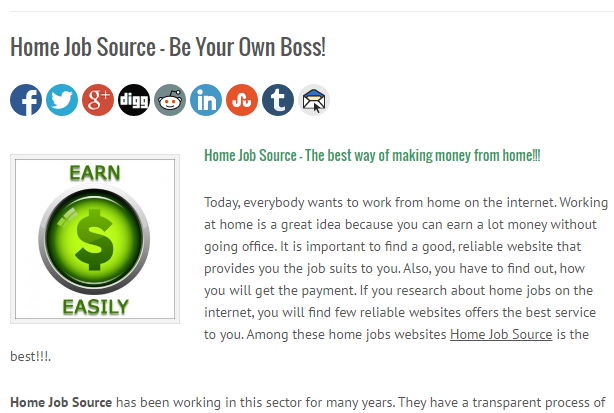 Their goal is to get you to spend that $97 upfront fee
I have seen this scam before
What they basically do is create many scammy websites and send leads to each other.
If you are wondering what those scammy websites are, well I have written reviews on them before
Here are some of them, The Free Money System, Income from home Academy, Copy My websites, the direct Online Income, Cash from Home, Facebook Bonanza, the Easy Marketers Club
There are more than you can imagine
Feel free to click on them and read for yourself how they buy fake actors, buy stock photos to use as testimonials
What are You Actually Buying?
As I said before these scams usually redirect to each other, At the time of this writing Home Job Source redirects to the Ultimate Home Profits.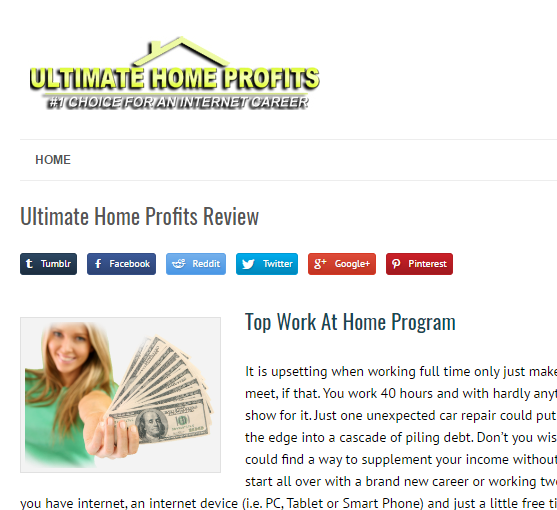 It's also connected with other scams with similar names like Home Job Income source and Home Jobs Now
So all these sites have the same courses that they promote on classified ads or in legitimate employment sites
After reading many customer reviews that are trying to get their money back I know what they exactly teach you on their courses
Their courses are all about link posting which doesn't work at all unless you like spamming on classified ads and getting people to buy this garbage product.
Their courses are so confusing and you will never understand how you are going to earn money after a few days someone that is supposed to be your mentor will give you a call
These so called mentors call you only because they want to promote to you a business opportunity where you have to invest your money
Needless to say that you are not investing in any business you are simply giving your money to scammers
Home Job Source Red Flags
I have said it's a scam now it's time to show you why it's not legit.
First of all, you need to watch this video from ABC it talks about some common scam signs that Home Job Source relates to.
Another red flag is the fact their profile on BBB has an F so they are not Better Business Bureau accredited.
Have a look their BBB profile and read the complaints they have received
These scammers never rest really, every day they launch new hyped up products.
Their goal is to earn easy money from the upfront fee you pay, that's all they want from you
When you pay you will be given some pages with poor, put together content.
Other than that link posting is just spam, just do a quick Google search and you will see what is link posting really is.
My Final Opinion & Recommendation
Home Job Source is not a legitimate opportunity it was never seen on CNN or BBC and it teaches you stuff that doesn't work anymore even worse it teaches spam.
With that said I will never recommend this product
When I was looking for legitimate opportunities to earn some money I was finding only these scams
Why?
I was looking for easy ways to make lots of money I refused to hear the fact that it takes time and efforts to earn any decent income.
With that said if you are searching for place where you can really learn how to make money online the honest way I invite you to have a look at wealthy Affiliate
It's a 500,000 members community where you learn how to start a successful online business with the help of a supportive community and great, task-based, easy to follow tutorials and video tutorials
It's a newbie friendly community that you can try for free (No Credit Card)
If you have any questions or feedback, just drop comments below!