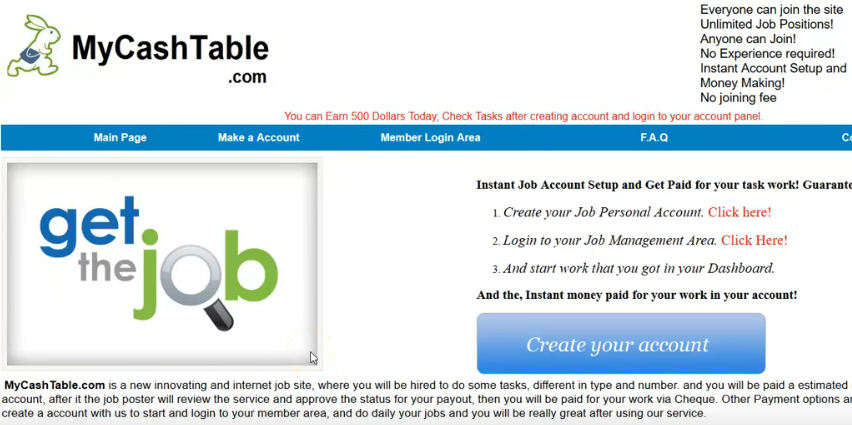 Is My Cash Table a Scam or a legit opportunity? Is it too good to be true? If you are asking these questions this review is for you!
It looks like there are so many people out there promoting My Cash table, especially on Facebook groups.
To be honest Facebook groups are a ridiculous place when it comes to making money online opportunities
This review is  going to be about My Cash table let's dig in
What is My Cash Table?
So today I heard about this My Cash Table site and it claims that you can make $500 today.
They literally guarantee you will make $1000 on your first or second week.
Doing what?
When you see the site you think it's a place where you will find real earning jobs.
But after you sign up and log in all you see is a referral link that you have to share everywhere to collect clicks.
Just clicks.
You don't have to sell anything you only need to get people to click.
You will have to reach a minimum payout limit of $300 which is relatively so easy to reach.
But where is the catch?
Let me show where is the catch!
Just keep reading.
How Does My Cash Table Scam People?
After you waste all your valuable time collecting clicks
and when you finally reach the threshold of $300 and you want to get paid here's what happens.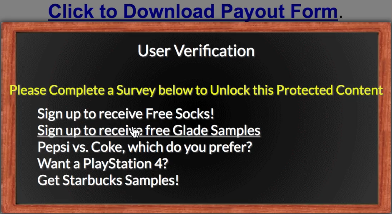 You will be taken to fill out surveys that ask for money.
The worst part is even if you complete and pay for the survey
you will be always taken to other surveys where you have to pay again.
No matter how many surveys you take you won't get paid.
My Cash Table is a Copy of other Scams
One thing I'd like to highlight is the fact that My Cash Table is just a copy of old scams that wasted people time before.
This scam goes by many other names.
Basically, whenever a scam of theirs gets exposed they would simply change the name of it and move the system to the new name.
They do this very often.
Their goal is to get as many people as possible and that's how they get away with it.
Matter of fact I have already written reviews about their previous scams which are Cash for Invite and Youth to Earn
If you read my reviews you will notice the same design and the same process of scamming people just different names.
They have many other scams which I mentioned in this cash for invite review
Any Legit Work at Home Opportunity?
I was just like you looking for legit opportunities to make money
But all I was finding is scams like My Cash Table.
I was scammed before and I learned the hard way that it takes hard work to earn a living online.
I am not going to tell you my whole story here but I have tried everything get paid to click, reward sites, I have tried them all.
If you are looking for a serious way to earn a passive income every month
I recommend you to start an online business
Don't let the word online business scare you
An online business is very easy to start nowadays.
If you want to start a successful home business
I recommend you to check Wealthy Affiliate
It's an online community with over 500,000 members where you learn step by step how to start an online business and make money online.
Wealthy Affiliate is free to join (No Credit Card)
Create Your Free Wealthy Affiliate account now and see if it's the right program for you.
---
Do you have experiences with My Cash Table?
Please leave your comments below
Don't forget to share this My Cash Table review with your friends!