Is My Millionaire Mentor Legit? Can you really earn $100,000 per month or $1000 per day doing almost nothing? Is this the program that can make your dreams come true?
Chances are you have watched their promotional video already, fancy cars, beaches, yachts and beautiful girls, right?
$100.000 per month without any hard work involved? You must be kidding me right now!
If you are thinking about signing up for this program, you really should read this review first and know what happens after you watch their promo video that promises free $500 for the first 50 members and the only "seven spots left" thing.
My Millionaire Mentor Quick Review
Name: My Millionaire Mentor
Website: MyMillionaireMentor.co

(

UPDATE

)

the old domain name now directs to YouPersonalMentor.co

Price: $97, $49 and various upsells
Owners: Ryan Mathews ( fake actor)
What is My Millionaire Mentor?
My millionaire mentor is a site that promises you to make money from home on an autopilot, as soon you enter the site pay $49 and the hosting service then you can go hang out with your friends or family members while money is being automatically made for you.
They claim that they have a team of experts that do all the work for you, they say you can make up to $10,000 in commissions thanks to their system.
To be honest, this site deserves lots of applause because it's not the common scam you see, it's one of the most clever and well-done scams I have encountered.
Fake payment proofs and fake testimonials are the tools that those scammers use, another big scam I know is quick cash system which is very similar to MMM.
But How this Scam tries to steal your hard earned money?
How Does it Work?
After you watch that promo video where that guy explains how he was struggling with his girlfriend until he found this system that changed his life.
You will be asked to pay $49 sometimes they even ask $97 to have access to the system.
They say that they will send you $500 after you watch the video then why they would ask you to pay $49 or $97?
It just doesn't make sense to me.
After you pay $47 or $97, you will be asked immediately to pay another sum which is $87 they say that is for the hosting service.
Well that's not all you have to pay, while those are a must to get started they will keep bombarding you with various upsells
Here are the various upsells they have:
$97 per month elite membership
$200 Affiliate Bonus Domination course
$997 Income Revolution
$4,800 Diamond Coaching Program
$8,598 Titanium Mastermind
$149 OPT Formula
Trust me there are many other membership levels with different prices and upsells!
If you buy this program you will get into never-ending headaches, I recommend you to stay away from this fraud, it's the biggest scam I have ever seen.
Don't trust this scam; their system is fake, and their testimonials are fake as well, you can buy as many testimonials as you want on Fiverr for $5.
What Are You Actually Buying?
The thing is My Millionaire Mentor or Your Personal Mentor (whatever name they switched to or will switch to)
Doesn't exist, it's just name used to sell you another notorious program called MOBE.
What the Hell is MOBE?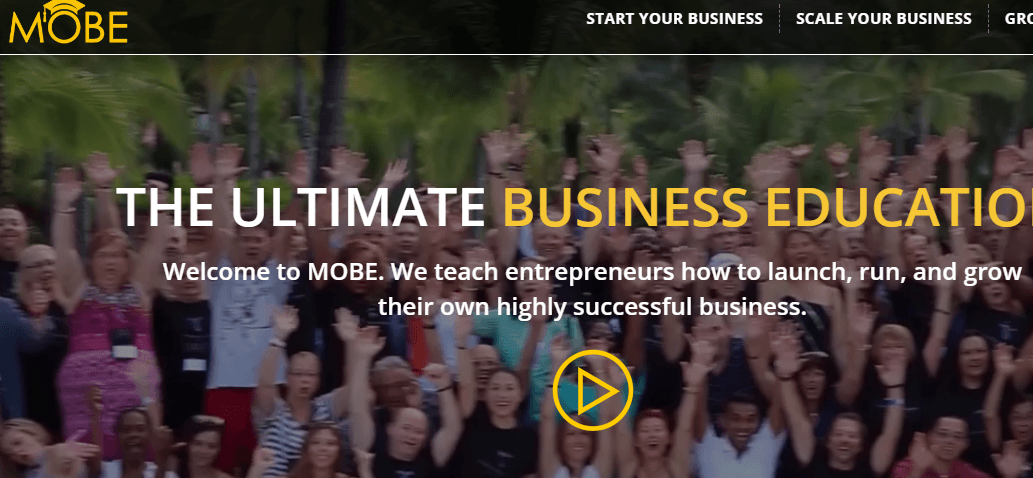 Nice question
Well MOBE is a business opportunity some consider it to be a pyramid scheme or an MLM because it's all about recruiting other members to buy the same thing you bought.
MOBE gives you a 21 steps training that you will take follow to a tee
Every MOBE student has a personal coach that guides them but these coaches are professional salespeople that will try to convince you into buying the super expensive MOBE products that you will have to resell for a profit.
Most MOBE affiliates just create full of hype sales pages to sell the MOBE training
Exactly like the My Millionaire mentor which is just a sales page that promotes MOBE aka MTTB.
So by buying MOBE you will most likely to create a full of hype landing page to catch victims to spend thousands of dollars
Here some of the most popular MTTB sales pages created by the affiliates.
What do Other People say?
Lots of people fell into the trap of this big shady program, you don't want to put yourself into problems, don't waste your hard earned money, those scammers laugh when you buy something from them.
Here is a list of tons of people that tried the system and lost their money, click here to read the reviews
Looking for a Legit work from Home alternative?
There are many ways to earn money on the internet, but it's not very easy to find legit opportunities.
But I know one program that is real and honest that I use.
If you want to make a living from home through honesty and hard work, you will never find a better program than this.
The program I'm talking about is Called WA and you can try it for FREE!
Have you ever tried My Millionaire Mentor? Do you have anything to share with us here?
Please share this review to anyone that is thinking to join MMM!