So your big question is:
Is Wealthy Affiliate worth it?
Right?
That's a legit question and as a 4 years Wealthy Affiliate member I am going to share with you how this training program works and how it helped me make money and how it can help you too!
So chances are you're looking for a legitimate way to earn money and you are probably tired of scams or sites that pay pennies.
There are a lot of scammers and low-quality products out there that promise easy riches with a few clicks of a button.
Chances are you have struggled to make money online and you have only found scams on your way.
Just a few years ago, I was looking for a legitimate way to earn money, I had no idea how money is made online.
I fell for many scams!
But after finding Wealthy Affiliate I'm finally making money every month from different companies!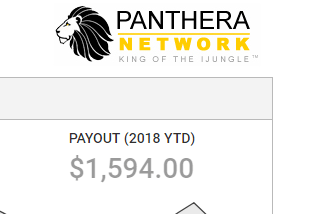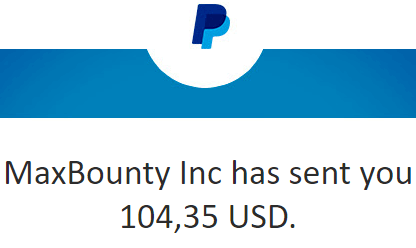 How to Make Money With Wealthy Affiliate
It's simple really, and you can do the same!
Let's say there are people looking on Google because they want to buy a new blender.
Maybe they want to know what the best blender is, so they type "best blender" into Google. They find a website where someone has reviewed a few blenders and recommended the best ones. 
Maybe they have gone to Amazon and found the best five blenders on Amazon, and listed them on their site. 
​Now, if the website visitor goes to Amazon from that site, buys a blender or anything else, then that website owner earns some money from Amazon as​​​​ a thank you for referring them the sale. 
You can be that website owner.
In fact, you don't even have to review Amazon products, you could blog about your favorite recipes, or some travel advice, or any real topic where people are seeking information or products, and your site can help them find the answers.
There are people out there who make thousands of dollars every month just doing this. Some make tens of thousands.
 Yes you read that right.
Here's the cool part, I'm not techy at all and I don't know any code. Building websites is very simple in 2019,
And if you keep reading this review, I'll show you how to get started with Wealthy Affiliate and how to access their simple website builder that will help you make legitimate money online.
It's very simple to make money this way, and thousands of people, tens of thousands even, are doing it. But..it's not simple to figure out how to do it by yourself.
Wealthy Affiliate Review Overview
Name:  Wealthy Affiliate
Website: Affiliate Marketing Step-by-step Training for newbies to start a real money making website.
Owners: Kyle Loudon & Carson Lim
Price: $0 to get started, $19 first month then $49, only $29/month if paid annually.
Best for: newbies or experienced people.
What is Wealthy Affiliate Exactly?
Wealthy Affiliate is an Affiliate Marketing step-by-step training that is designed for COMPLETE NEWBIES that want to build a website that makes money.
I recommend Wealthy Affiliate over any program out there because it's the best platform for newbies, if you have some experience with building websites that make money then WA is probably not for you.
If you're a TOTAL newbie with no experience you WILL still love Wealthy Affiliate.
Wealthy Affiliate will give you:
Easy to follow step by step training with text and video tutorials.
An easy Website Builder to build your own site
Access to an incredible community with over 1 millions members with your same goal.
Lots of support and help available (all your burning questions will be answered!)
Weekly webinars with Q&A sessions & More!
I think you're starting to understand why I recommend Wealthy Affiliate to newbies over any other platform.
It's the perfect solution for newbies that are tired of scams and want a real step by step path to building a website that makes a regular income.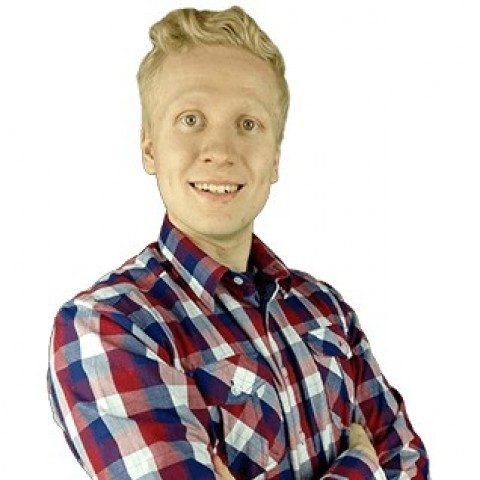 Wealthy Affiliate training and community has been a game-changer in my life. It has allowed me to start making money online and achieve the "laptop lifestyle".
The doubt that I had at the beginning, "will this really work?" vanished away when I started seeing the results in my own life. ANYONE can make a living with affiliate marketing if they are willing to put in the effort.
Roope Kiuttu

– 

Wealthy Affliate Member for 2 Years.
How YOU will Make Money with Wealth​​​​y Affiliate!
1
Choose an Interest
What do you like? What do you like to watch?
What do you like to play? What are your hobbies?
Your website can be about anything, everything has an audience.
Even if you have no idea what you like Wealthy Affiliate will help you out!
2
Build a Website
Nowadays if you can click two buttons you can create a website.
With Wealthy Affiliate, you can create your website in seconds thanks to their in house website builder!
3
Write Content & Get Visitors
After you build your website you need to get visitors to it.
You will need to write articles that are going to rank on Google , Bing, and Yahoo which will send lots of FREE traffic to your site!
​
Since most of my traffic is from the search engines
Chances are you have found my site on Google or Yahoo and this proves that the training works.
4
Earn Revenue
You are probably wondering, how can you make money if you don't own a product?
You don't need a product and yes you can still earn a decent income.
There are many companies like Amazon and Ebay that will pay you to promote their products and WA will train you for that!
If you don't like promoting products, you can still use the training to make money without promoting anything all thanks to the Wealthy Affiliate training!
My Experience with Wealthy Affiliate
As I said before, I was a victim of different scams, I had no clue how I could make money online
Like you I was searching online for ways to earn money, I googled a scam I was interested in
When I realized it was a scam I kept looking for other ways to earn until I came across Wealthy Affiliate
When I Tried their Free 10 Lessons, I was like wow! This sounds legitimate!
I gave it a try and I loved it!

I'm a premium member at Wealthy Affiliate
I joined WA 15 months ago, I have learned a lot of things.
The most important thing that I have learned is there is no such thing as making money fast or quick!
when I joined WA I was expecting to earn thousands of dollars overnight.
But time proved to me that making money online is no different than the corporate world.
You still need to put it hard work and consistency if you want to see results.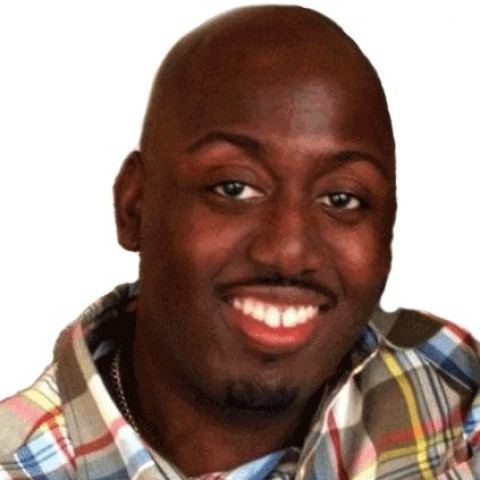 "
Prior to joining WA I didn't really have much direction in terms of making money consistently online. I made money but I didn't have a system that was reliable or scaleable. But once I joined WA they literally provided me a blueprint that I've followed over 10 years that has led to me making nearly 6 figures with my online business.
I would still be jumping around chasing shiny new objects that promise the world but lead to a lighter wallet if it weren't for the good folks at Wealthy Affiliate. If you're patient and have delayed gratification, WA can help you earn a lifestyle that most never achieve. But you can't have an employee mentality otherwise you'll give up. 
Eddy with a Y

– 

Wealthy Affliate Member for +10 Years!
How Long Does it Take to Make Money on Wealthy Affiliate?
It personally took me 4 months to make my first sale, it came after lots of hard work and patience building my site applying what Wealthy Affiliate taught me.
Since then I have been slowly growing my income through consistent work and learning everyday from the Wealthy Affiliate training.
When I joined WA I was looking for a way to pay off my university and rent fees.
I may not be earning some impressive numbers but I'm happy with what I am earning.
Does Wealthy Affiliate Make Me Good Money in 2020?
I earn from Wealthy Affiliate around $1,600 per month but there are also other companies that pay me like Maxbounty (CPA Marketing) and Media.net (Ads platform similar to AdSense)
In total, I make around $1,800- $2,000 per month I think that's not bad for a 22 years old university student with English as a second language.
But I'm sure I can earn the double of that income in the next few months if I keep working on my site!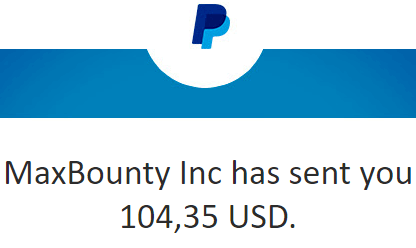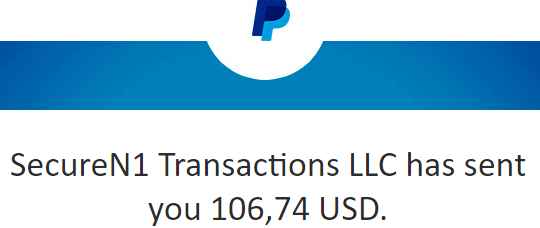 Wealthy Affiliate Earnings Update!
In 2020 I surpassed the $3.000 mark thanks to my hard work & dedication!
If you follow the Wealthy Affiliate training you can definitely do the same!
Wealthy Affiliate Success Stories & Testimonials!
I'm not the only one that was able to make money online from the Wealthy Affiliate training, there are lots of members actually that have made some success with this great training.
Another thing I love about Wealthy Affiliate is it allows the members to publish their success stories so people will stay motivated within the community.
Here are some Success Stories of Wealthy Affiliate
You will read success stories from people owning websites in different niches like Learning guitar, meditation, web design and more.
Each one of them is making money following their passion which is amazing! However, it took them lots of hard work to reach that success.


How Much Does it Cost to Join Wealthy Affiliate?
What I love about Wealthy Affiliate is the fact they allow you to test the system for free and you can stay as a free member as long as you want.
You can Sign up for Wealthy Affiliate for Free and immediately start learning, asking questions in the classroom or the live chat, build your website with a ridiculously easy site builder.
If you love what you see you can upgrade to get even more exciting features, nobody will push you to upgrade or anything.
Most of my referrals upgrade because they get impressed by what the free membership offers.
I know a lot of scams that charge thousands of dollars I'm sure you have come across those too.
WA does not cost $70,000, $20,000 or even $2000 like most scams online.
Wealthy Affiliate Premium membership costs $49 per month you can get the first month discounted by 59% (scroll all the way to the bottom to see how)
If you pay annually the price will be only $29.90 per month!
I have tried many similar programs before and every time I finish a lesson an upsell pops up.
With Wealthy Affiliate there are absolutely no upsells other than the premium membership.
As you can see WA pricing is very fair.
 They offer lots of value without charging tons of money like most programs do out there.
What You'll Get When You Join Wealthy Affiliate's Free Membership?
10 Free Lessons to Test the Training
2 Free Websites
Free Hosting
Live Chat Access
Support from the Members
"
When I joined Wealthy Affiliate back in 2016 I figured it would be just another over hyped program that would not be able to deliver on what they claimed.
Boy was I wrong.
Wealthy Affiliate has delivered on everything they promised. If you are wanting to build an honest,legit, and long lasting income online Wealthy Affiliate is the only place I recommend period.
Kirk Whitehead

– 

Wealthy Affliate Member since 2016
As I said before the free membership is mainly to try things out but trust me it offers a lot of value.
You have the ability to ask questions within the live chat, classrooms and you get 2 free websites with hosting and 10 free task-based lessons!
Here are the titles of the lessons you get for free at WA, they are golden info.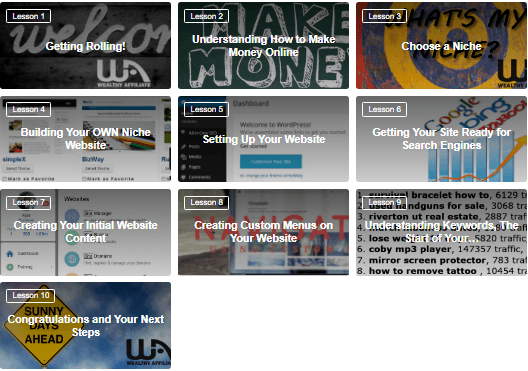 I think Wealthy Affiliate is the most ethical company that actually cares about the members unlike most other bogus programs online (that unfortunately, I wasted my time in)
They keep showing you mansions, cars, and Ferraris to get you to spend money for a system that doesn't work
Wealthy Affiliate doesn't show you Ferraris and stuff but only teaches you how to make money from your website.
These are the benefits of the 10 lessons you get from the free membership.
Really lots of value, Register, Take the 10 Free Lessons and see for yourself how informative and valuable the 10 free lessons you get from WA are.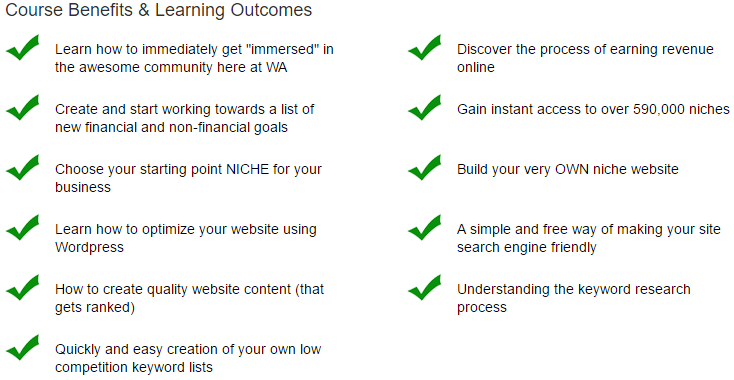 The premium membership contains a lot of exciting features like the live video classes, keyword tool, private 1 on 1 coaching with any member of the community including the owners and more!
Is Wealthy Affiliate for You?
Wealthy Affiliate is for everyone looking to finally start making money online but I believe it's perfect for complete newbies that have no idea or have never made money online.
If you're succeeding online you probably don't need Wealthy Affiliate unless you want to brush up on your affiliate marketing skills basics.
Wealthy Affiliate is NOT for You if:
You want to make money fast
You can't afford the Wealthy Affiliate monthly or yearly fee.
You don't have enough time to build your online business (at least 18 hours per week)
You don't WANT to work hard for your dreams.
What I Like & Don't Like About Wealthy Affiliate
What I like:
Free To Try (No Credit Card Required)
No upsells (the only upsell is the premium membership)
High-Quality task-based training
Wealthy Affiliate teaches you how to make money from your passion which is great
13 classrooms full of great information, questions, answers, tutorials and more
You can do this part time, learn and build your website at your own pace
High-Quality task-based training
​

What I Don't like:
Not a get rich quick scheme: It takes time and hard work to see results
Too much info that may be overwhelming self-discipline required here.
The live chat is addictive, I find myself wasting time chatting with friends instead of focusing on working on my site.
It's free to join Wealthy Affiliate and the free membership offers a lot however the premium membership is a must.
"
Wealthy Affiliate has been the only way that has helped me earn a 4 digit online income consistently month after month.
It's allowed me to work from home and be flexible for our girls as a stay at home mom.
There's nothing like WA's training & extensive tools/resources available on their platform, let alone having thousands of other like minded people and industry experts at your fingertips!
Grace

– 

Wealthy Affliate Member for 2 years and 6 months.
Is Wealthy Affiliate Worth it? Special Bonus!
I think Wealthy Affiliate is the best place to learn how to make money ethically I honestly think there is no better place than Wealthy Affiliate to start a money making website!
This community is just getting better with owners that keep improving the platform regularly.
You really can't miss this chance the best part you can see everything mentioned in this review with your eyes so you have absolutely nothing to lose!
Special Bonus!
Many people benefited from this amazing program, thanks to the amazing training and support.
If you want to be your own boss you really need to try it out, you have nothing to lose you can join for free (No credit card required)
How to Claim Your Special Bonus!
When you join Wealthy Affiliate I'm going to offer you an AMAZING bonus if you become a premium member like me within 7 days.
 (The bonus includes 59% of discount and personal coaching from me!)

After you create your free account I will personally contact you with the important information and your bonus, I'm sure you are going to love it!
You don't know what you have been missing until you Get inside Wealthy Affiliate
Have you ever tried Wealthy Affiliate? Any feedback, questions or comments are very welcome!