Massive Internet Profits is not a legit program where you should invest your money and time, this is a ripoff where you risk to waste thousands of dollars.
---
Just a few days ago I did a review about the 21 Step Millionaire Coach and The Complete Profit Code
Needless to say, they are big scams
And needless to say, Massive Internet Profits is no different
If you are serious and you want to do a wise investment for yourself you must read this review on it's entirely
Without no further ado let's get things rolling.
Massive Internet Profits Quick Review
Name: Massive Internet Profits
Website: MassiveInternetProfits.com
Price: $49- $30,000
Verdict: SCAM
Recommended? No
[responsive_video type='youtube' hide_related='1′ hide_logo='0′ hide_controls='0′ hide_title='0′ hide_fullscreen='0′ autoplay='0′]https://www.youtube.com/watch?v=KP-WBbc_3yQ&t=76s[/responsive_video]
---
What is Massive Internet Profits?
Massive Internet Profits is quite familiar to me as I have seen it quite a lot of times with different faces
That news video
The layout
Fake Scarcity tactics
I have reviewed at least 100 scams with those three things in common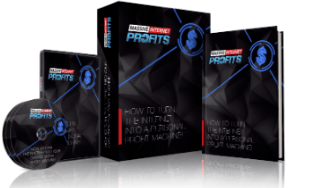 In a few words
Massive Internet Profits is your typical get rich quick scheme
That will try to sell you as many products as possible so they can earn as much money as possible
I can guarantee you that programs like these will not make you money but only disappointment
How Does Massive Internet Profits Profits Scam Work?
These guys behind this system will start sending you a bunch of products and recommendations
When you give them your email address
In a few words, Massive Internet Profits is designed to make the owners money
In the other hand, you will be spending money buying every product those guys keep recommending you
There is one product that Massive Internet Profits is currently focusing on promoting
This program is called MOBE which is a very expensive MLM scheme
What is MOBE? Is it Worth it?
MOBE is an MLM scheme where you will have to license high ticket products and resell them for profit
I personally don't like MLM and MOBE but I have to admit that the last one is legit
However, I don't think it's a great opportunity for newbies and people on a budget
As you need to spend Literally 5 figures to be all in
I'm not going to make this review all about MOBE as you can learn more about them from these resources
How Much Will Massive Internet Profits Cost You?
As I said before these guys promote every product that will make them the most money
So I can't calculate how much you will exactly have to pay but rest assured that you risk wasting thousands of dollars with this
At this moment this scam is promoting MOBE so it's worth mentioning how much this will cost you to be all in.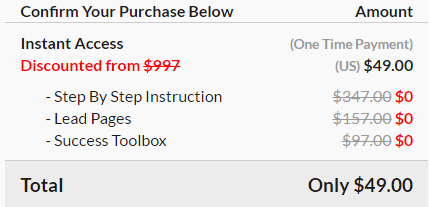 No, it's not going to cost you $49
They are even hiding from you the real MOBE price which is WAY higher than just $49
These are the 5 Mobe products that you need to license to sell for a profit
Silver Mastermind: $2000 + $27/month
Gold Masterclass: $5000
Titanium Mastermind: $10,000 + $200/month
Platinum Mastermind: $16,677 + $300/month
Diamond Mastermind: $30,000 + $300/month
Believe it or not MOBE has more products and extra training that you need to spend money for to be all in but it's optional but in my opinion, it could be included in the main training
Why charge so much?
I saw a lot of people wasting thousands without earning a cent is it worth it?
If you have watched my Massive Internet profits video at the top then you know most MOBE affiliates earn less than $100 per month.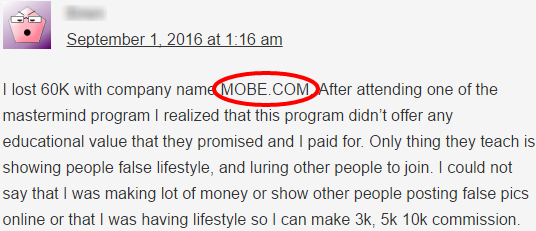 Massive Internet Profits & The Deceptive Marketing Tactics
Whenever I see work from home jobs promising the world
but have these red flags (that I am to breakdown for you below)
I put my guard up
I think you should do the same to stay safe
1) Fake Scarcity Tactics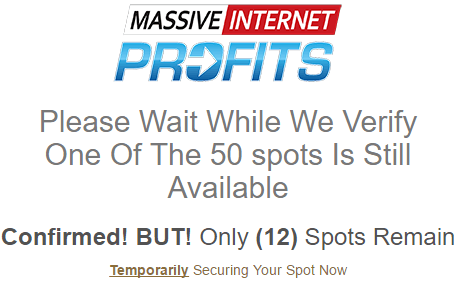 Massive Internet Profits seems to show " Only (12) spots remain " sign for literally everyone
Don't get fooled by that
It's just an attempt so they can hopefully push you to spend money
The other one is my city, they show different cities for everyone to play with your mind and trick you into believing this system.
2) Fake Endorsing

I think you can tell that those fake logos are just copied and pasted
Another thing you should pay attention too
They say Work from Home Has been featured on…
NOT Massive Internet Profits Has been featured on
That's a big difference
They wish you don't pay attention to that so you can trust them
Fake Facebook Comments

Just under the sales page
There are a bunch of rehashed comments praising Massive Internet Profits
This is another tactic to create a sense of engagement and trust
But you can't leave a comment or even have a look at those Facebook profiles to see if they even exist.
Massive Internet Profits – Final Opinion
If you want to start making money Massive Internet Profits is definitely NOT the way to go
You will be wasting both time and money (thousands of dollars actually)
If you are serious about making money online
I recommend you to check out Wealthy Affiliate
They have some amazing training for newbies looking to start an online business from their passion!
---
Were you scammed by Massive Internet profits?
Please share your experiences by dropping comments below so you can warn others!