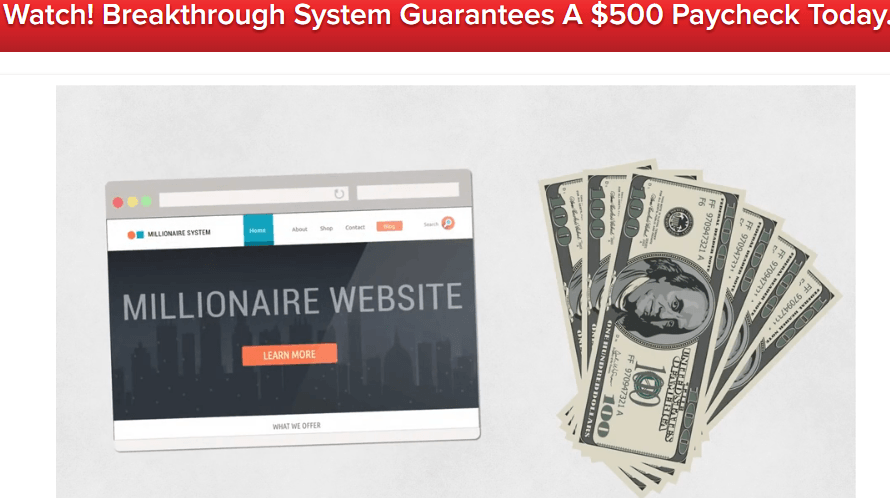 Massive Online Paydays  – Summary Review
Name: Massive Online Paydays
Website: MassiveOnlinePaydays.com
Price: $49 to $30,000 + upsells
Owner: Unknown
What is it? 
So the program is Massive Online Paydays
But when you click on the disclaimer at the bottom of the page you will know what this system is all about
If you want to know what you will be buying and how much you will need to invest just read the rest of this review
Recommended?
No, they lie a lot
No one can give you a millionaire website
That's complete BS
Recommended Online business Training (Free to Try)
For more information and why Massive Online Paydays is a scam
Please read the rest of the review.
What is Massive Online Paydays?
Massive Online Paydays is just a different name of at least 100 of different products
That seem to make bold and ridiculous claims just to entice you and suck your money
Don't take my word for it
I have already reviewed those scams that are ridiculously similar to Massive Online Paydays


Even more
These are just a handful of products, there are literally thousands out there.
Here's the Massive Online Paydays Scam
The person talking in the video is really skillful with words and knows how to trick people into believing a lot of his claims.
The Millionaire Websites
Who will ever give you a millionaire website for $49?
That's absolute BS
They Even Use Fake Scarcity Tactics
They say there are limited spots remained that's just a way to pressure you and get you to swipe your credit card faster
Don't fall for it
The $500 Money Back Guarantee
Just like the other similar scams, Massive Online Paydays Promises you $500 if you don't make any money
There is a big catch here
In order to get that $500 money back guarantee you will need to show proof
What Proof? MOBE 21 Step Training
If you click on their disclaimer or terms you will understand the Massive Online Paydays is MOBE
These scams love to promote MOBE because of the high commissions they can earn
Regarding the proof
You need to complete the MOBE training which has 21 steps
Here's what you will be doing in this 21 step training
Take action & complete the 21 days training
Your mentor will be in contact with you to see your budget & upsell you MOBE products
Buy the rights to resell MOBE products (prices range from

$2,000

to $30,000)
If you fail to make money you need to show proof that you have completed this training so you get $500 as a money back guarantee
Question for you
Does it make sense to pay minimum $2000 + $19,95/month to complete the training
And then get $500 which is a money back guarantee?
I don't think so
How Much is it Going to Cost You?
One thing I don't understand is
Why don't they explain to people that they have to spend minimum $2,000 for the training
And explain how it's going to benefit them instead of doing unbelievable claims like
Becoming a millionaire for $49
As I said before this is all about selling you MOBE
By clicking on their terms & conditions it will become clear to you as well

MOBE shocking pricing
Now you will understand why Massive Online Paydays scammers LOVE to promote MOBE
It makes them big commissions
The 21 MOBE training teaches you how to buy products from them and resell them
The 5 products are the following

The Silver Master Class: $2000 + $20/month
Gold: $4999
Titanium:

$10,000 + $200/Month

Platinum: $16,700 + $300/month
Diamond: $30,000 + $300/month
Is Massive Online Paydays (MOBE) worth it?
In my opinion, it's not worth it unless you got deep pockets
It's nuts to invest this much for a business where you are not sure if you're going to make money
In fact, around the web
I have seen quite a lot of people complaints about wasting up to $60,000 on MOBE!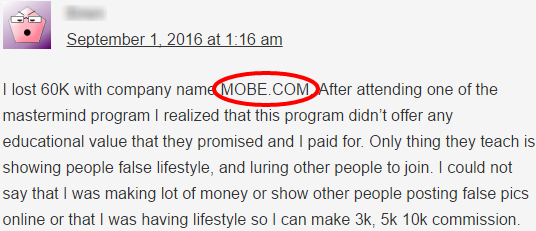 Read more about MOBE complaints from these resources
Ripoff Report link is broken
BBB their rating is F
Most MOBE consultants earns less than $700/ Year
If you have a look at the Massive Online Paydays Income Disclaimer
You will find this

Just imagine yourself spending thousands of dollars and hours in front of your laptop only to earn $250 per year?
That would be super frustrating
That's the kind of disappointment programs like Massive Online Paydays bring in
Because they just want to earn a quick buck from you
and they don't tell you to work hard to make money but the complete opposite to get you excited.
Final Review – Massive Online Paydays is a Scam
Massive Online Paydays charges you $49 and says they are going to hand you the keys to a millionaire website
If only making money was that easy!
What they don't tell you is
You have to spend thousands of dollars up to $60,000 to be all in
---
The truth is you need to put in the hard work upfront if you want to make money online
Never get fooled by these get rich quick schemes
If you are ok learning and putting the hard work and you know it takes hard work to make money
I invite you to check out
Wealthy Affiliate the Best Training for Newbies(Free to Try)
---
Have experiences with Massive Online Paydays?
Please leave your comments below and let us hear your thoughts & comments!