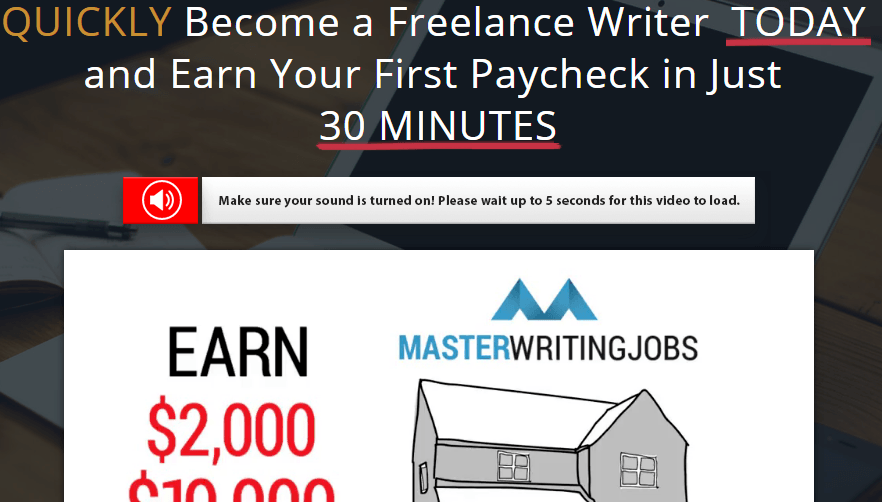 This is a review of Master Writing Jobs which is a scam trying to steal money from newbies looking for ways to work from home.
Chances are you have been approached to join Master Writing Jobs on Facebook or you have received a spammy email in your inbox, whatever the case, don't waste your money and time in this scam.
If you bear with me until the end of this review you will learn why it's a scam and some legitimate alternatives that actually work.
What is Master Writing Jobs Exactly?
The one needs to be very careful with websites like the Master Writing Jobs
sometimes you know something is a scam but you try to make it legit because it's great to be able to earn $2,000 to $10,000 per month doing some simple tasks, right?

Unfortunately, there is a big catch here,
Master Writing Jobs does only one thing which is hyping things way too much and make it seem like everyone can earn $125 per article.
The one thing Master Writing Jobs fails to mention is the fact you need to have some good experience under your belt in order to be eligible to earn that amount per article.
How Does The Master Writing Jobs Scam People?
You need to pay $34 to get inside
you are promised to find a lot of high paying writing gigs that everyone can do but the truth is these guys at The Master Writing Jobs only link you to random writing gigs that can be found on the internet.
The worst part is to be eligible to take those writing or proofreading gigs you will be tested first and asked for a sample of your work.
Sometimes they also send you to products where you have to pay so they earn some commissions of you
That's basically how they fool people, they don't teach you anything about writing.
Master Writing Jobs Scam Signs & Complaints
There is absolutely nothing good about the Master Writing jobs.
Here you will find some scam signs and complaints that are common between scams and scam artists,
with that said, next time you come across a work from home site and they have some of these signs, you know probably a scam.
Fake Endorsement
Scammers like Master Writing Jobs love this one, they want to make their scam look legit on your eyes by putting some big media channels logos on their sales pages.
Next time you see a website bragging about being featured in Forbes, you can do a simple search on Google to find out (website's name + Forbes)
if a Forbes article mentioning the website you're looking into comes up in the search results then it's legit.
Limited Positions
Master Writing Jobs doesn't want you to waste time, they want to pressure you to act very fast so you spend that $34 without thinking too much.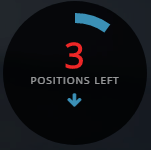 They usually put up a fake counter or a widget that counts down positions so you fall into the trap without doing your research on the product.
A lot of scams out there do this a lot.
Money Back Guarantee
Don't be fooled by these bogus Money Back Guarantees, whoever behind Master Writing Jobs perfectly knows that you are going to have a very tough time getting a refund.

In fact, you should consider yourself lucky if you manage to get a refund from bogus sites like these
They put this bogus 60 day Money back guarantee so you are like, alright even if it does not work I'm going to get my money back, unfortunately, you are not going to get any money back most of the time.
Fake Testimonials
Testimonials are a great way to give credibility to a product, want your product to make more sales?
Add some testimonials to give your product more credibility.
Master Writing Jobs knows but since their program is complete garbage they can't get real testimonials, so they have to buy stock photos and use them as testimonials.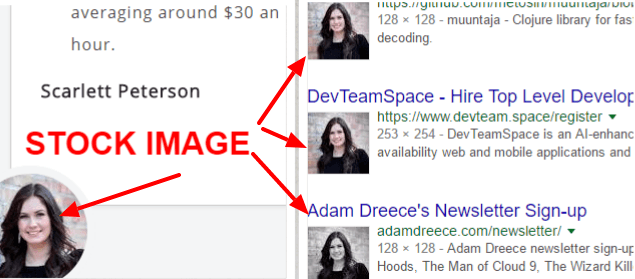 Master Writing Jobs complaints
There are a bunch of complaints out there while some people are looking for Master Writing Jobs on BBB, some trying to find some contact information on their website, there are those trying to get a refund.
Some have reported Master Writing Jobs to Report Scam.
They all have an F rating at BBB with zero positive review and 61 negative reviews!
Final Review & Recommendation
Master Writing Jobs is a scam, it just takes you to other writing gigs that you can easily find online without paying $34.
You need to have good ratings and experience in order to be accepted for those gigs, yet Master Writing Jobs says you will be earning your paycheck in 30 minutes and it doesn't even train your or something.
It uses fake endorsements and testimonials to back up what they say.
You can go directly to sites like UpWork to find freelancing jobs, why pay $34 for something you can easily find for free?
A Better Opportunity!
If you want to get better at writing and learn how to market yourself I am sure you will be interested in Wealthy Affiliate.
It doesn't focus on freelancing but it's an online business training, that teaches you how to start a website, get traffic from Google and how to write content that actually converts which is exactly what webmasters would want to pay you for.
What's a better way to get better at writing than practicing on a website and marketing yourself along the way?
Starting your own online business and writing content for your business is better than writing for someone else's business!
Wealthy Affiliate will teach you how to start a Successful business step by step
---
Do you have any experiences & thoughts you would like to share with us?
Please add your comments below!