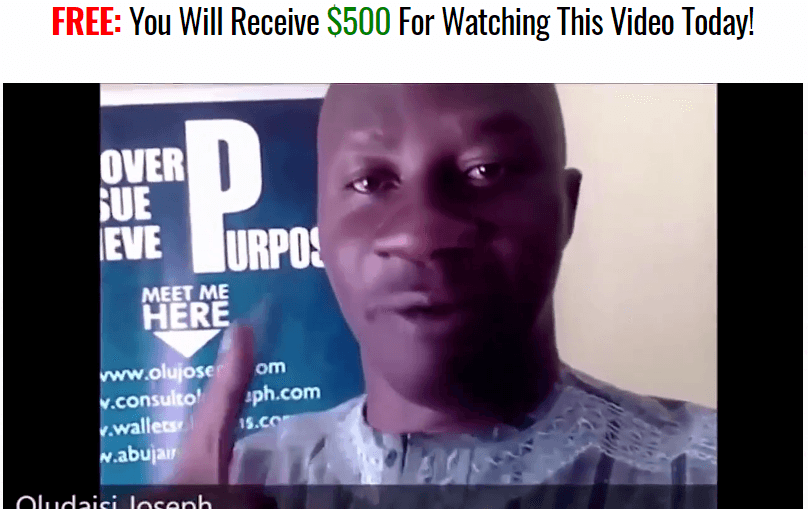 Lots of people nowadays are looking for online opportunities to make a living, while there are really great income opportunities online it does not mean that any site or program is legit.
Today I came across a program called My Online Franchise, it looks like it was recently launched.
I decided to have a closer look and make a quick review so you can determine whether it's a scam or not.
I recommend you to read this whole My Online Franchise review to know what you are actually buying and if it's worth it!
My Online Franchise Review
Name: My Online Franchise
Website: MyOnlineFranchise.com
Price: $49
Owner: Unknown
What is My Online Franchise?
As I said before this program was recently released.
My Online Franchise as you have probably seen in the sales video makes lots of big claims, it promises you to earn lots of money with little hard work.
They even promised a $500 after you watch the whole video.
My Online Franchise is essentially a sales page that all it does is send you to MOBE.
What is MOBE?
MOBE is a 21 Steps training that teaches you how to start an online business.
Unfortunately, the training focuses more on promoting the same thing you bought.
So there are big chances that you will be creating a sales page with a ridiculous name like 21 Step Millionaire coach, 45 minute paydays or Instant Success System.
While you can build affiliate sites that promote anything with MOBE, this last one focus and encourage you to buy the MOBE products are resell them for big commissions.
The three programs I mentioned above are a result of the MOBE training.
In a few words, MOBE teaches you to create hyped up products like My Online Franchise, $500 cash club, Millionaire profit club, Secret Millionaires and Ultimate Retirement Breakthrough
You will be using these products to sell MOBE.
How Does My Online Franchise Work?
If you buy My Online Franchise you will be sent to MOBE checkout page, so you're essentially buying MOBE, not My Online Franchise.
The training takes 21 Steps to complete, however, most of it is unlocked as it's a plug to play system where you have to pay to unlock more steps.
With that said, the $49 that you pay is literally just to have a look at the first few steps of the training.
You have a personal coach that is known to be a professional sales person that does more selling to you than actually training you.
How Much Does My Online Franchise Cost?
If you want to buy My Online Franchise you need to know that you are getting a very expensive product.
It's true that you will make huge commissions but it's worth mentioning that you need to spend up to $70,000 to eat the biggest slice of the cake.
The minimum that you should have in your pocket before you get serious with MOBE is $2,500
If you don't have that, you will be labeled as unqualified by your personal coach, which is pretty disappointing.
You can promote MOBE without buying the high ticket products but your commissions will be miserable and if your referrals upgrade the big commissions will go to your sponsor.
You will feel like your hard work is making money for other people
This is obviously a smart tactic by My Online Franchise (MOBE) to force to buy the high ticket products.
Here is a breakdown of the MOBE high ticket programs and how much they cost.

Is My Online Franchise a Scam?
In my opinion, My Online Franchise is a scam
What they do is fool you into thinking that MOBE is an autopilot system that can make you earn decent money without even working hard.
They do this just to make you spend money, after all, they want is to sell you MOBE and enjoy the big commissions, if they fail to do that they would have spent thousands of dollars and thus feel desperate.
MOBE is not essentially a scam, however, I think it's pretty unethical when a training teaches you to fool and lie to people.
Matt Loyd (MOBE owner) definitely knows this but acts like he doesn't know since it's making him money.
These MOBE affiliates really paint a bad picture of MOBE.
As you can read here there are lots of MOBE negative reviews posted by people who were fooled by these affiliates.
[thrive_link color='orange' link='https://fulltimehomebusiness.com/is-wealthy-affiliate-worth-it' target='_self' size='big' align='aligncenter']Legit Training to Earn a Consistent Income every Month! [/thrive_link]
Should You Buy My Online Franchise?
I think the one should stay completely away from any MOBE product for the following reasons:
They are hell expensive
They put you in desperate mode, if you don't make money you will go nuts.
You are thought unethical marketing tactics
You will be lying to people and live a fake lifestyle.
My advice to you is to go for a simple affiliate marketing training for beginners that doesn't cost a fortune
From there you can learn the basics of affiliate marketing and then promote any affiliate program you like without gambling your money away.
My Online Franchise Pros & Cons
Pros
It can make you money
You can earn big commissions
there are amazing incentives for the affiliates
Cons
It costs a fortune
Not free to try like My Recommended Training
It teaches you unethical marketing tactics
They make it hard to get a refund
Full of lies and deception
The $500 Guarantee is a trap
My Online Franchise Conclusion
I think My Online Franchise is a product you should pass up because it's designed to eat your hard earned cash rather than make you earn money.
The program is extremely expensive and can make you addicted, therefore make you go broke and crazy if you fail to make money.
My Online Franchise does not guarantee you to earn money and no program can.
If you want to make money online you should go for a program that focuses on teaching you how to make money rather than fooling you and trick you.
If you need help you can check out My Money making training that actually works and can be tested for FREE.
---
If you have bought My Online Franchise and have something to say please share with us your experiences, you will definitely help the next reader to make a good decision!