Myfreeshares is a site that allows you to earn money doing a lot of stuff but the question is, is it true that you can earn and get paid? In this post, I am going to walk you through this website and help you to decide whether it's worth your time or not. 
The following are the topics of today's article:
What is Myfreeshares?

Pricing

How Can You Make Money with Them?

Who is Myfreeshares for?

The Good and Bad

My Final Opinion 

A Better Alternative
---
Name: Myfreeshares
Website: Myfreeshares.com
Price: FREE/Paid Membership.
Owner: Multimoneygroup
Overall Rank: 4 out of 10
---
What is Myfreeshares?
Myfreeshares is a website where you can earn money clicking on ads, reading emails and other stuff like that, this is a legit site unlike others I have recently reviewed which you probably want to ignore, other sites like Bux Inc and PTC Bank are similar to the site we are reviewing right now the only difference is they are scams.
Myfreeshares has paid out their members on time, the payments are very low but they do pay at least.
You can earn cash in various ways (we will talk about that later) and cash out when you earn $10.
They have different payment methods like Payza and Paypal, you can receive your payment 14 days after requesting it.
Pricing
Well the website is free to join, but they have memberships that are supposed to increase your earnings, they say if you upgrade you will get some benefits like random referrals, for instance when someone registers on their website without being referred by anyone, this person could end up in your downline.
Other benefits of the memberships are more ads and shares
They have three membership levels that are the following:
---
Bronze membership

: Costs $10/month or $100/year + two free months.

Silver Membership

: $25/month or $250/year + two free months.

Gold Membership

: $50/month or $500/year + two free months.
---
I wouldn't really recommend you to buy any membership most of the time you won't even earn the half of what you paid.
If you go check their payments proof page you will see that the average user withdraws only $10 per month.
You can stay as a free member and get your friends to join under you.
That could be way better as you are not spending any money and under no pressure. 😉
Let's jump to the other topic which is how can you earn with them!
How to Earn Money With Myfreeshares?
Just for clarity purposes, this website does pay its members. Unfortunately, you won't make much money as the payments are very low.
You can earn cash and shares that you can withdraw or redeem for advertising services, and these are the ways in which you can make cash and shares.
1) Reading Emails
You can receive paid emails in your inbox to read every email you will earn something like $00.2, as a free member you won't receive many emails.
The payment for reading emails is very small, but it's not a fatiguing task.
2) Paid to Click 
You can earn $0.05 per every ad you click; they also have a contest where you can participate and have a chance to win 10 cents and shares
As a free member, you don't have many clicking opportunities and the possibilities of reaching the $10 cashout are minimal.
3) Paid to Sign up 
You also have the opportunity to earn shares for signing up on other websites.
There are some sites where you need to purchase to earn shares if you do buy an offer you will earn 1400 shares.
4) Refer People
Myfreeshares like any other program gives you the possibility to refer your friends and earn a percentage of their earnings
Here's how it works: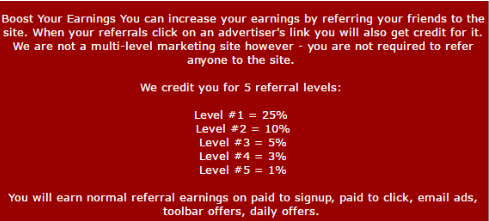 Who is Myfreeshares for?
Myfreeshares obviously is a site like most PTC sites, with these programs you can't make much money, programs like this are good for people that just want to spend some time online earning $10 every two months.
If you want to make serious money there are many other ways that are better; I am going to show you a great alternative later in this article.
Myfreeshares: The Good & Bad
Let's have a look at the pros and cons of this program:
The Good
Legit and payments are on time.
It's been online for 10 years.
The Bad 
Limited offers for free members
Cheaply and ugly looking site.
No place where you can ask for support
Payments proof page looks fake.
Advertisers won't get the traffic they pay for, as members on Myfreeshares just want to click and earn.
My Final Opinion of Myfreeshares & an Alternative
This site is no scam, but you can't expect to make good money
If you want to make a living online from your passion I recommend you to read my #1 Recommendation
The best thing about my recommendation is I will personally be there to help you every day with every question you have.
I will assist you until you create an online business that makes money, promise! the best part is you can:
Join Now for Free No Credit Card Required 
---
If you have any type of question feel free to drop a comment below! and don't forget to share this post with your friends if you like it!