OneClass is a website where you get paid to upload your notes, but is it worth it? How much money can you earn? This is a OneClass note taker job review.
If you are a student looking for a legitimate way to earn money by doing something you would do anyway like taking notes.
OneClass is something you might be interested in.
In this OneClass review, I focus on the OneClass note taker job.
The question is how much money can you earn with OneClass is it worth it?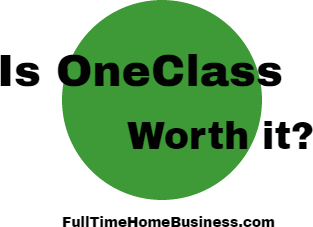 In this review, I'll talk about all the important details so let's go ahead and find out if you can make decent money with OneClass.
What is OneClass?

OneClass is a website that claims it can help you improve your grades.
On their website, you will find notes, tutorials, video tutorials made by top students.
In this review, I am not going to talk about improving student grades.
But about the OneClass note taker job which seems to attract many students and non-students to upload notes and get paid.
How Does OneClass Work?
OneClass is free to join.
To get started, just sign up and grab your 60 credits Bonus.
Pick up the classes you are enrolled in.
Then you will be able to start earning credits that can be redeemed for cash.
If you are wondering how much does OneClass pay,  here are different ways for you to earn credits.
We will talk about how you can redeem these credits for cash later.

Looking for a Reliable way to make Money? Click here!

Upload a Document
Upload a document and earn 25 credits if it's approved.
You can upload as many documents as you want as long they are unique and made by you.
Get People to Download Your Stuff
If people download the documents you uploaded you will earn credits for that too.
Each type of document will earn you a certain amount of credits.
1)  Lecture Notes: 15 credits per download.
2) Textbook Notes: 24 credits
3) Exam Notes: 36 credits
Invite Your Friends
To increase your earnings, you can invite your friends.
Each friend you invite that confirms their email address will earn you 50 credits.
Earn Badges
There are different badges you can earn.
Badges are the easiest way to earn credits.
By liking and sharing OneClass on Facebook and Twitter you earn two badges and 50 credits.
You can earn more badges when you upload 5 documents and when you invite more friends.
If Your Friend Upgrades
OneClass has a premium version where you can have access to all the features.
The premium version has different plans.
If you refer a friend and goes premium you earn 350 credits.
How Does OneClass Pay You?
You can request a payment when you have 800 ($10) credits in your account.
You can get paid via Starbucks, Amazon, H&M, Best Buy and Target gift cards.
If you prefer cash you can request a Paypal payment.

Is OneClass Safe & Legal?
I see this question practically everywhere.
OneClass doesn't want you to upload stuff that is copyrighted.
Everything you upload must be typed or written by you.
With that being said OneClass is totally safe & legal.
One Class Pros & Cons
What I liked
Free to Join
You earn money doing something you would do anyway.
It makes you get better at taking notes
Easy to reach the payout limit
Easy & Fast Payments via Paypal and other options.
What I did not Like
Only students can make money, you must have an Edu email to cash out
For some classes you don't get paid to upload notes, they don't say that before the one signs up.
Since now you can get paid to upload notes, friends and classmates are out of luck, no more free notes
OneClass Review: Is OneClass Worth it?
If you are a student, there is no reason why you shouldn't check it out.
It will really help you take better notes and also get paid.
If you are NOT a student but only looking to make extra cash because you thought there is some good earning potential.
Then it's not worth it.
Even if you collect enough credits to ask for payment, they will ask you to provide an Edu email first that you can only have if you are actually a student.
If you are not a student and you want to earn money then you can't miss my #1 Recommendation
It's Called Wealthy Affiliate they have a great training that will teach you step by step this:

Get Started Now It's $0 (FREE) No Credit Card Required!

Now It's Your Turn!
If you have tried OneClass before don't forget to let us hear about your experiences here.
If you have questions or feedback feel free to drop comments below!